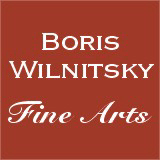 If you have a question about this item,
please contact us at: office@wilnitsky.net
# 43023
Carl Gottlieb Merkel "Graf Fedor Fedorovich von Keller", interesting Russian portrait!!, 1878
Price: 4900 EUR
(please note additional 13% tax applies for transactions concluded within the European Union)
This male portrait is signed in the upper left corner: "Merkel. 78" (see our image nr.7 - the factual signature is covered by the mat) and is still in its original frame with wooden mat. On verso of the mat, one finds several inscriptions (see our images nr.9-10 ; made by the frame-maker), one of which again reiterates (i.e. reads) the artist's name "Merkel".
Additionally, when examining the canvas stretcher, one finds the next frame-maker's note: "Herrn Merkel /Soolerstr.(asse) 104" (see our image nr.12; it was apparently the address of the artist's summer residence in Switzerland - Soolerstrasse is a long street in the Swiss commune Glarus Sued).
Hence, we are dealing here with a work of German painter Carl Gottlieb Merkel, who from 1844 to his death in 1897 was living in German town Kassel (center of Electorate Hessen-Kassel (also Kurhessen)).
Moreover (as we will see below), this work is the sitter's post-mortem portrait, produced on the base of a black-and-white daguerreotype negative (mirror-inverted depiction - CLICK HERE). We have arrived at this conclusion after studying the visual awards worn by the portrayed man.

The sitter wears the neck cross of the Russian Order of St. Anna of the 2nd class (its badge appears to be somewhat unusual, featuring rather uncharacteristic symbols - one-headed eagles settled between cross' rays (!!).
His other neck cross is that of the Prussian Military Distinction Order "Pour le merite" (it is common knowledge that in the period between 1813 and 1815 most of this order's awardees were Russian officers (Russia was then a Prussian ally in the anti-Napoleonic War; the Russian Imperial Army fought the French across the modern Germany and France).

Oddly, in this portrait, the badges on the sitter's left (for observer - right) chest have been placed in an entirely wrong (reverse!!) order. To be more precise, the whole row of awards is mirror-inverted and (as we have already mentioned) is none other than a copy of a daguerreotype's negative, replicated in oil by the artist (the latter had clearly forgotten to swap the sequence of the badges).

Based on artist's discrepancy, we will proceed to list the awards on the sitter's chest in reverse order:

- White cross of the Russian Military Order of St. Georg of the 4th class (our advisor, well-known Russian phalerist, Mr. Sergei Golovin, brought our attention to the non-capitular eye of this cross)
- Red cross of the Russian Order of St. Vladimir of the 4th class (note the absence of the bow on its ribbon - a detail that also happens (as we will see below) to be the artist's own error; note also the non-capitular eye of the cross (according to Mr. Golovin))
- Red (!) cross of the Order of Karl Friedrich (Grand Duchy Baden). Here, one cannot help but see the artist's two other errors: his usage of the false color in the order's emaille coating (red instead of white - CLICK HERE) and the atypically small golden tails on the green laurel-wreath.
- The Russian Silver Memorial Medal for participants of the Patriotic (Russo-French) War of 1812 (it is dangling on the blue ("Andreevski") ribbon).
- The Russian Silver Medal of 1826 "For capture of Paris on 19th March 1814" (on combined "Andreevski/Georgievski" ribbon)

As we can see, as many as the sitter's four (out of seven) awards have been depicted with these (or other) mistakes. The latter can be explained by the fact that the artist based his work on a small-sized glass plaque with black-and-white negative of a daguerreotype, in which the details of the badges were difficult to distinguish.

Hence, the conclusion: this portrait was painted in 1878, as the sitter's post-mortem (memorial) portrait, and was commissioned from the artist by the relatives of the deceased man (they likely lived in the area neighboring with the artist's resident town Kassel. Upon this commission, they must have provided the artist solely with the negative of a daguerreotype).

Yet, who then is this elderly (he is about 60/70 years of age) and elaborately decorated gentleman? It appears he was presented with most (if not all!) of his awards while in service of the Russian Army during the time of Napoleonic Wars (1805-1815).

We, hence, began our research by examining the sitter's cross of the Baden Order of Karl Friedrich (a rather rare award on Russian military portraits).
The 1834 issue of the "Hof- und Staats-Handbuch Baden" provides a list of thirty living (based on the sitter's appearance (his dress and hairstyle), he was surely still alive in that year) Russian (sic!) subjects awarded (all - between 1814 and 1817) the Knight Cross of the Order of Karl Friedrich (see our image nr.27).

Having this list at our disposal, we then turned to registries listing recipients of the Russian Military Order of St Georg of the 4th class.
After a scrupulous (!) examination of these lists (beginning mid-1790s and until 1840), we concluded that from aforementioned thirty persons only one man could be pertinent to our further research (this analysis will deal, among others, with complect of his other awards (visible in this portrait). They are as follows: St. Anna of the 2nd class, "Pour le merite", St. Vladimir of the 4th class with bow and both silver medals (running a few steps forward, we would like to stress that this man was a recipient of all of them).
His name was Graf (Count) Fedor Fedorovich (given name - Theodor Ludwig Wilhelm) von Keller. He is depicted here shortly before his death (1860), i.e. at the age of 65/67.(as already said it is a copy of "life" daguerrotype).

We are 100% certain that portrait (which we illustrate in our images nr.15-16) of (allegedly!) Graf von Keller shows an absolutely different man. This lithograph was based on the oil portrait painted by an artist (his name is still unknown) living (as we are convinced) in Russia.
The latter work (or one of its replicas) is on display in Moscow Museum-Panorama "Battle of Borodino of 1812" (see our image nr.31). There, it is documented as the "possible portrait of Adam Leontievich Benningsen".
In early 1816, Benningsen (if he indeed were the man in the portrait!) would have posed for it in civil dress, for it is known that he retired from the military service in late 1815, and that he passed away in late 1816). Besides the (detectable in this portrait) "Pour le merite", St. Georg of the 4th class and the silver medal awarded to combatants of 1812, Benningsen was also a recipient of the "Golden sabre with inscription "For bravery"", the Order of St. Vladimir of the 3rd class and the Swedish Order of the Sword. In spite of having these awards, however, he could have wished to be portrayed wearing only his "battle" awards (incidentally, the Wikipedia article on Benningsen is accompanied by this very portrait - CLICK HERE). It would be interesting to understand what led the museum's experts to this conclusion (as we will discuss below, we fully support this identification!).

Besides that, today, one of the impressions of the aforementioned lithographic portrait (see our image nr.32) belongs to the collection of Museum "Zaraiski kremlin" in town Zaraisk by Moscow. There, it is presented as the "possible portrait of Shakhovskoy" (i.e. one of the members of the well-known Russian princely family). Clearly, the expert responsible for identifying the man (back in the 1920s) was using the corresponding information supplied by someone acquainted with the portrait's previous owner(s), for the lithograph was inventorized (after 1920) as "stemming from the neighboring estate Sennitsy, which was a former property of Graf von Keller (CLICK HERE and HERE). Until July 14, 1882, this estate was owned by Prince A.I. Shakhovskoy (sic!). On this day, Shakhovskoy's daughter - Princess Maria Alexandrovna Shakhovskaya - got married to the grandson of "our" Graf Fedor Fedorovich, Fedor Eduardovich von Keller. Her dowry included the estate Sennitsy. Maria Alexandrovna's husband died in 1904, leaving the estate to his son (and the great-grandson of "our" Graf) - Alexander Fedorovich von Keller (1883-1946; see our image nr.39), whose family lived there until 1918 (in that year the estate was nationalized by bolsheviks).
Before the October Revolution of 1917, Alexander Fedorovich reached the rank of colonel; from 1916 he commanded the Chechensky Konny Regiment (cavalry). Apart from his military career, he was an avid collector, and had set a natural history museum at his Sennitsy estate.
After 1920, some of the artefacts from Sennitsy "museum" and the estate's principal house (later burned) was moved into Museum "Zaraiski kremlin". We should mention that (interestingly enough) no museum expert had ever considered the lithograph to be the portrait of "our" Graf von Keller. Similarly, the connection of the lithograph to the name of Shakovskoy appears to be highly unlikely because no members of Shakovskoy family were bearers of the cross of St. Georg of the 4th class in early 19th century.

Before we tracked this lithograph to Museum "Zaraiski kremlin" we learned that in 1922 it was illustrated in German book "Familiengeschichte der Grafen und Herren von Keller" (Stuttgart, 1922; its author - retired German Major General Georg Keller (1862-1944) - was a distant relative of the "Russian" branch of von Keller family). We then rushed to purchase the reprint of this book, in which we promptly discovered (p. 88 - see our image nr.16) the same lithograph (no original title (sic!) is detectable on its lower margin).
The last owner of the estate Sennitsy - Alexander Fedorovich von Keller - could not have known about this book (published in 1922). We rather believe that sometime before von Keller's immigration (1920) or even before WWI, the book's author established the contact with different members of "Russian" von Keller family. It is very likely that he then asked them to release a photograph (!) of possible Graf Fedor Fedorovich von Keller's portrait (if such was available; as we already mentioned, Fedor Fedorovich died in 1860), in order to include it in his forthcoming book. This correspondence probably resulted in the following: the Sennitsy relatives of Fedor Fedorovich must have sent to the book's author a photograph of the ill-fated lithograph (possibly it was sent by the mother of Alexander Fedorovich, as she truly believed it was the portrait of her late husband's grandfather). All of that explains how, after 1922, this particular lithograph was commonly believed to be the portrait of Fedor Fedorovich von Keller, and how, until today, it is still regarded as one, and is circulating across the web as such.

Why, one would ask, we are so certain that this lithograph (as well as the oil portrait at the Moscow Museum-Panorama) shows another man?
The truth of the matter is that in these two "museum" portraits the sitter presents an entirely different physical appearance from the elderly gentleman in our portrait.
On the other hand, the comparison of "our" portrait to those of Graf von Keller's male heirs (for portraits of his sons, see our images nr.37-38; see especially our image nr. 36 for a portrait of one of his grandsons (he was the living image of his grandfather!!) strongly speaks in favor of our portrait and not the two aforementioned "museum" works!!!

It is also important to mention that we examined all (web) digitalized resources of portrait lithographs that were produced in the 1st halfof the 19th century outside of Russia. This particular lithograph is to be found in neither of them.

By following the logic of the above, one could conclude that this work was produced by a Russian lithographer on the base of an oil portrait painted in Russia.

Back to the oil portrait in Moscow Museum-Panorama of 1812 - "possibly Adam Leontievich Bennigsen": we would take away word "possibly"!

Baron (since January of 1814 Graf) Adam Leontievich Bennigsen (eldest son of our web #42402 ) was, as we strongly believe, an older (15 years senior) friend of our Graf Fedor Fedorovich von Keller. Both of German (Lower Saxonian) descent, both officers of Life Guards Hussar Regiment, both awarded simultaneously for the same distinction, in the same episode of the Second Battle of Polotsk (6-8 October 1812).
Bennigsen, since 1810 colonel of Life Hussars, commanded in the campaign of 1812 the "Reserve Squadron" of this regiment. This squadron was then separated from the regiment and attached to "Svodny (combined) Guards Cavalry Regiment (Commander - Colonel Albrecht) in 1st Infantry Corps of Wittgenstein (uncle of our young Graf von Keller). On 6th October 1812, Wittgenstein's adjutant, shtabs-rotmistr von Keller, being on the way to pass one of his uncle's orders, noticed that French cuirassiers just captured Russian artillery battery with a lot of artillery- and infantrymen. He immediately joined Bennigsen's hussars and they released the battery and prisoned all French presented there.
For this distinction Bennigsen was awarded "Golden sabre" and Graf von Keller - St. Georg of 4th class.
Bennigsen with his squadron remained in Wittgenstein's corps until March of 1813, when he joined (already in Prussia) other squadrons of Life Hussars (all this time they fought in ranks of another Russian corps).
Surely both men - Bennigsen and von Keller - were in close proximity to each other in these several months of 1812.
In late 1815 Bennigsen leaved Life Hussars, Fedor Fedorovich von Keller did the same several weeks later. Bennigsen remained in St.Petersburg, where he died in November of 1816, von Keller moved to his estate in Vitebskaya Gubernia (see below).
Sometime in spring/summer of 1816 Bennigsen posed for an oil portrait (Moscow Museum-Panorama), which was later reproduced by a certain Russian lithographer. One of the impressions of this lithograph was kept (as an important relic!) in house of Bennigsen's friend, retired colonel, Graf F. F. von Keller. After the death of latter (1860) it came to his son Eduard Fedorovich, from him to his son Fedor Eduardovich and so came to be in Sennitsy by Moscow (see above).

It is of lesser importance, whether both "museum" portraits really depict Adam Leontievich Benningsen or someone else. What is imperative is that they are not portraits of Fedor Fedorovich von Keller!
Hence, the portrait, which is presented here (and, in light of a lost daguerreotype) is the sole surviving representation of this man.

Finally, let us concentrate on the artist's discrepancies in the depiction of the sitter's neck cross of St. Anna of the 2nd class. Graf von Keller was awarded this order on September 15, 1813, Three years later (August 2, 1816), his order was supplemented (!) by diamond inlay (see again our image nr.25).
Why then are these diamonds not visible in "our" portrait?
Either arrtist Merkel, copying from small, black-and-white glass plaque with a daguerrotype's negative have not understood this detail of the cross
or
the cross was (as the sitter posed for daguerrotype) without diamonds!
Aforementioned Sergei Golovin says there were enough cases as awardee had several complects of his awards - for "gala costume" and for "everyday bearing". There were also cases of awardees who obtained diamonds and later sold them. The latter could also correspond to our Graf von Keller. His business activities after the retreat from the Guards ended (shortly before his death) in full bankruptcy; his sons who were forwarded to pay his immense debts and taxes, sold their father's properties for 10% of their real value (see our image nr.34). So it is not ruled out, that before Graf Fedorv Fedorovich posed for a daguerrotype he already sold diamond set of St.Anna (or the whole golden cross with diamonds; he could order a gilt siver cross as a replacement). Our image nr. 35 shows clips from an interesting article, concerning the selling of diamonds from order crosses (this article was recommended to us by Mr. Golovin).

We repeat: THERE ARE NO OTHER CANDIDATES for "our portrait, who were alive in mid-1850s, being in possession of the exact complect of awards depicted on this portrait. GRAF VON KELLER IS THE SINGLE CANDIDATE!

Graf Fedor Fedorovich von Keller was born on 25th June 1791 at Castle Stedten (CLICK HERE) in the suburbs of small Thuringian town Stedten (ca. 150 km from Kassel where our artist lived!).
Russian biographers (see image nr.15) call him "godson of Empress Catherine II", what is fully absurd - he was born as son of Prussian diplomat Dorotheus Ludwig Christoph Graf von Keller (1757 Stedten - 1827 ibidem; see images nr.18-19), who from 1786 to 1789 was envoy of Prussia at Russian Court. Due to a certain scandal between him and Russian Vice-Chancellor Osterman and "allegedly insulting" Catherine the Great he was recalled from St.Petersburg. Clearly his two years later born son could not have become a godson of the Empress.
Fedor Fedorovich's mother, Amalie Luise, nee Countess von Wittgenstein (1771-1853); see image nr.19) was a sister of famous Russian warlord, Graf Piotr Christianovich Wittgenstein (see our image nr. 21 and our web #38363 ). The latter fact motivated the parents to send both their eldest children - teen-aged Theodor Ludwig Wilhelm (Fedor Fedorovich) and his two years younger sister Marie (in Russia Maria Fedorovna) to their uncle in St.Petersburg. href="https://ok.ru/shedevrym/topic/64893868687537">CLICK HERE).
In 1809, 17-year-old Graf von Keller entered as a cornet (lowest officer rank in cavalry) his uncle's Life Guards Hussar Regiment (CLICK HERE; from 1808-1818 Wittgenstein was chief (proprietor) of this regiment). Obviously the young man was immediately included to his uncle's train (as an adjutant); in that function we meet him also in the campaigns of 1813/15 (see for example our image nr.28).
His Order of St Georg of 4th Class (for distinction at Polotsk) he obtained on 3rd January 1813 (see image nr.24).
Still on 4th September 1812 he was awarded Order of St. Vladimir of 4th class with bow (sic! - see image nr.23).
On 15th September 1813 he received St. Anna of 2nd class (as said above, on 2nd August 1816 followed awarding diamonds to this order - see image nr.25).
Three months before, on 11th June 1813 (he was already "rotmistr") he became Knight of Prussian Order "Pour le merite" (see image nr.27).
By the end of 1814, being already colonel, he became Knight of Baden Order of Karl Friedrich (see again our image nr.27). Obviously it happened in the last days of December 1814 - in the 1815 issue of the Russian state calendar "Mesiatseslov" (reflects the situation of 1st January 1815) this order is still not mentioned (see image nr.29).
Several months before, in the spring of 1814, he received the Silver Medal for Patriotic War of 1812.
His last award on this portrait - Silver Medal "For capture of Paris on 19th March 1814" he obtained (like all other awardees of this badge) at the earliest in 1826.
We have to add that he was also in possession of "Golden sabre", but its badge is rarely shown on Russian military portraits of that time..

We find his last mention as a serving officer (colonel) in "Mesiatseslov" of 1815; in the following 1816 issue (reflects situation of 10th March 1816) his name is not mentioned anymore. It seems he left the service in late 1815-early 1816.

Still in January 1813 (he was apparently sent with a certain mission to St.Petersburg) he married the four years his junior Sophie Eleonore Marie Countess von der Borch-Lübeschütz, Baroness von Borchland from the very wealthy family von der Borch (like him of Westfalian descent) living in Vitebskaya Gubernia. The wife brought him a dowry of 40,000 desyatins (1 desyatina = 1,092 ha.) of land in Vitebskaya and Minskaya Gubernias.
So our graf became a great landowner and enthusiastic businessman.
The family lived at estate Ruskulov (16,000 ha) in Lutsinski Uezd, Vitebskaya Gubernia (now this area belongs to Latvia - see image nr.33). At Ruskulov all twelve of their children were born - seven daughters and five sons.
Son Eduard became Governor of Minskaya Gunernia and senator (CLICK HERE), Alfred became lieutenant general, Oskar, Arthur and Victor each achieved the rank of a major general.
But the most known of all male members of Russian von Keller family became grandson of Fedor Fedorovich - Graf Fedor Arthurovich von Keller (1857-1916; CLICK HERE and HERE). This cavalryman, called "First Sabre of Russia", was a famous general of WWI. He was killed by "petljurovtsy" in Kiev, on 21st December 1918. As said above, he was the living image of his grandfather (see again image nr.36).
Fedor Fedorovich's widow outlived him for twenty years and died (also in Riga) in 1880.
The main house of estate Ruskulov (since late 1860s in possession of family Löwenstern) was burned down during peasant disturbances of 1905.

Interesting was also the fate of Fedor Fedorovich's sister Maria Fedorovna von Keller (CLICK HERE). She achieved a much higher position in Russian society than her brother. Still in 1813 she married the twenty years her senior widower - Russian diplomat and representative of highest Russian aristocracy, Prince Ivan Ivanovich Baryatinsky. Their son, Prince Alexander Ivanovich Baryatinsky (1815-1879; CLICK HERE) made a brilliant career, achieving rank of a general field marshal and viceregent of Caucasus (in 1859 he captured Shamil, chief of mountaineers).

Also the life of two younger brothers of Fedor Fedorovich was connected with Russia during several years. After Napoleonic troops occupied Thuringia, this region became part of Kingdom of Westfalia founded by Napoleon. To avoid the recruitment of his younger sons to the army of this Kingdom (i.e. Napoleonic army) the father sent them also to Russia. Like their older brother they both entered the Russian cavalry (one served in Sumskoi Hussar Regiment, the second - in Grodnenski Hussar Regiment). After participation in campaigns of 1812/14 they returned to Germany (Adolf (he was awarded St. Anna of 3rd class and St. Georg of 5th class) became official of the Duchy Saxe-Weimar, Eduard became Prussian official).




Carl Gottlieb Merkel (1817 Leipzig - 1897 Kassel) studied at the academies of Dresden and Munich. In 1842/44 he stayed in Rome, thereafter came to Kassel where he obtained job of a teacher at the local School of Applied Arts (Kunstgewerbeschule). He was chiefly a figural and portrait artist (see for example our last additional images).
Provenance:; German antique trade

We are very grateful to Mr. Golovin who consulted us concerning the sitter's awards.

P.S.
22nd July 2019:
In published in 2010 catalogue of well-known Moscow collection of Sergei and Tatiana Podstanitski we just discovered miniature portrait of a very young officer of Life Guards Hussar Regiment (see our image nr.42), executed in late 1800s by St.Petersburg artist Peter Ernst Rockstuhl. This miniature was acquired at Christie's London (sale on 27th November 2007, Lot 223 - see our image nr.43) where it was offered with provenance "Late Count Lamsdorff-Galagan, Barcelona" (this, deceased in early 2000s gentleman, descendant of Russo-Baltic noble family, completed a very important collection of Russian portrait miniatures (Christie's sold at that sale ca. 150 of them)).
The young Life hussar (he looks realy for age of 17/18!) was thought by the deceased collector to be certain "Count Keller"; obviously Mr. Lamsdorff-Galagan obtained corresponding information from pre-owners of this piece (sitter's descendants? - otherwice how he could come to sitter's name in absence of any awards on this portrait?!).
Surely here was meant our Graf F. F. von Keller (since 1809 cornet of Life Hussars) - no other officer with name Keller was to that time (the uniform corresponds to late 1800s; in January of 1810 it was modyfied) in ranks of this regiment. Nevertheless in Podstanitski Collection this miniature is listed now as a portrait of unknown Life hussar - obviously Mr. and Mrs Podstanitski were consulted by somebody who questioned "Keller"-identification (in view of absence of other contemporary portrat(s) of Graf von Keller (as comparison))...
Condition: good; in original frame
Creation Year: 1878
Measurements:UNFRAMED:70,5x55,0cm/27,8x21,7in FRAMED: 83,7x70,5cm/33,0x27,8in
Object Type:framed oil painting
Style: 19th century paintings
Technique: oil on canvas
Inscription:signed and dated: Merkel. (18)78; on verso: several inscriptions
Creator: Carl Gottlieb Merkel
Creator Dates: 1817 Leipzig-1897 Kassel
Nationality:German
2-3 days door-to-door shipment, professionally packed by Mail Boxes Etc and shipped with DHL (calculated for US): 380,96 EUR + insurance 1,8% of item price
Shipping cost to other destinations (worldwide) on request
Shipping price may be reduced if you dispense with the frame


Cheaper alternative (may be further reduced if you dispense with the frame): professionally packed by Mail Boxes Etc and shipped with regular Austrian mail - upon request under office@wilnitsky.net (OBS: In this case maximal refunded insurance value is EUR 500 if shipping destination was the US. In Europe sometimes more, depending on destination.)
Click here for images free of watermark!
Click on images or on

to see larger pictures!