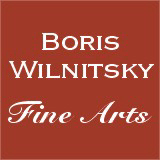 SALE!!! SAVE MONEY !! 1 EUR = 1 USD
# 42870
Mme Amelie Munier-Romilly "Portrait of Johanna Barbara Rausch from Schaffhausen", drawing, 1840s
1900 EUR
FINAL DISCOUNT PRICE= 1900 USD
( for EUR price see date rate )
Please note: Shipping and insurance costs are not included in this promotion, ONLY ITEM PRICES!
(please note additional 13% tax applies for transactions concluded within the European Union)
According to the old legend on verso of this drawing (it erroneously names the sitter "Schock" instead of "Schoch"), we are dealing here with portrait of Mme Johanna Barbara (some sources refer to her as "Barbara Johanna") Rausch, nee Schoch. According to the sitter's dress and hairstyle, this portrait was executed in the early 1840s.

Mme Johanna Barbara Rausch was born on August 15, 1786 (so says the legend on verso; in contrary we believe she was born a couple of years before this date - her first child (dauther Anna Petronella - see below) was born in 1797), in Swiss town Herisau by St. Gallen (canton Alpenzell) and died on February 20, 1868 in Schaffhausen (i.e. in this portrait, she is over 55). Her father was "Colonel Schoch" and her mother - Mme Schoch, nee Stockar von Neuforn.

The following Web research provided the following information:

The father of Mme Rausch was Johann Conrad Schoch (1749 Herisau - 1828 Schaffhausen (died in his daughter's house!). When he was a young man, he joined the Swiss Regiment "Stockar" in Netherlandish service and, within its ranks, became a major and commander of "Alpenzeller Battalion"; sometime later, he was promoted to rank of lieutenant colonel and simultaneously appointed commander of the entire Regiment "Stockar".
In 1794, the Batavian Republic discharged the Swiss men serving in the Netherlands and sent them back to their homeland. Subsequently, Johann Conrad Schoch quit the military service and became a merchant (by then he had already amassed a significant fortune). Additionally, he became one of the wealthiest and most influential politicians of his native canton Alpenzell.
Back in the Netherlands, Johann Conrad Schoch married the granddaughter of the founder of "Regiment Stockar" - Catharina Elisabeth Stockar.
The couple had seven children, of whom their son Johann Ferdinand Schoch (1794-1840; he was our sitter's younger brother) became particularly known. After the end of the Napoleonic Empire, he moved to the Netherlands and joined the re-established Swiss Regiment "Stockar" (shortly before his death, he became a colonel and the regiment's commander).
In 1828, the King of Netherlands awarded (by then - retired) lieutenant colonel Johann Conrad Schoch the honorary rank of a colonel (hence "Colonel Schoch" in legend on verso).
The sitter in this portrait - Mme Johanna Barbara Schoch - married in Schaffhausen wealthy Dutch merchant Heinrich Rausch zum Stokaberg. One of their daughters - Anna Petronella Rausch (1797-1873) - became in 1816 the wife of future mayor (since 1826) of Schaffhausen, Franz Anselm von Meyenburg.

Our comparison images convincingly demonstrate that this superior quality drawing is a very typical work of well-known 19th-century Swiss female artist - Mme Amelie Munier-Romilly.
Mme Amelie (Jeanne-Louise-Amelie) Munier-Romilly was born in 1788 in Geneva as a daughter of engraver Pierre-Paul Romilly and his wife Suzanne Magnin. At first, she took drawing lessons under J.-M Chalon, then - under by Adam Toepffer, and, in 1805, joined the studio of the well-known Genevan portraitist, Firmin Massot.
In 1813, together with her mother, she went to Paris. She made acquaintance with famous artists Francois Gerard and Jean-Baptiste Isabey, as wells as (her future great friend) actor Talma. Under the guidance of Francois-Gedeon Reverdin, she copied antiques at the Louvre. She debuted as an exponent in 1814. In the same year, she opened her own studio, directly nearby the studio of her teachers Firmin Massot and Adam Toepffer. In 1815, she became an Associate of the Societé des Arts and, from 1816, regularly exhibited in the Salons. In 1821, she married pastor David-Francois Munier, who later became the Rector of L'Academie de Geneve. They had together four children.
Amelie Munier-Romilly repeatedly returned to Paris (1823, 1824, 1834 and 1850). She counted among her friends artists Horace Vernet and David Wilkie.
In 1836, she lived in England, where she also befriended her countrymen, Jacques-Laurent Agasse and the brothers Chacon. While in England, she also took lessons in watercolor painting with William Henry Hunt.
Although it is known that she produced over 5000 works, her portrait drawings are difficult to find at the modern auction market.
CLICK HERE FOR OTHER WORKS OF THIS ARTIST IN OUR POSSESSION

miapr2419
Condition: good; in original frame
Creation Year: 1840s
Measurements: UNFRAMED:21,5x17,0cm/8,5x6,7in FRAMED: 33,2x28,4cm/13,1x11,2in
Object Type: Framed drawing
Style: Portrait Miniatures
Technique: charcoal with white heightening on brownish paper
Inscription: verso: old legend
Creator: Mme Amelie Munier-Romilly
To see other works by this artist click on the name above!
Creator Dates: 1788 Geneva-1875 Geneva
Nationality: Swiss
2-3 days door-to-door shipment, professionally packed by Mail Boxes Etc and shipped with DHL (calculated for US): 119,12 EUR + insurance 1,8% of item price
Shipping cost to other destinations (worldwide) on request
Shipping price may be reduced if you dispense with the frame


Cheaper alternative (may be further reduced if you dispense with the frame): professionally packed by Mail Boxes Etc and shipped with regular Austrian mail - upon request under office@wilnitsky.net (OBS: In this case maximal refunded insurance value is EUR 500 if shipping destination was the US. In Europe sometimes more, depending on destination.)
Click here for images free of watermark!
Click on images or on

to see larger pictures!