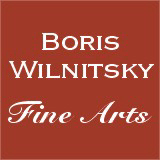 If you have a question about this item,
please contact us at: office@wilnitsky.net
# 42868
"Portrait of Baron Marie-Xavier Louis de Munck", interesting Russian miniature!!, 1802
Price: 3500 EUR
(please note additional 13% tax applies for transactions concluded within the European Union)
THE SELLER WILL COVER SHIPPING WITH REGULAR MAIL FOR THIS ITEM!

While browsing through the online inventory of an antique shop from the French town Narbonne, our attention was drawn by a group of portrait miniatures from the estate of late descendant of Alsatian family of Barons de Munck.
All of the miniatures bore verso inscriptions (handwritten in the 19th century by one of the members of the Munck family) identifying each sitter by name. While some of these legends were accurate, some others (as in our case) - confusing (a typical case of a family legend undergoing numerous transformations throughout the generations).
The text on verso of our miniature is consistent of two parts: at first, one reads the following (see our image nr.6) - "Louis /Baron de Münck /officier de l'armée /de Conde".
This text is crossed over and then re-written below with identical handwriting and the same ink: "Officier d'infanterie mort a /algerie". Later, the following inscription was added to the other two: "mort a Alger /le 1-er novembre 1837 /a l'age de 24 ans".

As it turned out later, the first (crossed-over) inscription on verso of our portrait was accurate, while the other two - not. The author of the last two inscriptions had confused the father for his son. In reality, the sitter in this portrait is the father of an infantry officer killed in Algeria in 1837. The names of both - the father and the son - contain "Louis"; also, the father was too a military officer once, although much earlier than his son.
The full name of the father (and subsequently the sitter in this portrait) was Marie-Xavier-Louis Baron de Munck (and not "Münck!). A native of Strasbourg (Alsace), he was by 1837 long retired from military service.

Yet, what brings a young Alsatian aristocrat (he appears to be ca 25 years old) to Russia in the first years of the reign of Emperor Alexander I? He is shown wearing a Russian "obshchearmeyskaya" ("common army") uniform - an indication that he serves in the Russian army without assignment to any particular troop.
Moreover, this type of uniform corresponds to the regulation of a rather narrow period between 1801 and late 1802 (for comparison, see our image nr.8). The absence of a long pigtail (obligatory in the Russian army until late 1801) suggests that the portrait was painted already in 1802 (for example, see our web #41479).

Marie-Xavier-Louis Baron de Munck was the son of Strasbourg politician and wealthy aristocrat Joseph-Antoine Baron de Munck (1733-?) and his wife Marie-Anne-Françoise-Therese d'Egg. He was the third-born son (his date of birth remains unknown; based on his visually young age in 1802, he must have been born sometime between 1775 and 1780).
The information discoverable on the Web (see our image nr.9) informs that he was an "ancient officier superieur" (a retired senior officer) of the Army of Condé (French Royalist army consisting of émigrés (mostly noblemen) and mercenaries, which was founded on the territory of the modern Germany and fought against the French Revolutionary Army in the 1790s (CLICK HERE)).
We are 100% certain that "our" young baron followed his father sister's husband - Georges Joseph Derocques (called "de Rocques") - a senior officer in the Army of Condé (see our image nr.10). One could suppose that de Rocques installed his young nephew (then virtually a boy) as his aide-de-camp in rank of a junior (!) officer. The fact that de Munck's name (unlike that of his uncle de Rocques') is not recorded in the lists of senior officers of the Army of Condé speaks in favor of this hypothesis.

And now the story takes an interesting turn:
By summer of 1797, Prince Condé had depleted his budget for maintenance of soldiers and officers. He then appealed and secured the consent of the Russian Emperor Paul I to include his army into Russian service (CLICK HERE).
In early October 1797, his remaining 5300 men marched in the direction of Russia. On January 1, 1798, they arrived to small Volhynian town Kladnev - the first inhabited locality of the Russian Empire. In Kladnev, they took an oath of allegiance to Emperor Paul I - one day before moving to their quarters in the area around town Dubno. There, they were stationed for one and a half years and in June of 1799 were sent back to Germany to fight against revolutionary France.
On March 7, 1800, when they reached Austrian city of Linz, Prince Condé received a dispatch from Paul I informing him that his army is to be transferred from Russian into British service.
Clearly, "our" young Baron de Munck (after January 1802, he still wears the Russian military uniform) had not marched back to Germany in June 1799; obviously he came before (with a certain mission?) to St.Petersburg and remained there for the next couple of years.
After Napoleon's 1801/02 amnesty for émigrés, he must have returned (sometime in the first half of the 1800s) to his native Strasbourg. In any case, his time spent in ranks of the Russian Army was rather brief, for his name is not findable in any available to us Russian documents. Hence, we can only make assumptions of the length of his "Russian" period based on his Russian uniform. Moreover, his former Army of Condé comrade - Count Roger de Damas - mentions him in his memoir as an "émigré who returned to Napoleonic France and who could help me obtain a forged passport, with which I could visit Strasbourg" (still during the First Empire!).
In any case, sometime before 1813 (the birth year of his (fallen in Algeria) son Louis), Marie-Xavier-Louis married in Strasbourg Marie-Ursule Reibel de Nordhausen, with whom he had in sum four children (the last one of them was born in 1818). After the death of his wife, he remarried in 1823 to the daughter of Strasbourg mayor - Marie-Cecile-Philippine de Kentzinger (this marriage was childless).
Until his death (August 1, 1846), Marie-Xavier-Louis Baron de Munck was one of Strasbourg wealthiest residents. He was the founder (1826) and the first director of the local "mont-de-piete" (pawnshop).
Back in 1815, he was among a number of émigré officers to be awarded the Chevalier Cross of Royal Military Order of St. Louis by King Louis XVIII, who was then living in Ghent in provisional exile.

A logical conclusion drawn from all of the above is as follows: this supreme quality miniature was executed in 1802 in Russia (highly likely, in St. Petersburg).
miapr2319
Condition: fairly good
Creation Year: 1802/03
Measurements:UNFRAMED:7,2x5,7cm/2,8x2,2in
Object Type:Framed miniature
Style: Portrait miniatures
Technique: watercolor on ivory (oval)
Inscription:verso: erroneous legend (see description)
Creator: Russian School
Creator Dates: -
Nationality:Russian
We will cover shipping with regular registered mail (delivery between 7-14 days) for this item.

OBS: Austrian mail refunds cases of loss or damage with maximum EUR 500.


Fully insured 2-3 days DHL service available upon request and subject to extra charges: office@wilnitsky.net
Click here for images free of watermark!
Click on images or on

to see larger pictures!