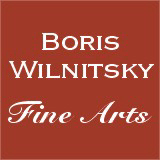 If you have a question about this item,
please contact us at: office@wilnitsky.net
# 42866
Pierre Louis Bouvier "Louise Marguerite Baroness de Blonay", important miniature on ivory!!, 1804
Price: 3200 EUR
(please note additional 13% tax applies for transactions concluded within the European Union)
THE SELLER WILL COVER SHIPPING WITH REGULAR MAIL FOR THIS ITEM!

A metal tag mounted onto the miniature's easel-tableu informs us that it is a portrait of "B-nne (for Baronne - B.W.) de Blonay" - a lady dressed and hairstyled according to fashion of the mid-1800s. Painted shortly before the sitter's death, the portrait was framed (it still retains its original frame) briefly after this sad occurrence: one finds the late woman's lock of hair on verso of the miniature. A mourning inscription encircles it: "Reste precieux au Coeur du meilleur des amis" (English: "Rest preciously in hearts of your best friends").

The records of this period (mid-1800s) show only one deceased Baroness de Blonay. She was the first wife of Baron Jean Henri de Blonay, owner of the famous Swiss Chateau de Blonay by Vevey (CLICK HERE; also, see our image nr.16 and our web #12444); this castle was in possession of the Blonay family from as early as 1175!.
This woman (her full name was Louise Marguerite, nee Wildermeth) passed away in November 1804, at the age of 30.

Louise Marguerite was born in 1774 in Swiss town Biel (25km from Bern), where her father Jakob Sigmund Wildermeth (1739-1790) - a retired French officer - held a post of a high-ranking official. She was a child from her father's third marriage (in 1769, he married her mother Anna Elisabeth Bourgeois, who died when Louise was only seven years old). See our image nr.13 for more information about her father.
In 1797, at the age of 23, Louise married Baron de Blonay who was two years younger than she (to view their marriage contract, see our image nr.15). In 1798, she gave birth to their only child - son Frederic-Louis (1798-1868).
Six years after her death (November 27, 1804), her husband remarried to a woman named Juliette Polier (see our image nr.14).

Alike Louise's native town Biel, Chateau de Blonay is situated relatively close (85km) to Switzerland's city of Bern. Surely, the author of this 1st-class portrait was one of miniaturists living or working in that city around 1804.

In 1803-1804, one of Switzerland's best miniaturists - Pierre Louis Bouvier - repeatedly executed portraits of Bern aristocracy. The article of Bernd Pappe "Les miniaturists de l'aristocratie bernoise actifs de 1780 á 1850" (in "100 ans de miniatures suisses /1780-1880", Geneva 1999) informs of the following: "Parmi les miniaturists genevois seuls Bouvie et Rath semblent avoir oeuvre a Berne. Entre 1803 et 1804 le grand Pierre Louis Bouvier (1765-1836) peint quelques-uns de ses chefs-d'oeuvre pour des clients bernois" (English: "Among Genevan miniaturists, only Bouvier and Rath (Jeanne-Henriette Rath (1773-1856) - B.W.) appear to have worked in Bern. Between 1803 and 1804, great Pierre Louis Bouvier (1765-1836) painted some of his masterworks for Bern clientele").
And indeed, our comparison images nr.18-24 demonstrate that this superior quality miniature is an absolutely authentic and very typical work of Louis Bouvier.
Pierre Louis Bouvier (1765 Geneva - 1836 Geneva) began by studying enamel painting in Geneva with Louis-Andre Fabre. From 1778, he attended Ecole de Dessin in the same city; from 1785 to 1788, was a pupil of Antoine Vestier at the Academy of Fine Arts in Paris. Subsequently, Bouvier produced mainly miniatures on ivory, as well as a number of oil portraits. In 1797-1801, he lived in Hamburg, in 1804-12, 1822 and 1827 - in Paris. Otherwise, the artist lived in his native city of Geneva, where, in 1828-36, he directed the Painting School of Museum Rath. Bouvier exhibited at the Salon of Paris in years 1804, 1806 and 1808; in 1808 - a miniature of Empress Josephine that belonged to her daughter, the Queen of Holland. In 1816, he painted the portrait of Mme de Stael, which he engraved himself: it is the only known engraving by him. In 1827, he published a "Manuel des jeunes artistes et amateurs en peintre ", which was translated into English and German.
Schidlof says that "Bouvier can be considered as one of the best miniaturists from Geneva at the beginning of the 19th century".
Works of this artist belong to collections of Louvre, the museums of Bordeaux, Geneva, Hamburg, etc.
Provenance: antique shop in La Fleche, department Sarthe, France

miapr2319
Condition: good; in original frame
Creation Year: 1804
Measurements:UNFRAMED:6,6x6,6cm/2,6x2,6in FRAMED: 7,2x7,2cm/2,8x2,8in
Object Type:Framed miniature
Style: Portrait Miniatures
Technique: watercolor on ivory
Inscription:inscription on verso: "Reste precieux au Coeur du meilleur des amis"
Creator: Pierre Louis Bouvier
Creator Dates: 1765 Geneva-1836 Geneva
Nationality:Swiss / French
We will cover shipping with regular registered mail (delivery between 7-14 days) for this item.

OBS: Austrian mail refunds cases of loss or damage with maximum EUR 500.


Fully insured 2-3 days DHL service available upon request and subject to extra charges: office@wilnitsky.net
Click here for images free of watermark!
Click on images or on

to see larger pictures!