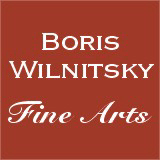 If you have a question about this item,
please contact us at: office@wilnitsky.net
# 42859
Giambattista Gigola-Attrib. "Maria Anna "Madama" Bolongaro", superb miniature!!, 1799/1800
Price: 3900 EUR
(please note additional 13% tax applies for transactions concluded within the European Union)
THE SELLER WILL COVER SHIPPING WITH REGULAR MAIL FOR THIS ITEM!

According to the portrayed woman's dress and hairstyle (for comparison, see our image nr.19), this miniature portrait was executed in about 1800. It was acquired in Frankfurt am Main from estate of the late descendant of (once) one of the city's wealthiest families Bolongaro (CLICK HERE). In the same estate there were several other miniatures: all of them displayed on verso name labels of depicted members of House of Bolongaro.

The miniature, which is presented here, also bears one such label on its verso. The label reads that it is a portrait of "Antonia Maria Bolongaro, who was born in 1748 and died in 1784 (sic!). Clearly, this information is fully erroneous, as the depicted young lady (she appears to be about 18/20 years of age) is, as already mentioned, dressed and hairstyled according to fashion of the turn of the 19th century.
Such mistakes are typical cases of family legends being transformed through generations. In reality, we are dealing with another female member of the House Bolongaro.
The research that followed led us to the factual identity of this woman. We discovered (available on the Web) another portrait of the same woman that - though showing her at a later stage in life (see our image nr.8) - shares the same facial characteristics.
The name of the lady was Maria Anna Simonetta Bolongaro. In 1799, she became the wife of Signor Francesco Maria Borgnis (CLICK HERE) - a negotiant from her native town Stresa on Lake Lago di Maggiore, 90km northwest of Milan (CLICK HERE).
The portrait was clearly ordered shortly after their wedding (possibly, it was produced together with a counterpart portrait of her fiancé).

Maria Anna was born, as said above, in the town of Stresa, in 1782. She was the daughter of Vittore Simonetta and Anna Maria Bolongaro. In 1790, her father was ennobled by Elector Karl Theodor of Pfalz and made into Baron of the Holy Roman Empire. In his earlier days, he was a partner in the company called "Brothers Bolongaro" and - from 1784 - the sole owner of the company "Bolongaro-Simonetta", which specialized in tobacco distribution. After the death of her father, Maria Anna took over his company, and it was renamed into "Bolongaro-Borgnis", with headquarters in Frankfurt am Main.
Maria Anna's mother was a heiress of Bolongaro family that owned considerable properties in Holland and Germany (manufacturing and trading tobacco was this family's traditional business).
In 1770, Maria Anna's maternal grandfather, Giacomo Filipo Bolongaro, built a wonderful palazzo ("Villa Bolongaro") in Stresa, at the waterfront of Lake Lago di Maggiore (CLICK HERE; see our images nr.11-13). After his death (1780), the palazzo was inherited by his daughter (Maria Anna's mother) and, respectively (after her death), by his granddaughter Maria Anna.
As already mentioned, in 1799, she married Francesco Maria Borgnis (he was a widower). The couple had a childless marriage, and, in 1818, (she was 36 then) Maria Anna became herself a widow. From that point onward, she returned to using her maiden name Bolongaro and settled permanently in her palazzo in Stresa. She was widely known and popular in Lago di Maggiore area for her numerous charitable deeds: for instance, she provided for medical and pharmaceutical care of the locals and sponsored schools for girls and boys in her hometown Stresa. The inhabitants of the town and its environs called her "Madama Bolongaro" (CLICK HERE). She invited the abbot and philosopher Antonio Rosmini to visit her in Stresa (CLICK HERE). She entursted Rosmini, who was considered Italy's greatest, 19th-century thinker, with directorship of the town's boys' school.
She died in Stresa on February 8, 1848 (she bequeathed "Villa Bolongaro" to her friend Antonio Rosmini).
After the latter's death, Villa was inherited by Rosmini's cousin - Abbot Giambattista.
In 1857 and in the years that followed, the villa became the favorite holiday place of Duchess of Genoa, Princess Elisabeth of Saxony, wife of Ferdinand Duke of Genoa, second child of King Charles Albert of Sardinia. It was in this period that the residence received its inofficial name "Villa Ducale" and became one of the most beloved meeting locations of the European nobility.
After Duchess' death, the villa went through several ownerships, and was finally purchased by the "Rosminian Fathers" in 1942. After WWII, it underwent a complete renovation, and is now serving as the headquarters of the "International Centre for Rosminian Studies" - hosting a prominent library and a museum dedicated to philosophy (CLICK HERE).

Our comparison images nr.14-18 convincingly demonstrate that (and it is the first name that comes to mind) the author of this work was likely North Italy's best miniaturist of the turn of 19th century, Giovanni Battista Gigola, who lived in neighboring city of Milan until 1800 (he moved to Paris in late 1800).
Giovanni Battista (Giambattista) Gigola (or Cigola) was born in 1767 in Brescia and died in Tremezzo near Milan in 1841. He commenced his studies in Italy; in ca. 1800 Gigola traveled to Paris, where he joined the studio of Isabey. According to Leisching, he may have participated in several exhibitions in Paris beginning from 1803. Sometime later he returned to Milan, where he was a protégé of the viceroy Eugene, Duke of Leuchtenberg (Eugene de Beauharnais). Besides miniatures on ivory, Gigola also painted on enamel. In fact, he is considered the artist who reintroduced this technique to Italy. He also drew illustrations for Byron and Lodovico da Porto. Schidlof says, his miniatures show no influence of his master Isabey, they are of a typical Italian technique, with slightly dull coloring and the backgrounds painted in gouache.
CLICK HERE FOR OTHER WORKS OF THIS ARTIST IN OUR POSSESSION

miapr0419
Condition: fairly good
Creation Year: 1799/1800
Measurements:UNFRAMED:7,5x6,0cm/3,0x2,4in FRAMED: 14,5x12,3cm/5,7x4,8in
Object Type:Framed miniature
Style: Portrait Miniatures
Technique: watercolor on ivory (oval)
Inscription:-
Creator: Giovanni Battista (Giambattista) Gigola
Creator Dates: 1767 Brescia-1841 Milan
Nationality:Italian
We will cover shipping with regular registered mail (delivery between 7-14 days) for this item.

OBS: Austrian mail refunds cases of loss or damage with maximum EUR 500.


Fully insured 2-3 days DHL service available upon request and subject to extra charges: office@wilnitsky.net
Click here for images free of watermark!
Click on images or on

to see larger pictures!