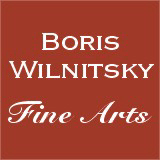 SALE!!! SAVE MONEY !! 1 EUR = 1 USD
# 42851
Eugène Deveria (1805-1865) "Franzisca Princess de Joinville, nee Princess of Brazil", oil/canvas, 1847
10000 EUR
FINAL DISCOUNT PRICE= 10000 USD
( for EUR price see date rate )
Please note: Shipping and insurance costs are not included in this promotion, ONLY ITEM PRICES!
(please note additional 13% tax applies for transactions concluded within the European Union)
Important find!! We discovered (and immediately purchased) this piece in a Bayeux (Normandy) antique shop in the early 2019. The shopkeeper titled this relatively small oil-on-canvas painting "portrait of a young lady".
Our decision to buy this portrait was based on strong belief that it is a typical work of well-known French 19th-century artist (several of whose works have been in our possession in the past) - Eugène Deveria (see also our comparison images nr.19-23).

Yet, who is this young lady seated on the terrace of her palace with park view in the background?

Her ermine-lined mantle thrown across the chair and (especially) the large sapphire adorning her hat (a common attribute of female royals) speak for her very likely affiliation with one of the European royal families.
This hypothesis was promtly proven accurate after the following research: other known portraits of this woman (see our images nr.9-16) convincingly prove that we have come across a previously unknown representation of the daughter-in-law of King Louis Philippe I of France (CLICK HERE) - Franzisca (in France - "Françoise") Princess de Joinville, nee Princess of Brazil. Possibly a study for a large-scale (so far untraced) portrait, this supreme quality painting was likely executed before Franzisca, her husband and their children followed Louis-Philippe into exile in England (1848).

Franzisca de Braganza (see our image nr.16) was born on August 2, 1824 in the Palace of Säo Crisoväo in Rio de Janeiro, capital of the Empire of Brazil. Through her father - Emperor Dom Pedro I (1798-1834; CLICK HERE; note the astonishing likeness of father and daughter!) - Franzisca was a member of the Brazilian branch of the House of Braganza. Her mother was the Archduchess Maria Leopoldina of Austria (1797-1826; CLICK HERE), daughter of the last Emperor of the Holy Roman Empire, Franz II. Through her mother, Franzisca was also a niece of Napoleon Bonaparte and the first cousin of his son (Duke of Reichstadt) and Kaiser Franz Joseph I (for portraits of her parents in our possession, see our web #26868 and our web #41615).
On May 1, 1843 (she was 17 years old), in Rio de Janeiro, Franzisca married six years her senior François d'Orleans, Prince de Joinville (1818-1900; see our image nr.17), the third son of Louis Philippe, Duke of Orleans and (from 1830 to 1848) the King of France. Upon her arrival to Paris (1844), she was portrayed by painter Ary Scheffer (see our image nr.9).
The couple had two survived children: Princess Françoise d'Orleans (1844-1925) and Pierre, Duke d'Penthievre (1845-1919). In early 1848, after Louis Philippe's abdication, the entire Royal family fled France and settled in Clermont, England. It was there that Franzisca gave birth to a stillborn daughter in 1849 ( we believe that "our" portrait was executed in 1847, while she was still in France ).
After the fall of the House of Bonaparte of the First Empire, the Orleans family returned to France. Franzisca died in Paris aged 73. Her husband outlived her by two years.

We would like to add that, in this portrait, Princess Franzisca de Joinville is likely depicted on the park terrace of Orleans family's summer residence - Chateau de Neuville by Paris (CLICK HERE; she was then twenty three years old. ).
Eugène Deveria (1808 Paris - 1865 Pau) was a very well-known French painter, younger brother of Achille Deveria. In 1824 he made his debute at the Paris Salon exhibiting his genre pictures and portraits. From the mid 1840's he dedicated himself mainly to historical paintings. Works by Eugène Deveria are displayed in Louvre and Versailles, in the museums of Avignon, Nantes, etc.
miapr0119
Condition: good; in original frame
Creation Year: 1847
Measurements: UNFRAMED:35,0x27,0cm/13,8x10,6in FRAMED: 41,8x33,7cm/16,5x13,3in
Object Type: Framed oil painting
Style: 19th century paintings
Technique: oil on canvas
Inscription: -
Creator: Eugène Deveria
To see other works by this artist click on the name above!
Creator Dates: 1808 Paris-1865 Pau
Nationality: French
SHIPPING COSTS UPON REQUEST:
office@wilnitsky.net
Click here for images free of watermark!
Click on images or on

to see larger pictures!