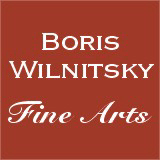 If you have a question about this item,
please contact us at: office@wilnitsky.net
# 42838
Christian Gottfried Heinrich Geissler "Cossacks in Meissen (March 1813)", important watercolor!!, 1813
Price: 6900 EUR
(please note additional 13% tax applies for transactions concluded within the European Union)
We are looking here at one of the episodes of the anti-Napoleonic Campaign of 1813 (CLICK HERE) - a war that received in Russia the name of "Foreign Campaign" and the name "Liberation War" by its ally Prussia.

In the night of March 12/13, French Marshal Davout had ordered to his troops to burn the wooden roadway of the Altstadtbrücke (Old Town Bridge) over the River Elbe (CLICK HERE) in Saxonian town Meissen (CLICK HERE), situated about 25km north west of Dresden.
Marshal Davout, who was in command over French and Bavarian troops occupying Meissen, issued this order after learning of the Russian and Prussian armies nearing town. Additionally, he ordered to remove all the boats docked at the river's opposite bank, so they would not fall into the hands of the enemy.
The Russian advance-guard Cossack detachments had showed up at Elbe's opposite bank already on March 13 (our image nr.9 shows them there a few days later, on March 16). During the following two weeks, the Cossacks managed not only to locate the boats previously hidden by locals, but also to construct makeshift rafts (for transporting people and horses) from disassembled villagers' houses.
In the midmorning of March 27, the last Napoleonic troops left Meissen. In the late afternoon of the same day, the Cossacks crossed River Elbe and captured the town.

The watercolor, which is presented here, shows the very scene of the Cossacks disembarking on the river bank in Meissen. The painter here offers a panoramic view of the River Elbe with remains of the Altstadtbrücke with his back turned toward Castle Albrechtsburg and Meissen Cathedral.

After seeing this painting in an auction house's sale catalogue, we performed research and discovered the following important information:
Not only were we able to identify the author of this watercolor, we have also learned that there existed four other replicas of this work (each - with minor difference in its foreground's figural staffage). While one of these replicas is housed in the Kupferstichkabinet of Dresden Gallery (see our image nr.10), the whereabouts of the other three works remains unknown; we know them from the old reproductive prints (see our images nr.11-13).
The author of all five replicas (including the one offered here; likely, he produced several more - a typical case of follow-up orders!) was well-known Leipzig illustrator and first-hand participant of the aforementioned events, Christian Gottlob Heinrich Geissler .
Christian Gottfried Heinrich Geissler (1770 Leipzig - 1844 Leipzig) was the son of goldsmith Johann Gottlob Geissler and his wife Johanna Christina, nee von Ryssel. From 1784, he attended the Leipzig Academy of Fine Arts and was strongly influenced by works of his landsman and fellow-illustrator - Johann Salomon Richter (1761-1798; CLICK HERE).
In 1790, Geissler moved to St. Petersburg and worked there as a drawing teacher. Two years later, he became an assistant of the naturalist Peter Simon Pallas and, in 1793/94, accompanied him on his journey to South Russia. After his return to Leipzig (1798), Geissler published a great number of studies made on this trip.
In Leipzig, he was mainly active as a book illustrator. During the Napoleonic Epoch, he became events-chronicler of (occupied by the French) Leipzig and its environs. His scenes from the Battle of Leipzig (October 1813) became especially known; many of them (all performed in watercolor technique) are housed in the Museum of History in Leipzig.
One of the streets of Leipzig was renamed in 1903 after the artist and is called "Geisslergasse".
Provenance:
1) Leveton & Sons Ltd, Norwich / England (picture framers and restorers)
2) auction house "John Nicholson" / England, February 27, 2019, lot 169 (listed as "Early 19th century Northern European School - Militia on horseback by a river with other elegant figures and horses")

mimar2219
Condition: fairly good; two minimal holes in the upper left corner
Creation Year: 1813
Measurements:UNFRAMED:31,0x47,2cm/12,2x18,6in FRAMED: 40,1x56,3cm/15,8x22,2in
Object Type:Framed watercolor
Style: 19th century paintings
Technique: watercolor on paper (laid on paper once again)
Inscription:-
Creator: Christian Gottfried Heinrich Geissler
Creator Dates: 1770 Leipzig-1844 Leipzig
Nationality:German
SHIPPING COSTS UPON REQUEST:
office@wilnitsky.net
Click here for images free of watermark!
Click on images or on

to see larger pictures!