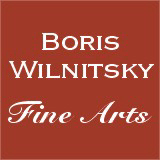 If you have a question about this item,
please contact us at: office@wilnitsky.net
# 42833
Etienne Charles le Guay "Antoinette-Marie, Marquise de Salperwick", important miniature!! 1803/05
Price: 5900 EUR
(please note additional 13% tax applies for transactions concluded within the European Union)
THE SELLER WILL COVER SHIPPING WITH REGULAR MAIL FOR THIS ITEM!

Clearly signed "Le Guay", this miniature portrait of a young woman depicted as bride shows (according to the old authentic legend on its verso) Antoinette-Marie, Marquise de Salperwick, nee Marquise Vidard de Saint-Clair. A brief Web research led us to the following information about this lady: she was born as a daughter of Antoine-Francois-Nicolas Vidard, who was a chevalier, marquis de Saint-Clair and colonel of the Royal Cavalry, and his wife, Antoinette-Louise-Maxime de Chastenet de Puysegur. Fleeing from the Great Terror, the family was forced to leave France. Whatever the case may have been, we found the information that the sitter's mother died in "messidor an 6" (i.e. sometime between September and October of 1798) in Duchy Brunswick in Germany.
Most likely, the sitter (together with her father and her siblings) - alike the thousands of other émigrés - returned to France after Napoleon's decree (Decree on Émigrés) issued on the 27th of April 1802. Keeping in mind that the author of this a Frenchman, we can add that her wedding took place already in France, i.e. after her return (and indeed, the sitter's dress and hair-style speak for ca. 1803/05). Antoinette-Marie married Eugene-Louis Philippe, Marquise de Salperwick, who during the 1st Restoration (1814/15) belonged to the retinue of King Louis XVIII' brother, Comte d'Artoise, and had a rank of a captain of the Cavalry Regement de Royal-Navarre. The couple had two children: son Armand de Salperwick and daughter Louise-Josephine-Melite, who in 1819 married Marie-Amable Cadier, Baron de Veauce.
Antoinette-Marie died before 1827, for in this year her widower married his second wife.

In 2006 (i.e. eight years before the acquisition of this miniature) we bought another work of Etienne Le Guay... with another portrait (2-3 years older) of the same lady (see our image nr.17 and our web # 42832 ).
Etienne Charles Le Guay or Leguay (1762 Sevres - 1846 Paris) was a son of a porcelain painter and gilder Etienne Henri Leguay. He studied under J.M. Vien and exhibited at the Salon from 1795 to 1819, showing miniatures on ivory and porcelain, as well as some mythological paintings.
From 1778 to 1785 he was a painter at the factory in Sevres, and later, for some time, a manager of the porcelain factory Dihl & Guerhard in Paris. Between 1808 and 1840 he again worked in Sevres. His three successive wives, Marie-Sophie Giguet (d. in 1801), Marie-Victoire Jaquotot (divorced in 1809), and Caroline de Courtin, were all his pupils and painted miniatures.
Schidlof writes:"Le Guay was one of the best miniaturists of his period, particularly good are his works of the beginning of the 19th century" (sic!). Works of Le Guay can be viewed at the Louvre, in Museum Carnavalet in Paris, in Museum of Manufactory Sevres, in Museum Angers, in Museum of Applied Arts in Vienna, etc.
His miniatures achieve very remarkable prices at the art auction market (see our additional images). Another one of our additional images shows a breakfast service decorated by Le Guay (Sevres porcelain).
CLICK HERE FOR OTHER WORKS OF THIS ARTIST IN OUR POSSESSION

Provenance: heirs of family de Salperwick living in West Sussex, England (acquired together with our web # 38773)

miokt02ap14
Condition: good
Creation Year: 1803/05
Measurements:UNFRAMED:7,0x7,0cm/2,8x2,8in FRAMED: 13,3x12,3cm/5,2x4,8in
Object Type:Framed miniature
Style: Portrait Miniatures
Technique: watercolor on ivory
Inscription:signed: Le Guay; verso: old legende
Creator: Etienne Charles Le Guay
Creator Dates: 1762 Sevres-1846 Paris
Nationality:French
We will cover shipping with regular registered mail (delivery between 7-14 days) for this item.

OBS: Austrian mail refunds cases of loss or damage with maximum EUR 500.


Fully insured 2-3 days DHL service available upon request and subject to extra charges: office@wilnitsky.net
Click here for images free of watermark!
Click on images or on

to see larger pictures!