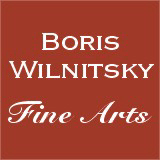 If you have a question about this item,
please contact us at: office@wilnitsky.net
# 42818
"Claude Soalhat, aide-de-camp of Prince Felice Baciocchi", unique portrait!!, 1805/06
Price: 2000 EUR
(please note additional 13% tax applies for transactions concluded within the European Union)
THE SELLER WILL COVER SHIPPING WITH REGULAR MAIL FOR THIS ITEM!

According to the old authentic legend on verso of this work, we are dealing here with a unique portrait of then 23/24-year-old Napoleonic "capitaine du genie" (captain of Corps of Engineers), Claude Soalhat. Additionally, the legend reads that he was born in Riom (department Puy-de-Dôme, France) on March 4, 1782, and that he had gone missing in 1813. The legend also names him aide-de-camp (adjutant) of Felix Bacciollli (Felice Pasquale Baciocchi (see our image nr.7); from 1805 - Prince of Lucca (one of Tuscan duchies) and - from 1809 - Grand Duke Consort of Tuscany, husband of Napoleon I' sister Elisa Bonaparte (CLICK HERE).

In the course of our Web research, we have located an article by French historian Comte Serge Fleury titled "La derniere campagne du capitaine Soalhat" (English: "The last campaign of captain Soalhat"), which was published in issue no.320 (1928) of the magazine "Carnet de la Sabretache" (CLICK HERE). In brief, the article discusses the following:

Claude Soalhat was born into an ancient French family whose lineage dates back to the times of King Francois I. At the age of 20, he began attending "L'Ecole du Genie" in Metz and graduated it in rank of a lieutenant. In 1806, already a captain stationed in Tuscan town Piombino, Salhat was noticed by Felice Pasquale Baciocchi, Prince of Lucca and Piombino, who subsequently made him an adjutant and, three years later (1809), took him to his new residence seat - the city of Florence.
In early 1812, he left his superior Baciocchi after his new appointment to staff of Marshal Berthier, Commander of the Headquarter of the Grande Armée. Soalhat, however, retained regular correspondence with both Baciocchi and the latter's wife Elisa Bonaparte Grand Duchess of Tuscany. In his article, Serge Fleury offers several surviving letters of Soalhat dated 1812 (including the letter, which he dispatched to his family during the Russian Campaign (called by Russians "Patriotic War of 1812"). In his letters (CLICK HERE), Soalhat talks about various crucial occurrences of that campaign (a sort of a "treasure" for historians!). His last surviving letter to Felice Baciocchi is dated October 12, 1812 (no one has heard of him ever since). Most likely, he had gone missing in action or had frozen to death during the atrocious Grande Armée retreat from Russia (October-December 1812).
His parents learned of his disappearance only in November 1813: they received a letter from his former superior Baciocchi (hence, the date of his missing).

Although some sources inform that Captain Soalhat was an awardee of Chevalier of Legion of Honor, we do not seem to find confirmation of this.
Provenance: private collection, Paris

mimar1219
Condition: good
Creation Year: 1805/06
Measurements:UNFRAMED:5,2x4,3cm/2,0x1,7in FRAMED: 10,8x9,9cm/4,3x3,9in
Object Type:Framed miniature
Style: Portrait Miniatures
Technique: watercolor on ivory
Inscription:verso: old legend
Creator: Italian School
Creator Dates: -
Nationality:Italian
We will cover shipping with regular registered mail (delivery between 7-14 days) for this item.

OBS: Austrian mail refunds cases of loss or damage with maximum EUR 500.


Fully insured 2-3 days DHL service available upon request and subject to extra charges: office@wilnitsky.net
Click here for images free of watermark!
Click on images or on

to see larger pictures!