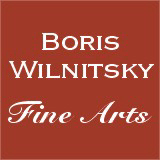 If you have a question about this item,
please contact us at: office@wilnitsky.net
# 42816
Johan W. C. Way "Queen Desideria of Sweden (Désirée Clary)", important miniature!!, 1827
Price: ON REQUEST
(please note additional 13% tax applies for transactions concluded within the European Union)
THE SELLER WILL COVER SHIPPING WITH REGULAR MAIL FOR THIS ITEM!

Set into original frame (made of gold and green enamel), this work was executed in 1827 by Stockholm court miniaturist Johan-Wilhelm-Carl Way. It is an extremely important miniature portrait of Queen Consort of Sweden Desideria (birth name - Désirée Clary) - the former "almost-bride" of Napoleon Bonaparte and - from 1798 - the wife of one of the latter's generals (later, Marshal of the First Empire and - from 1818 - the King of Sweden) Jean Baptiste Bernadotte (King Karl XIV). For her extensive biography, CLICK HERE.

This miniature is the author's own (clearly executed in the same (1827) year) replica of his miniature in collection of Stockholm National Museum (see our image nr.8 and CLICK HERE). Sometime in the course of the past two hundred years, the museum version lost its original frame (it was surely produced by the same court jeweler) and is now set into a modern wooden frame.
The same museum houses another one of Way's miniatures - a work almost identical to ours, which is set in a golden frame inlaid with semiprecious stones, and which portrays Désirée's daughter-in-law - Crown Princess Josephine of Sweden (nee Princess of Leuchtenberg, daughter of Eugene de Bauharnais, and wife of Désirée's son, Crown Prince Oscar; see our image nr.9). The latter was executed by Way three years before he made both replicas of Désirée's portrait.
Similarly, Helsinki Sinebrychoff Art Museum houses yet another Way's miniature portrait of Désirée (see our image nr.10). Although the museum experts estimate its execution date as "ca 1820", it appears rather as having been executed in the 2nd half of the 1820s.
Finally, one finds on the Web one more portrait of Désirée by the same artist - Johan-Wilhelm-Carl Way. This 1820 work was sold in 2012 at Christie's London for US $13000 (see our image nr.12).

It seems at first that the first three representations of Désirée Clary (the one, which is offered here, the one housed in the Stockholm National Museum and the one from Helsinki Sinebrychoff Art Museum) were painted by Way as partial copies after the oil painting by Fredric Westin (1822; see our image nr.13). In contrast, the miniature sold at Christie's London in 2012, is a copy after Désirée's portrait made by Parisian portraitist Robert Lefevre.
Johan Wilhelm Carl Way (1792 Rute, Cotland / Sweden - 1873 Stockholm) was a son of an Englishman employed by the Swedish Admiralty. He went to London with his father in 1807 and proceeded to study drawing there. With time he became a pupil of the miniaturist Alexandre De Latour in Brussels. In 1821, he became a member of the Stockholm Academy and later, between 1828-1831 (sic!) traveled to Copenhagen, London and Paris to study painting on glass. From 1831 he was teaching art history at the Stockholm Academy.
Schidlof adds that "Way was one of the good Swedish miniaturists of his period…".
Provenance: private collection, Toulouse, France

mimar1119
Condition: fairly good
Creation Year: 1827
Measurements:UNFRAMED:3,7x3,1cm/1,5x1,2in FRAMED: 5,9x4,5cm/2,3x1,8in
Object Type:Framed miniature
Style: Portrait Miniatures
Technique: watercolor on ivory (oval)
Inscription:monogrammed: "W."
Creator: Johan Wilhelm Carl Way
Creator Dates: 1792 Rute, Cotland-1873 Stockholm
Nationality:Swedish
We will cover shipping with regular registered mail (delivery between 7-14 days) for this item.

OBS: Austrian mail refunds cases of loss or damage with maximum EUR 500.


Fully insured 2-3 days DHL service available upon request and subject to extra charges: office@wilnitsky.net
Click here for images free of watermark!
Click on images or on

to see larger pictures!