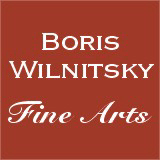 If you have a question about this item,
please contact us at: office@wilnitsky.net
# 42784
Josef Kreutzinger "Maria Anna Countess Esterhazy, nee Palffy", important miniature!!, ca 1785
Price: 7500 EUR
(please note additional 13% tax applies for transactions concluded within the European Union)
THE SELLER WILL COVER SHIPPING WITH REGULAR MAIL FOR THIS ITEM!

Offered here is a very important miniature portrait of the lady, who happened to be the offspring of two Hungarian high-aristocratic families - Counts Palffy-Erdöd and Counts Esterhazy de Galantha.
The name of the lady was Maria Anna, nee Countess Palffy-Erdöd. She was born on September 28, 1747, as the daughter of Miklos VII Count Palffy ab Erdöd (1710-1773) and Maria Anna Sidonia Countess von Althann (1715-1790). On December 15, 1771, she married in Pressburg (now Bratislava, Slovakia) one year her junior Janos (Johann) Baptist Count Esterhazy de Galantha (1748-1800); he was then a captain of the Austrian Army - see our image nr.12). The couple had several children, out of whom only two survived: their son Miklos Janos (he married a French woman, Marquise de Roisin) and their daughter Maria Josepha (she married her cousin Johann Nepomuk Kasimir Count Esterhazy de Galantha).
Anna Maria was a recipient of the Austrian Ladys Order of Star Cross and "Palast-Dame" (court title).
She died in Vienna either on June 2, 1799 (see our image nr.9) or - as another source states (see our image nr.10) - on March 8, 1806.
Our images nr.13-14 show two other portraits of this woman.
We would like to add that, in this portrait (according to her and hairstyle, it was painted in the mid-1780s), she is depicted at the age of ca 38/39.

This superior quality miniature is a very typical and absolutely authentic early work of well-known Vienna portrait painter and miniaturist, court artist Josef Kreutzinger.
Josef Kreutzinger (also Kreuzinger; 1757 Vienna - 1829 ibidem) studied from 1768 at the Viennese "Academy St. Anna" (Academy of Fine Art) and after 1774 was strongly influenced by Viennese Neoclassical historical painter and portraitist Friedrich Heinrich Fueger who arrived in Vienna this year. Kreutzinger became Fueger's pupil immediately. After a short stay in Munich and several months in St. Petersburg (1793), Kreutzinger returned to Vienna where he later became a sought after portraitist of high society and court (he was also appointed"Hofkammermahler" (court artist)). His works of this period demonstrate a strong influence of English portraitists of the 18th century - Lawrence, Reynolds and Gainsborough. From Lawrence originates the "en-face" representation of faces with a sidewards glance and upper body facing in the opposite direction in three-quarters portraits. Reminiscent of Gainsborough are portraits where the depicted person stands next to their horse. Besides royalties and high aristocracy Kreutzinger's clientele consisted of military persons, scholars and artists. Later he also portrayed representatives of Viennese bourgeosie. He was also active as engraver and portrait miniaturist.
Our web #42739 is a convincing prove of the fact that Kreutzinger visited Russia at least one more time: in autumn of 1799, he portrayed in St. Petersburg the newlywed daughters of Tsar Paul I, Grand Duchess Alexandra Pavlovna and Elena Pavlovna, as well as their husbands - Archduke Joseph of Austria and Friedrich Ludwig, Prince of Mecklenburg-Schwerin, and the duchesses' mother, Empress Maria Fedorovna.
In 1936 one of Vienna's streets was named in Josef Kreutzinger's honor - Kreutzingergasse in the Viennese 12th district.
CLICK HERE FOR OTHER WORKS OF THIS ARTIST IN OUR POSSESSION

Provenance:
1) Property of Palffy family
2) Vienna auction house "Dorotheum", sale "Estate of Prince Ladislaus Palffy (1867-1947)", October 18, 2005, lot 53

mifeb2719
Condition: good
Creation Year: ca 1785
Measurements:UNFRAMED:8,4x6,3cm/3,3x2,5in FRAMED: 9,3x6,8cm/3,7x2,7in
Object Type:Framed miniature
Style: Portrait Miniatures
Technique: watercolor on ivory
Inscription:verso: old inscription
Creator: Josef Kreutzinger
Creator Dates: 1757 Vienna-1829 Vienna
Nationality:Austrian
We will cover shipping with regular registered mail (delivery between 7-14 days) for this item.

OBS: Austrian mail refunds cases of loss or damage with maximum EUR 500.


Fully insured 2-3 days DHL service available upon request and subject to extra charges: office@wilnitsky.net
Click here for images free of watermark!
Click on images or on

to see larger pictures!