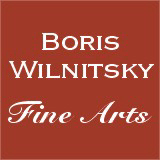 If you have a question about this item,
please contact us at: office@wilnitsky.net
# 42781
"Aide-de-camp Haeyaert before the burning Smolensk (August 1812)", interesting miniature!!
Price: 3200 EUR
(please note additional 13% tax applies for transactions concluded within the European Union)
THE SELLER WILL COVER SHIPPING WITH REGULAR MAIL FOR THIS ITEM!

This work turned out to be one of our most challenging "art detective" investigations!

In the end of January 2019, we acquired a miniature portrait of an unknown Napoleonic officer at a French antique shop. The portrayed man is depicted before a town set ablaze; its gate and church clearly in sight (see our image nr.6). There is no doubt that it is the Russian town Smolensk, which was burned down during the three-day battle (18-20 August 1812) between the Napoleonic and Russian armies (CLICK HERE and CLICK HERE). The town gate (then known as "Molokhovskie Vorota") showed impenetrable defense capacity (see our image nr.11); it was detonated in November 1812 by the French troops on their way out of Smolensk and their overall retreat from Russia.

The portrayed officer is shown wearing the uniform of aide-de-camp (adjutant; see our comparison image nr.8) of either a brigade or division general, or perhaps even a marshal: due to absence of a corresponding armband, one cannot be certain of his superior's rank. The thick fringes of his single (left shoulder) epaulette implies that he is in rank of either "chef de bataillon" or "chef d'escadron" (a rank following that of a "capitaine" (captain)).
He is decorated with Chevalier Cross of the Napoleonic Order of Legion of Honor - a detail that is instrumental in identifying this man.

Clearly, this portrait was commissioned by the sitter himself: he must have ordered it sometime after the Battle of Smolensk, rather in the peace period. The first such period would have been in the summer of 1813, during the ten-week-long ceasefire between Silesian and Saxonian campaigns. It could have similarly been in the late spring or summer of the following (1814) year, after the fall of the First Empire. The portrait was meant (surely upon the man's wish) to commemorate his most remarkable career accomplishment. It was - as we are convinced - his role and participation in the Battle of Smolensk (August 1812). We are also nearly 100% certain that he was awarded the Chevalier Cross of Legion of Honor for great distinction in this battle.

Understandably, the next step in our research was to locate and study the lists of aide-de-camps that were awarded Chevalier (sic!) Cross of Legion of Honor soon after the capture of Smolensk.
We have thus turned to the standard academic source - "Etat General de la Legion d'Honneur", Paris 1814. In it, we found in sum thirteen potential "candidates" ; all of them in ranks between "sous-lieutenant" (2nd lieutenant) and "capitaine" (captain), and not a single one in rank of a "chef de bataillon" ("chef d'escandron").
What were their fates later on?
Five out of the thirteen men cannot be considered as "candidates", as they were serving in the allied (Polish or Wuerttemberg) troops and consequently wore their "national" uniforms.
Out of the remaining eight aide-de-camps, only two men (both present in Smolensk in captain rank) were promoted into the next rank of "chef de bataillon" shortly after (i.e. still during the First Empire), in the following (1813) year:
- Captain Haeyaert, aide-de-camp of the Commander of the 10th Infantry Division (Ney's 3rd Corps) - Ledru des Escarts (CLICK HERE and HERE). One year after Smolensk, on September 19, 1813, he (while remaining General Ledru's aide-de-camp!) was raised in rank to "chef de bataillon"
- and Captain Du Rocheret (Theodore-Philippe Louis Comte Du Rocheret), aide-de-camp of the Commander of the 11th Infantry Division (Ney's 3rd Corps) Joubert. His promotion to "chef de bataillon" similarly took place in 1813; by then, he had served already in the 47th Line Infantry Regiment and had swapped the uniform of an aide-de-camp for that of an infantry officer, with a contre-epaulette on right schoulder

Hence, we are left with only one (!) "candidate" - Benoit-Jacques-Dominique Haeyaert, one of the three aide-de-camps of Division General Francois Roch Ledru des Escarts (see our images nr.12-13).
Same as captain Du Rocheret, he was awarded the Chevalier Cross of Legion of Honor and the noble title of a "Chevalier d'Empire" on September 2, 1812, i.e. twelve days after the capture of Smolensk.
Due to the fact that his promotion to "chef de bataillon" occurred at the very onset of the Saxonian Campaign of 1813, and that he had spent the following seven months in the field, we are more than certain that he ordered this portrait when he was already in Paris - in the late spring or early summer of 1814.

The documents available on the Web (see our images nr.14-17) inform of the following:

Benoit-Jacques-Dominique Haeyaert was born on February 29 1776 (sic! - in this 1814 portrait, he is 38 years old, which is in full accordance with sitter's visual age) in commune Bailleul by Dunkirk, department Nord, as a son of Flemish man Benoit-Augustin-Joseph-Ignace Haeyaert (b. 1741; he was a local "controlleur des receveur et payeur" (official) and Vice-Mayor of Bailleul, and his wife Domicella Pilagia, nee Dedours (her brother was a "conseiller du roi" (Royal councilor; all indications are that their family was not poor).
During the Revolution, the family left France and returned only after Napoleon granted the great majority of émigrés amnesty (1801/02). In any case, Benoit-Jacque-Dominique began his military career only at the age of 26: in 1802, he was recruited into the army and joined the 25th Line Infantry Regiment as a common soldier. In the same (1802) year, he was promoted (first) to a corporal, then - to "fourier", and, next year, respectively, to sergeant and sergeant-major. He received his first officer's rank ("sous-lieutenant") on October 28, 1806. Two and a half years later, on February 28, 1809, he was promoted to lieutenant and, one month later, sent to serve at the headquarters of the Wuerttemberg Division. On July 23, 1809, he was raised in rank to captain.
From March 14, 1810, he served at the headquarters of "Camp de Boulogne".
On February 14, 1812, he became an aide-de-camp of Division General Ledru, whom he accompanied throughout the entire Russian Campaign fighting at Krasnoi, Smolensk (Chevalier Cross of Legion of Honor and ennoblement to "Chevalier d'Empire"), Valutina Gora, Borodino, Viazma, once again at Krasnoi and Berezina. He then took part in the Silesian and Saxonian campaigns of 1813 and the French Campaign of 1814 (he last fought in the Battle of Paris, 30/31 March of 1814).
On July 29, 1814 (he surely ordered this portrait several weeks before), he was awarded the Officer Cross of (by then already Royal) Order of Legion of Honor (ribbon with rosette!).
We do not exactly know, how long he remained General Ledru's aide-de-camp; he may have occupied this post up until Napoleon's Hundred Days (March 20, 1815 - July 8, 1815). In any case, it is known that General Ledru joined the Emperor upon latter's return to France. It is very likely that Haeyaert did not follow his superior (Ledru), for the latter went into retirement after Napoleon's defeat. Consequently, "chief de bataillon" Haeyaert was not demoted to "demi-solde" but received a new appointment into the newly formed Infantry Regiment No. 26 ("Legion d'Eure et Loir"; one finds records of his service there in 1819 and 1820 as a regiment's major). Beginning 1822, his name no longer appears in the lists of army officers (probably, he too went into retirement).
He died on April 22, 1844 in Rueil-Malmaison by Paris.
We would like to add that, during his military service, he was twice wounded: in 1806 at Pultusk in Poland (gun wound) and in 1813 in the Battle of Leipzig (sabre wound).
We are very grateful to our permanent advisor, well-known uniformologist, Mr. Stanislav Lyulin, who kindly shared with us that the sitter is dressed in uniform of an aide-de-camp.

mifeb2619
Condition: good
Creation Year: 1814
Measurements:UNFRAMED:8,1x6,6cm/3,2x2,6in FRAMED: 15,3x13,2cm/6,0x5,2in
Object Type:Framed miniature
Style: Portrait Miniatures
Technique: watercolor on ivory (oval)
Inscription:-
Creator: French School
Creator Dates: -
Nationality:French
We will cover shipping with regular registered mail (delivery between 7-14 days) for this item.

OBS: Austrian mail refunds cases of loss or damage with maximum EUR 500.


Fully insured 2-3 days DHL service available upon request and subject to extra charges: office@wilnitsky.net
Click here for images free of watermark!
Click on images or on

to see larger pictures!