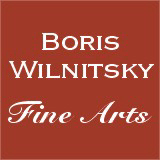 If you have a question about this item,
please contact us at: office@wilnitsky.net
# 42773
Alexandre Jean Dubois-Drahonet "Pierre-Jean Levý, comte d'Albignac", oil on canvas, 1815
Price: 11000 EUR
(please note additional 13% tax applies for transactions concluded within the European Union)
Clearly signed and dated - "AJDubois 1815 ("AJD" - ligated) - this painting is a typical work of well-known portraitist from Versailles, Alexandre Jean Dubois (who later named himself Dubois-Drahonet - see below).
The depicted elderly (as we've later established - 71-year-old) lieutenant general (note the three stars on his epaulettes) is decorated with insignia of four awards:

- the red sash of the Grand Cross of French Order of Saint Louis
- the Officer Coss of the Royal Order of Legion of Honor
- the Knight Cross of Italian (since 1815 - Austrian!) Order of the Iron Crown (CLICK HERE) and
- the Commander Cross of French Royal Order of Saint Lazarus

His visual age, rank and collection of awards have helped us to identify this man.

His name was Pierre-Jean-Levý, comte d'Albignac de Montal. A resident of Versailles (from 1814 to 1825 he lived there as a major of "garde du corps du roi"), he chose to employ his town-fellow - young portraitist Alexandre Jean Dubois - to paint his portrait.

Pierre-Jean Levý d'Albignac de Montal was born on February 19, 1744, at Chateau de Triadou by Millau, department Aveyron, region Midi-Pyrénées, France, to Louis d'Albignac, Chevalier, Seigneur du Montal et Nivolies (1729-1759) and Elisabeth de Gualy (d.1746; Pierre-Jean was thus orphaned already at the age of 15). On September 14, 1779, he married Madeleine Aimée Gabrielle de Bailleul (1755-1801) and settled in the latter's native town Bayeux, Normandy, where they later had six children.
Pierre-Jean joined the Royal Army at the age of 16 and began his military service in the rank of a cornet of "Regiment Royal Pologne Cavalerie". On October 1, 1763, he became a lieutenant in "Regiment de Toulouse". Sometime later, when he was a captain, he served in "Regiment d'Auch". He was transferred from this unit into the "Regiment Dophin Dragons (June 18, 1765). In 1778, in rank of a major in "Regiment Colonel-general", he transferred into his next unit - "Regiment Dragons de la Reine", in which he worked his way up to the rank of lieutenant colonel.
In the same (1778) year, he became Chevalier of the Royal Military Order of Saint Louis. In 1780, he was ennobled by the King to comte (count) d'Albignac de Montal, and, on July 1 of the same year, was transferred (in Guards rank of a "sous-lieutenant") into the "Garde du Corps de Roi" (simultaneously, he was promoted into the army rank of a colonel).
In 1783, he joined (as a "Commander") the Royal Order of Saint Lazarus (see our image nr.).
On February 22, 1784, his army rank was raised to that of a "chef de brigade".
In 1791 (by then, he was already a "lieutenant" in "Compagnie Gramont" (Garde du Corps), he left France and joined Royalist Army of Condé comprised of émigrés.
He returned to France after "18 brumaire" after the First Napoleon's amnesty for émigrés, and spent the following thirteen years living in his Bayeux estate.
In June 1814, at the beginning of the First Restoration, King Louis XVIII made him into a major of the reestablished Garde du Corps du Roi (he was also provided living quarters in Versailles).
On December 22, 1814, he was promoted by Louis XVIII to lieutenant general of the army and simultaneously made Officer of the Royal Order of Legion of Honor.
In January-February 1815, Austrian Emperor Franz I awarded him the Commander Cross of (by then already Austrian - see above) Order of Iron Crown.
On February 28, 1815, he was awarded the Grand Cross of Saint Louis.
He died in the early 1830s, at his estate in Bayeux.
His son, Jean Philippe Aimar, baron d'Albignac (b. 1782), made a brilliant career in both Napoleonic and Royal armies. He died as a marechal-de-camp (a two-star general) on October 23, 1823, in Madrid, during the Spanish Campaign (for his biography, see our image nr.).

On verso of this portrait (on the stretcher), one finds an old inscription informing of the following: "Que de Lechelle (rue L'Echelle by Louvre in Paris - B.W.) /hotel Gaiard-Bois (correct name - "hotel du Gaillard-Bois" - B.W.) /M-r Leutner, adj.maj. (adjutant-major - B.W.).
Alexandre Jean Dubois (Dubois-Drahonet) was born on December 23, 1790, in Paris, and died on August 30, 1834, in Versailles. He was a pupil of Jean-Baptiste Regnault in Paris and concurrently served in the Lancier Regiment of Garde Imperiale (called "lanciers rouge") as a "vélite" (light chasseur). Sometime later, his regiment was stationed in Versailles. In that period (early 1810s), Dubois portrayed numerous officers of his regiment. In 1814, after retirement from the army, he settled in Versailles. From 1812 to 1817, he repeatedly showed his works at various Salon exhibitions under the name "Alexandre Jean Dubois". From 1817 (in this year, he married the daughter of Pierre Drahonet (a Versailles factory owner) he exhibited under the name "Drahonet-Dubois" or "Dubois-Drahonet"). After the death of his father-in-law, he took over the latter's enterprise. Through establishing connections with wealthy clientele, he made an acquaintance with many prominent persons of his time. He counted among his sitters (Dubois was mainly engaged as a portraitist) numerous royalties, aristocrats, generals, etc. Works of this artist can be seen in various museums of France and other countries.
Our images nr.15-26 show several works of Alexandre Jean Dubois that were offered at art auction market in the last years.

Provenance: private collection, France

mifeb1819
Condition: fairly good; unlined
Creation Year: 1815
Measurements:UNFRAMED:55,5x47,0cm/21,9x18,5in FRAMED: 67,4x59,3cm/26,5x23,3in
Object Type:Framed oil painting
Style: 19th century paintings
Technique: oil on canvas
Inscription:signed and dated: "AJDubois 1815" ("AJD" - ligated)
Creator: Alexandre Jean Dubois
Creator Dates: 1790 Paris-1834 Versailles
Nationality:French
SHIPPING COSTS UPON REQUEST:
office@wilnitsky.net
Click here for images free of watermark!
Click on images or on

to see larger pictures!