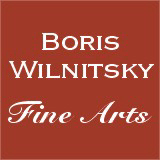 SALE!!! SAVE MONEY !! 1 EUR = 1 USD
# 42766
Daniel Maclise (1806-1870) "Mrs. M.A. Brewer, nee Jeaffreton", fine watercolor portrait, 1832
1650 EUR
FINAL DISCOUNT PRICE= 1650 USD
( for EUR price see date rate )
Please note: Shipping and insurance costs are not included in this promotion, ONLY ITEM PRICES!
(please note additional 13% tax applies for transactions concluded within the European Union)
This watercolor portrait of a relatively young lady (she is referred to as "M.A. Brewer, nee Jeaffreton" on verso; she was obviosly daughtor of London physician Dr. Henry Jeafferton (see Google)) is a work of well-known London artist of Irish descent - Daniel Maclise.
Daniel Maclise (1806 Cork – 1870 London) was the son of a Highland soldier. His education was of the plainest kind, but he was eager for culture, fond of reading, and anxious to become an artist. His father, however, placed him, in 1820, in Newenham's Bank, where he remained for two years, and then left to study in the Cork school of art. In 1825 it happened that Sir Walter Scott was travelling in Ireland, and young Maclise, having seen him in a bookseller's shop, made a surreptitious sketch of the great man, which he afterwards lithographed. It was exceedingly popular, and the artist became celebrated enough to receive many commissions for portraits. With careful economy he saved a sufficient sum to enable him to leave for London. There he made a lucky hit by a sketch of the younger Kean, which, like his portrait of Scott, was lithographed and published. He entered the Academy schools in 1828, and carried off the highest prizes open to the students. In 1829 he exhibited for the first time in the Royal Academy. Gradually he began to confine himself more exclusively to subject and historical pictures, varied occasionally by portraits of Campbell, Miss Landon, Dickens, and other of his literary friends. In 1835 he was elected his an associate of the Academy, of which he became full member in 1840. The years that followed were occupied with a long series of figure pictures, deriving their subjects from history and tradition and from the works of Shakespeare, Goldsmith and Le Sage. In 1866 he refused an offer of the presidency of the Royal Academy, and, in later life, became quite reclusive. He never married but lived with his parents and sister in London, where he died of acute pneumonia on the 25th of April 1870. During his career he achieved a status and respect which was unequaled by any other Irish artist in Britain.
Our images nr.9-16 show a number of other works of this artist.

Provenance: private collection, England

mifeb0419
Condition: good
Creation Year: 1832
Measurements: UNFRAMED:36,5x26,2cm/14,4x10,3in FRAMED: 54,2x42,3cm/21,3x16,7in
Object Type: Framed watercolor, matted
Style: 19th century drawings
Technique: watercolor on card
Inscription: monogrammed: "D.M.C."; verso is inscribed: "painted by D. McClease 1832"; titled
Creator: Daniel Maclise
To see other works by this artist click on the name above!
Creator Dates: 1806 Cork-1870 London
Nationality: Irish / British / English
2-3 days door-to-door shipment, professionally packed by Mail Boxes Etc and shipped with DHL (calculated for US): 180,46 EUR + insurance 1,8% of item price
Shipping cost to other destinations (worldwide) on request
Shipping price may be reduced if you dispense with the frame


Cheaper alternative (may be further reduced if you dispense with the frame): professionally packed by Mail Boxes Etc and shipped with regular Austrian mail - upon request under office@wilnitsky.net (OBS: In this case maximal refunded insurance value is EUR 500 if shipping destination was the US. In Europe sometimes more, depending on destination.)
Click here for images free of watermark!
Click on images or on

to see larger pictures!