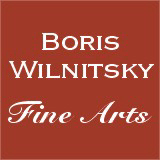 If you have a question about this item,
please contact us at: office@wilnitsky.net
# 42763
Fr. J. G. Lieder "Count Karl v. Coudenhove as Major of Austrian Cuirassiers", watercolor, 1849
Price: 2700 EUR
(please note additional Austrian VAT (Value Added Tax) applies for transactions concluded within the European Union)
This work was executed in 1849 by Austria's leading watercolor artist and miniaturist Friedrich Johann Gottlieb Lieder. It is a portrait of a senior officer (rank between major and colonel; note also that the sitter is shown with a senior officer's cuirass!) of the Austrian Cuirassier Regiment No. 5 (note the corresponding colors of his uniform's collar and buttons).
The same opinion was shared by certain "Hauptmann" (captain) Mautner, whose name is mentioned in the handwritten inscription on the back cover of the frame: "Laut Hptm. (Hauptmann) Mautner Kürassier von Regiment "Sommariva" ("Sommariva" was the name of the 5th Cuirassier Regiment in the period of Napoleonic Wars).
This inscription applies correction to the initial (fully erroneous!) title in the excerpts from an old auction catalogue that are similarly affixed to the verso of the paintings. They refer to the portrayed officer as "certain chevalier d'Ellevaux de Limon in Dragoon (??!! - B.W) uniform". This latter (fully erroneous) legend accompanied the portrait into the auction house.
In any case, as already mentioned, we are looking at a man in the uniform of a senior officer of the 5th Cuirassiers.
The 1849 officer list of this regiment lists only two senior officers who - like "our" sitter - were not in possession of any awards. They were Major Carl (Karl) Graf (Count) von Coudenhove and Major Georg Ebeling von Duenkirchen. No portraits of the latter have survived until today. However, a portrait of Count Coudenhove (it is a print made after an 1863 photograph and is available on the Web) shows a man, who - though 15 years older - shares the same physiognomic characteristics with "our" Cuirrassier". Moreover, Count von Coudenhove had a perfect reason to order a portrait of himself: in January 1849, he was promoted to major!

Karl (Karl Maria) Count von Coudenhove was born on December 2, 1813 (in our portrait, he is 33 years old) in Vienna and died on August 28, 1868 in Bad Ischl, in Upper Austria. His father was Austrian lieutenant Field Marshal Franz Ludwig Count von Coudenhove (1783-1851); his mother - Freiin (Baroness) Catharina Jakobine Auguste von Loewenstern (1785-1860).
At the age of 19, Karl joined the Tyrolean "Kaiserjäger" (Imperial chasseurs)-Regiment in the rank of "Unterleutnant" (2nd lieutenant). Sometime later, he was transferred into "Kaiser-Chevau-Legers". In 1839, he was transferred into the 5th Cuirassiers, where 3 years later (1842) he was promoted to "Rittmeister" (cavalry captain) and, in January 1849 - as already mentioned - to major.
During the Hungarian Revolt of 1848/49, he fought in Moravia. On April 26, 1849, he distinguished himself in the Battle of Komorn. He also fought in the battles of Pered and Raab, then again at Komorn and at Temesvár. For his heroism, he was presented with his first award - the Military Distinctive Cross.
In 1852, he was promoted to lieutenant colonel and transferred into the 4th Cuirassier Regiment. In 1856, he was raised into the rank of a colonel and was given a regiment under his command.
On May 27, 1859, he was promoted to major general and (next year) appointed adjutant general of Kaiser Franz Joseph I.
After the death of Lieutenant Field Marshal Prince Windisch-Graetz, he succeeded the latter as proprietor of the latter's Cuirassier Regiment.
On July 3, 1866, in the Battle of Koenigraetz, his cuirassiers rescued the retreating Austrian infantry. For this action, on August 3, 1866, he was raised in rank to Lieutenant Field Marschal.
Due to a serious illness, he retired from service on December 18, 1867 and died several months later.
Karl Count von Coudenhove was married to Leopoldine Honrichs zu Wolfswarffen (1826-1894), with whom he had six children (for his biography from a number of Austrian sources, see our images nr.10-14).
Friedrich Johann Gottlieb Lieder (1780 Potsdam - 1859 Budapest), called Franz Lieder, was a very well-known Austro-German portraitist, portrait miniature painter and lithograph artist of the first half of the 19th century, father of another well-known portraitist Friedrich Lieder the Younger (1807-1884). He was born in Potsdam in 1780 and already at the age of 17 in 1797 debuted in the Academical Exhibition of Berlin. In 1802 he exhibited a portrait of Napoleon in Potsdam and moved to Paris in 1804 to become pupil of David at the Ecole des Beaux-Arts. He was then active in Budapest as a popular portraitist of the Hungarian aristocracy and further painted portraits in Pressburg (Bratislava) and Tyrnau. From 1810 he lived in Vienna where he was strongly influenced by works of the famous French miniaturist Johann Baptiste Isabey. The Vienna Congress (1815-1816) brought him special popularity as portraitist. From 1820 the artist was active alternately in Vienna and Budapest. In 1824 he became member of the Vienna Academy. Lieder died in 1859 in Budapest. He can be seen as one of the best Austrian portrait painters. Many of his works belong to collections of major international museums such as the Metropolitan Art Museum, New York, etc.
Provenance: private collection, Graz, Austria

mifeb0319
Condition: fairly good; in magnicifent, original Biedemeier frame
Creation Year: 1849
Measurements:UNFRAMED:22,0x15,5cm/8,7x6,1in FRAMED: 35,5x29,8cm/14,0x11,7in
Object Type:Framed watercolor
Style: 19th century paintings
Technique: watercolor on card
Inscription:signed and dated: "Lieder /1849"
Creator: Friedrich Johann Gottlieb Lieder the Elder
Creator Dates: 1780 Potsdam-1859 Budapest
Nationality:Austrian / German
2-3 days door-to-door shipment, professionally packed by Mail Boxes Etc and shipped with DHL (calculated for US): 134,31 EUR + insurance 1,8% of item price
Shipping cost to other destinations (worldwide) on request
Shipping price may be reduced if you dispense with the frame


Cheaper alternative (may be further reduced if you dispense with the frame): professionally packed by Mail Boxes Etc and shipped with regular Austrian mail - upon request under office@wilnitsky.net (OBS: In this case maximal refunded insurance value is EUR 500 if shipping destination was the US. In Europe sometimes more, depending on destination.)
Click here for images free of watermark!
Click on images or on

to see larger pictures!