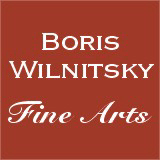 If you have a question about this item,
please contact us at: office@wilnitsky.net
# 42759
Nicolas Jacques "Prince Vasili Sergeevich Trubetskoy", important Russian portrait!!, 1834
Price: ON REQUEST
(please note additional 13% tax applies for transactions concluded within the European Union)
THE SELLER WILL COVER SHIPPING WITH REGULAR MAIL FOR THIS ITEM!

This extremely important miniature portrait of the celebrated Russian general and statesman - Prince Vasili Sergeevich Trubetskoy (1776-1841) - was executed in Paris in 1834 (while there are no records of the miniature author's (well-known Parisian miniaturist Nicolas Jacques) visits to Russia, it is, however, very possible and likely that the sitter visited Paris in that year (for example, see our image nr.20)).

The date of this miniature's execution is determined by the following two occurrences:
- in 1834, Prince Trubeskoy was awarded the Russian Order of St. Vladimir of the 1st class (note the upper breast star on his chest)
- in the next (1835) year, he was already in possession of the "Distinctive badge for immaculate XXX-year-service" (see 1836-issue of state address-calendar "Mesiatseslov"); in contrary on this portrait it is still that for XX-year-service.

Only two other portraits of the Prince were known thus far (both painted in oil): one portrait showing him at the age of 28, and another - executed sometime in 1819/20 in the prominent studio of painter George Dawe in St. Petersburg Winter Palace (see our image nr.10). This latter portrait shows the Prince at the age of 44, in rank of a lieutenant general wearing the uniform of a Tsar's adjutant general (then - Tsar Alexander's).

In our miniature, the 58-year-old (and, by then - in rank of a general of cavalry) Prince V. S. Trubetskoy is shown wearing the same uniform (i.e. of an adjutant general of Tsar (then already Nikolai I's) as in George Dawe's portrait. He is bearing the following several awards:
- the breast star of the Russian Order of St. Vladimir of the 1st class (1834)
- the breast star of the Russian Order of Alexander Nevski with diamonds (1828)
- the neck cross of the Russian Military Order of St. George of the 3rd class (1808)
- the silver medal "For participation in the Patriotic War of 1812" (obtained in 1814)
- the silver medal "For Capture of Paris" (1814; awarded in March 1826 at the earliest)
- the silver medal "For Turkish War" (1829)
- the Knight Cross of the Austrian Military Maria-Theresian Order (1814)
- the Chevalier Cross of the French Royal Order of St. Louis (1814)
- the Cross of the Sardinian Order of St. Maurice and Lazarus (1814)
- the Knight Cross of the Bavarian Military Order of Maximilian-Josef (1814)
- the Russian "Distinctive badge for XX years of immaculate service" (1828)


Prince Vasili Sergeevich Trubetskoy (April 4, 1776 - February 22, 1841, St. Petersburg) was born to a prominent Russian family in St. Petersburg. He enlisted as a private in the Life Guard Preobrazhensk Regiment in 1781 and transferred to the Life Guard Horse Regiment three years later. He began his actual service as a cornet on January 16, 1793, and was promoted to sub-lieutenant on January 12 1796, to kamer-junker of February 15, 1796, and transferred to Imperial Court with the rank of actual kamerger in 1798. Two years later, he became a privy councellor and member of the Kamer College. Under Emperor Alexander I, however, he was reduced in rank and became a kamerger.
In 1805, Trubetskoy was appointed lieutenant of the Mariupol Hussar Regiment and adjutant to Prince Peter Bagration. He participated in Bagration's rear-guard actions from October to November 1805, and distinguished himself in Austerlitz (golden sword). For these actions, he was appointed flügel adjutant to Alexander I on 13 June 1806, and promoted to colonel, taking command of the Life Guard Cavalry Regiment on September 25, 1806. During the 1806-1807 Campaigns, he fought at Pultusk (Order of St. Vladimir, 4th class), Wolfsdorf (Order of St. Vladimir, 3rd class), Eylau (promoted to major general and appointed adjutant general to Alexander I, February 27, 1807), Guttstadt (Order of St. George, 4th class), Heilsberg (Order of St. Georg, 3rd class), and Friedland. Trubetskoy accompanied Alexander at Tilsit and participated in the negotiations with Napoleon.
In 1809, Trubetskoy was dispatched with instructions to Prince Prozorovsky in Wallachia and served under Prince Peter Bagration from September to December 1809. Trubetskoy distinguished himself again at Constanta (Kustendji, Order of St. Anna, 1st class), Rassevat (golden sword with diamonds), and Tataritsa (Order of St. Vladimir, 2nd class). His criticisms of Count Nikolay Kamensky's auctions in 1810, however, temporarily forced him out of the army.
During the Russian Campaign of 1812, he served as adjutant general to Alexander I and delivered the Imperial manifesto to St. Petersburg. He commanded cavalry to General Winzegorode's Corps and participated in minor actions with the French. In 1813-1814, he attended Alexander and took part in every major battle, including Lutzen, Bautzen (promoted to lieutenant general on September 27, 1813), Leipzig (golden sword with diamonds), and Paris.
From 1814 to 1822, Tubetskoy served on diplomatic missions and accompanied Alexander I to the Congresses at Vienna, Aachen, and Verona. In 1826, he was awarded the Order of St. Alexander of Neva, promoted to general of cavalry on September 3, 1826, and appointed to the Senate on December 18, 1826. During the Russo-Turkish War of 1828-1829, he served in the headquarters and took part in the auctions at Shumla and Varna (diamond signs of Order of St. Alexander of Neva). He became a member of the State Council on December 18, 1835.
During his long career, Trubetskoy was also awarded the Prussian Pour le Merite, Iron Cross, Orders of Red and Black Eagles with diamonds, Austrian Maria-Theresian Order and Austrian Order of Leopold, Bavarian Order of Maximilian Joseph, Sardinian Order of St. Maurice and Lazarus, and the French Order of St. Louis (*this biographical article was borrowed from Alexander Mikaberidze's "The Russian Officer Corps in the Revolutionary and Napoleonic Wars, 1792-1815", New York, 2005, pp. 405-406).

Additionally, we would like to add that Russia's most esteemed poet, Alexander Sergeevich Pushkin, was a frequent guest at Trubetskoy's house in St. Petersburg (see image nr.19).
*For further biographical information about Prince Vasili Sergeevich Trubetskoy, see our images nr.11-18 and CLICK HERE).

**See also our web #40477.


Nicolas Jacques (1780 Jarville by Nancy - 1844 Paris) was a pupil of Jean-Baptiste Isabey and David. He exhibited at the Salon from 1804 to 1840 beginning with a portrait of his brother with his family. He did numerous portraits of the Empress Josephine, Queen Hortense, Princess Borghese and Bernadotte. Later on he became painter of the family of Orleans.
Shidlof notes further that Jacques was a miniaturist of quality and in certain of his works almost equaled his master Isabey.
Miniatures of his are on view in numerous museums across France and other countries, as well as in some private collections.
Nathalie Lemoine-Bouchard adds also that Nicolas Jacques sometime signed his works with "J." followed by a date (sic!).
For several other miniatures by Nicolas Jacques that were sold in the last years at the international art auction market, see our images nr.20-22.

Also, CLICK HERE FOR OTHER WORKS OF THIS ARTIST IN OUR POSSESSION

Provenance: private collection, Montpellier, France

mifeb119
Condition: good; in original frame
Creation Year: 1834/41
Measurements:UNFRAMED:4,8x3,8cm/1,9x1,5in FRAMED: 6,1x5,1cm/2,4x2,0in
Object Type:Framed miniature
Style: Framed miniature
Technique: watercolor on ivory (oval)
Inscription:signed: "Jacques"
Creator: Nicolas Jacques
Creator Dates: 1780 Jarville by Nancy-1844 Paris
Nationality:French
We will cover shipping with regular registered mail (delivery between 7-14 days) for this item.

OBS: Austrian mail refunds cases of loss or damage with maximum EUR 500.


Fully insured 2-3 days DHL service available upon request and subject to extra charges: office@wilnitsky.net
Click here for images free of watermark!
Click on images or on

to see larger pictures!