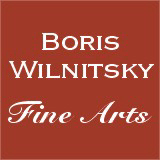 If you have a question about this item,
please contact us at: office@wilnitsky.net
# 42707
J.-B. Isabey "Emilie Maystre - her portrait and her self-portrait", two miniatures, 1820s, DISCOVERY!
Price: ON REQUEST
(please note additional 13% tax applies for transactions concluded within the European Union)
Acquired at different time and different places these two, of outstanding quality miniatures on ivory are portraits of the same person. Moreover, they were executed in the same artist studio!

Let us begin with the first of them, acquired on 18th August 2012, at New York auction house "Roland" (see our image nr.1 (miniature on left)).
Correctly identified through old (illegible) inscription on verso "… Isabey…", this miniature is really (as we are 100% convinced!) an absolutely authentic and very important work of the great French miniaturist from turn of the 19th century Jean Baptiste Isabey (our images nr.18-28 with comparisons fully confirm this statement). Moreover, besides typical for Isabey's works composition and highest quality (especially in such details like the face, hands and gown's fabric) this large miniature in ivory demonstrates the so-called Isabey's "autogramm" - gauzy white veil floating over the head of the young lady (please read description of our web # 29854).

Found on Web Isabey's own replica of this miniature (see image nr.11) bears on verso old inscription saying the young lady is the second wife of Isabey (i.e. his pupil, Mlle Marie-Rose-Eugenie, nee Maistre (correctly: Maystre - B.W)), whom he married in 1829, six months after the death of his first wife; our image nr.12 shows clips from Mme Lemoine-Bouchard's dictionary with short refference concerning Mme Isabey No.2 (author again (like Leo R. Schidlof years before) misnames she "Maistre"). Nevertheless Rose Eugenie's portrait by Isabey (see our image nr,14) shows another woman.

And now we come to the second portrait (image nr.1 - miniature on the right).
Since acquisition of the first miniature in August 2012, we tried over and over again to identify the depicted in landscape young lady. Finally, in November 2018, in the pre-sale online catalogue of Parisian auction house "Audap-Mirabaud" we discovered (and after telephone "fight" during the sale acquired) her self-portrait (miniature on right), bearing on verso authentic old legend: "Portrait d'Emilie Maystre-Taigny peint par elle-meme sous la direction de Isabey" (i.e. in cooperation with Isabey!) - see our image nr.30. It is in reallity the self-portrait of the same "Emilie Maistre (sic!), epouse Taigny", whose portrait by Isabey (together with portrait of her father "M(onsieur). Alphonse Maistre" (sic!) was executed in ca. 1829 (both are mentioned by Mme Lemoine-Bouchard - see our image nr.33)).

Through following genealogical research on Web (images nr.34-36) we discovered, that both ladies - Rose Eugenie Maystre and "Emilie Maystre-Taigny" were in reallity sisters (!!). Full name of "our", depicted on both miniatures young beauty was Marie Emilie (not Amelie, as says author of genealogical refference; latter's other refferences about this family also abound with errors: the prename of the father of both sisters was Alphonse (and not Andre - again an error of genealogist). In 1827 (or early 1828) Emilie married Monsieur Auguste Taigny. In 1828 she gave birth to her son, Edmond (not Ernest!) Taigny (see image nr.37), future speaker of State Council, art collector (possessing among others works of Isabey) and historian, author of published in 1859 book about his famous uncle - "J. B. Isabey /Sa Vie et Ses Oeuvres" (first monograph about great master)..

According to Emilie's dress and hairstyle her portrait by Isabey (miniature on left - image nr.1) was made in early 1820s, i. e. several years before the latter married her sister (1829). At the same time was made our second piece - Emiliie Maystre's self-portrait. Clearly Isabey was already good acquinted with both sisters Maystre (Emilie was probably the eldest) - they studied miniature painting in his famous studio!

Unfortunately dates of Emilie's birth and death remain still unknown. Nevertheless we just learned that great Isabey had among his numerous pupils one more (besides his second wife) lady from his own family.
Jean-Baptiste Isabey (1767 Nancy - 1855 Paris) was the most famous of all European portrait miniature painters of the turn of the 19th century. In 1785 he went to Paris to study under David, but the great master had just left for Rome. At first in a tight financial situation, Isabey finally was ordered to paint miniatures of the children of King's brother, Count D'Artois. By means of this commission he came to court, met the Queen Marie-Antoinette and obtained an apartment in Versailles. In 1786 David returned from Rome, accepted Isabey as pupil without payment and favoured him in every way. At the time of Revolution the artist already acquired significant clientele in Paris. He portrayed most of Convention members, became one of the intimates of Mme Bonaparte's house. Isabey was a drawing master of Hortense and Eugene de Beauharnais; he controlled the ceremony of Napoleon's coronation and organized festivities for the Empire.
In 1806 Isabey was appointed "Peintre dessinateur du cabinet de S.M. l'Empereur, des ceremonies et des relations exterieurs", and in the following year - "Premier peintre de la Chambre de l'Imperatrice". From 1809 Isabey had a studio in the porcelain factory in Sevres. When in 1810, Napoleon married Marie-Louise, Isabey became drawing master to the latter. In 1812 he went to Vienna to do the portraits of the Imperial Family. He returned there again in 1814 to paint the Congress of Vienna on the order of Talleyrand. He returned to Paris in 1815. With a begin of Restoration he went to London. On his return in 1820 Louis XVIII appointed him miniature painter and "inspecteur dessinateur, ordonnateur des fetes et spectacles". Charles X gave him the title of royal draughtsman and painter and appointed him officer of the Legion d'honneur in 1825. In 1837 Louis-Philippe appointed him Assistant Keeper of the Royal Museums and gave him an appartment at Versailles. He also had the favours of Napoleon III from whom he obtained a pension of Frs. 6000.
Provenance: miniature by Isabey: auction House "Roland", New York, 18th August 2012, lot 430 (as "Antique European miniature portrait"):; self-portrait by Emilie Maystre: auction house "Audap-Mirabaud", Paris, 28th November 2018, Lor 3029
Condition: good to fairly good; self-portrait with tiny vertical crack in right area (btwn 1:00 and 5:00 o'clock)
Creation Year: early 1820s
Measurements:UNFRAMED:14,5x11,5cm/5,7x4,5in FRAMED: 18,8x15,6cm/7,4x6,1in
Object Type:Framed portrait miniature
Style: Portrait Miniatures
Technique: Watercolor on ivory laid by artist on card
Inscription:on verso old illegible inscription
Creator: Jean-Baptiste Isabey
Creator Dates: 1767 Nancy-1855 Paris
Nationality:French
SHIPPING COSTS UPON REQUEST:
office@wilnitsky.net
Click here for images free of watermark!
Click on images or on

to see larger pictures!