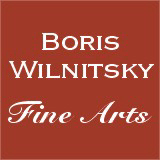 If you have a question about this item,
please contact us at: office@wilnitsky.net
# 42700
J. Kreutzinger and M. Schrott "Kaiser Franz I and his fourth wife" locket with two miniatures, 1816/17
Price: ON REQUEST
(please note additional 13% tax applies for transactions concluded within the European Union)
THE SELLER WILL COVER SHIPPING WITH REGULAR MAIL FOR THIS ITEM!

Set in the same gold locket, these two miniature portraits are of the Austrian Kaiser (Emperor) Franz I and his fourth wife Karoline Charlotte Auguste, nee Princess of Bavaria. We are strongly convinced that Kaiser's portrait is an absolutely authentic work of Vienna court portraitist (and miniaturist!) of the turn of the 19th century, Josef Kreutzinger (see our comparison images nr.12-21). In contrary, the portrait of Kaiser's wife seems to be made by Munich court miniaturist Maximilian Schrott (see comparison image nr.22).

Francis II, Holy Roman Emperor, also referred to as Francis Habsburg or Emperor Franz I of Austria (February 12, 1768 - March 2, 1835) was the last Holy Roman Emperor, ruling from 1792 until August 6, 1806, when the Empire was disbanded. He then became Franz I, first Emperor of Austria (ruling from 1804 to 1835). He was a son of Leopold II of Austria (1747-1792) and his wife Luisa of Spain (1745-1792).
As the leader of a large multi-ethnic empire, Francis felt threatened by Napoleon's call for liberty and equality in Europe. He led Austria into the French Revolutionary Wars and was defeated by Napoleon. He again fought against France during the Second Coalition, and, after meeting crushing defeat at Austerlitz, agreed to the Treaty of LunÚville, which dissolved the Holy Roman Empire, weakening the Austrian Empire and reorganizing present-day Germany under a Napoleonic imprint.
In 1809, Francis attacked France again. He was again defeated, and this time forced to ally himself with Napoleon, ceding territory to the Empire and wedding his daughter Marie-Louise to the Emperor. Francis essentially became a vassal of the Emperor of the French. In 1813, for the fourth and final time, Austria turned against France and joined Great Britain, Russia, and Prussia in their war against Napoleon. Austria played a major role in the final defeat of France.
Kaiser Franz I married four times: first - to Elisabeth of Wuerttemberg (1767-1790), secondly - to his first cousin Maria Teresa of the Two Sicilies (1772-1807), with whom he had twelve children, but only seven reached adulthood, thirdly, he married again to another first cousin, Maria Ludovika of Austria-Este (1787-1816) with no issue. And lastly, for the fourth time, he married Karoline Charlotte Auguste of Bavaria (1792-1873; our second sitter).
Franz I is buried in tomb number 57 in the Imperial Crypt in Vienna, surrounded by his four wives.

Karoline Charlotte Auguste was a daughter of Maximilian Joseph, later King of Bavaria, and his wife Auguste Wilhelmine of Hesse-Darmstadt. In 1808 she married Crown Prince Wilhelm of Wuerttemberg, but was divorced after six years. On November 10, 1816 (both miniature portraits were executed shortly before or after that date!), she married Kaiser Franz I and became Kaiserin (Empress) of Austria. The couple was childless, and the empress focused herself entirely on charity issues. After the death of Franz I she lived in Salzburg, where the Carolino Augusteum Museum has been named after her.

Josef Kreutzinger (also Kreuzinger; 1757 Vienna - 1829 ibidem) studied from 1768 at the Viennese "Academy St. Anna" (Academy of Fine Art) and after 1774 was strongly influenced by Viennese Neoclassical historical painter and portraitist Friedrich Heinrich Fueger who arrived in Vienna this year. Kreutzinger became Fueger's pupil immediately. After a short stay in Munich and several months in St. Petersburg (1793), Kreutzinger returned to Vienna where he later became a sought after portraitist of high society and court (he was also appointed"Hofkammermahler" (court artist)). His works of this period demonstrate a strong influence of English portraitists of the 18th century - Lawrence, Reynolds and Gainsborough. From Lawrence originates the "en-face" representation of faces with a sidewards glance and upper body facing in the opposite direction in three-quarters portraits. Reminiscent of Gainsborough are portraits where the depicted person stands next to their horse. Besides royalties and high aristocracy Kreutzinger's clientele consisted of military persons, scholars and artists. Later he also portrayed representatives of Viennese bourgeosie. He was also active as engraver and portrait miniaturist.
Our web #42739 is a convincing prove of the fact that Kreutzinger visited Russia at least one more time: in autumn of 1799, he portrayed in St. Petersburg the newlywed daughters of Tsar Paul I, Grand Duchess Alexandra Pavlovna and Elena Pavlovna, as well as their husbands - Archduke Joseph of Austria and Friedrich Ludwig, Prince of Mecklenburg-Schwerin, and the duchesses' mother, Empress Maria Fedorovna.
In 1936 one of Vienna's streets was named in Josef Kreutzinger's honor - Kreutzingergasse in the Viennese 12th district.
Maximilian Schrott (1783 Landshut - 1822 Munich) studied at the Academy of Munich. He also attended the Drawing School of Professor Mitterer. According to G. C. Nagler's artist dictionary, Schrott soon became one of the Germany's best miniaturists of his period.
Furthermore, Schidlof writes about Maximilian Schrott: "Schrott, in fact, was an artist of quality who deserves to be better known. His works are rare because he seems to have found very quickly a clientele amongst the upper aristocracy and the Royal family of Bavaria and because he died when very young"..

Provenance: private collection, Germany

minovap07 Click here for RUSSIAN PORTRAIT MINIATURES! , as well as other works by J.B. Lampi the Elder in our possession.
Condition: very good
Creation Year: 1816/17
Measurements:UNFRAMED:4,6x4,6cm/1,8x1,8in FRAMED: 4,8x4,8cm/1,9x1,9in
Object Type:Framed miniatures
Style: Portrait Miniatures
Technique: each: watercolor on ivory
Inscription:-
Creator: Josef Kreutzinger
Creator Dates: 1757 Vienna-1829 Vienna
Nationality:Austrian
We will cover shipping with regular registered mail (delivery between 7-14 days) for this item.

OBS: Austrian mail refunds cases of loss or damage with maximum EUR 500.


Fully insured 2-3 days DHL service available upon request and subject to extra charges: office@wilnitsky.net
Click here for images free of watermark!
Click on images or on

to see larger pictures!