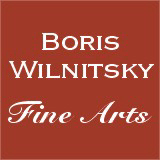 If you have a question about this item,
please contact us at: office@wilnitsky.net
# 42688
Johann Nepomuk Ender "Elisabeth, Archduchess of Austria", important miniature!!, 1825/30
Price: ON REQUEST
(please note additional 13% tax applies for transactions concluded within the European Union)
This work was acquired in November 2018 through antique trade in Vienna (as "Portrait of unknown lady by unknown 19th-century artist"). Still set into original traveling etui, this superior quality miniature is Johann Nepomuk Ender's another version of his miniature sold on November 22, 1999 at Christie's London for colossal (for that time) amount of over US $40,000 - see our image nr.8).
Unlike Christie's auctioneers, who were clearly unable to recognize the sitter (a young, beautiful woman in fashionable dress of the late 1820s), the highest and the under- bidders were aware of her identity, and the massive price it reached at the auction sale is the best evidence of it.

As one learns from our comparison images nr.9-11, the name of the lady depicted in both Ender's versions was Maria Francesca Elisabetta, Princess of Savoy-Carignano, and - from 1820 - wife of Archduke Rainer Joseph of Austria (see our images nr.12-13).

Princess Maria Francesca Elisabetta (in Austria - Elisabeth) was born on April 13, 1800 in Paris to Charles Emmanuel, Prince of Savoy-Carignano (1770-1800) and Maria Christina of Saxony (1770-1851). She had an elder brother - Charles Albert, future King of Sardinia (see our web #37013).
On May 28, 1820, in Prague, she married Archduke Rainer Joseph of Austria, Viceroy of the Kingdom of Lombardy-Venetia (CLICK HERE and HERE).
Unless one counts her regular sojourns in Vienna, she lived between Milan, Venice and South Tyrolean city of Bozen (now - Bolzano, Italy). She died of tuberculosis in Bozen on Christmas day of 1856.
In sum, she had eight children with Rainer Joseph (for portrait of one of them, see our web #24983).
Johann Nepomuk Ender (1793 Vienna - 1854 ibidem), twin-brother of another well-known Austrian artist, Thomas Ender, was a very popular portrait painter and miniaturist. From 1806 he studied at the Vienna Academy under Maurer, Lampi, Fueger and Caucig and repeatedly received Academy awards. First portraits by him are known from 1814. In 1815-1817 he was already a well-known Viennese portraitist. In 1818-1819 Ender accompanied Hungarian Count Istvan Szechenyi on his trip through Italy, Greece and the Middle East. In 1820 he obtained an academical scholarship for Italy. In 1820-21 he stayed in Florence; from autumn 1821 lived (together with his brother Thomas) in Rome. While he studied there, he also copied works of Raphael, and painted not only portraits, but also historical and religious compositions. In 1825 he became a member of Rome Accademia di S. Luca.
In 1826-27 marked his return to Vienna (via Florence, Genua, Milan, Geneva, Paris and Munich). In 1829-1850 he was a professor of historical painting at the Vienna Academy and, at the same time, the favorite portraitist of the Court and members of the Austrian and Hungarian high society. His specialties were portraits of elegant women from the Royal Family and aristocracy, alone or with their children, fashionably dressed, and occasionally in extravagant richly decorated hats. These portraits were often reproduced in lithographs or engravings by Ender's well-known town-fellows (Josef Kriehuber, Franz Eybl, etc.).
For Ender's works offered at the international art auction market, see our images nr.16-21.

Also, CLICK HERE FOR OTHER WORKS OF THIS ARTIST IN OUR POSSESSION

Provenance:
1) property of the Austrian Royal Family
2) Sotheby's Parke Bernet A.G. Zurich, November 13, 1979
3) Christie's Paris, November 22, 1999, Lot 217 (see our image nr.8)
Condition: good; set into original, leather-bound traveling case (the case is in fairly good condition)
Creation Year: 1825/30
Measurements:UNFRAMED:10,8x8,5cm/4,3x3,3in
Object Type:Framed miniature
Style: Portrait Miniatures
Technique: watercolor on ivory
Inscription:signed: "Ender"
Creator: Johann Nepomuk Ender
Creator Dates: 1793 Vienna-1854 Vienna
Nationality:Austrian
SHIPPING COSTS UPON REQUEST:
office@wilnitsky.net
Click here for images free of watermark!
Click on images or on

to see larger pictures!