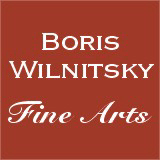 If you have a question about this item,
please contact us at: office@wilnitsky.net
# 42687
Augustin Ritt (1765-1799) "Countess Sophie Potocka", outstanding miniature on ivory! 1792/93
Price: ON REQUEST
(please note additional 13% tax applies for transactions concluded within the European Union)
THE SELLER WILL COVER SHIPPING WITH REGULAR MAIL FOR THIS ITEM!

This outstanding quality miniature portrait of a young beauty was acquired in November 2010 from a private German collector as work of an unknown French late-18th-century artist. In reality, it turned out to be an extremely important and particularly rare work of art.

As our additional images demonstrate, it is author's fourth (previously unknown!) own replica of his famous miniature portrait of Europe's most renowned late-18th-century beauty, Polish countess Sophie (Zofia) Potocka. It was painted in early 1790s by then best St.Petersburg miniaturist Augustin Ritt. Other variations of this portrait were previously (due to (among other) erroneous attribution by Leo Schidlof and following one by Mme de Plinval de Guillebon (see our image nr.8)) thought to be works of Swedish-French miniaturist Pierre Adolphe Hall (1739-1793)
Still in 1993, at Christie's Geneva was sold (as authentic work by Ritt!) replica which was formerly in collections of Pierpont-Morgan (New York) and then D.I. Shchukin (Moscow (see our image nr.10). Russian art historian and author of published in 2004, in St.Petersburg (only till today existing) monograph about Augustin Ritt, G. N. Komelova claimed also that author of this replica was not Hall but Ritt (see our image nr.12).
Till today were known two other replicas (both also erroneously attributed to Hall) - in Spanish Collection Gomis (see image nr.11) and (also mentioned by Mme Plinval de Guillebon) lost (sic!) miniature which was formerly in Krakow Czartoryski Museum.

Schchukin's replica resurfaced recently again, at Sotheby's London (sale on 6th December 2018, Lot 93 - see our image nr.13) and was sold for GBP 20,000 (US$ 25,600).

Sophie (in Polish - Zofia), Countess Potocka was born on January 12th 1760 in the village Bursa in the suburb of Constantinople as a daughter of Konstantin and Maria Clavone. In 1772, her mother - a vegetable street seller - sold her at the age of 12 to Polish envoy in Constantinople. The girl was this man's mistress until 1778, until the Polish commander Józef Witte bought her and then married her. They had two sons. Witte sent Sophie to Paris with the princess of Nassau-Siegen, in order to cultivate her and integrate her into the polite society. She made a great success in Paris, where she was called "La Belle Phanariote" and became famous for her remark "My eyes hurt". She was called the most beautiful woman of Europe. During her stay in Paris, she had an affair with two younger brothers of King Louis XVI: Count de Provence and Count d'Artois. .
In 1788, Sophie was present at the camp of Catherine the Great's favorite, Prince Grigory Potyomkin, and became the latter's lover. Their relationship lasted until his death.
In 1798, Sophie's husband, general de Witte, lost a considerable sum of money in card gambling, while playing against Polish aristocrat Count Stanislaw Szczesny Potocki. The latter offered de Witte to waive the entire claim if the general would pass on his lady to him. The terms were accepted and Count Potocki promptly made Sophie his second wife, despite the postulations of his friends. The couple lived together for many years and had eight children.
Also during this marriage, Sophie had a number of lovers, as well as a few illegitimate children (!!). She also had an affair with her stepson, Szczesny Jerzy Potocki, who was likely the father of her son Boleslaw.
Her spouse built for her the Park Sofiowka (in the town Uman, South Ukraine) for 15 million rubles.
After his death in 1805, Sophie received a refund of her dowry and participation in her late husband's property. She spent her last period of life devoted to her children.
She died in Berlin on November 24th 1822.

Our additional images show several miniatures by Ritt which were sold in the last years at international art auction market.
Augustin Christian Ritt (1765 St. Petersburg - 1799 St. Petersburg) was a son of a violinist of the court orchestra. He began his studies at the St.Petersburg Academy, from 1781 to 1785 was a pupil of A.B. Queertmort in Antwerp and the following year went to Paris, where he was a pupil of A.F. Vincent. In 1792 Ritt returned to St.Petersburg, had great success there and became court miniaturist and member of the Academy. In 1799 he exhibited at the Salon of Paris.
Schidlof says that Ritt can be considered as one of the greatest miniaturists of his period and can be placed in the same class as Hall and Fueger.
midec20ap10
Condition: good
Creation Year: 1792/93
Measurements:UNFRAMED:6,8x6,8cm/2,7x2,7in FRAMED: 8,1x8,1cm/3,2x3,2in
Object Type:Framed miniature
Style: Portrait Miniatures
Technique: watercolor on ivory
Inscription:-
Creator: Augustin Christian Ritt
Creator Dates: 1765 St. Petersburg-1799 St. Petersburg
Nationality:Russian
We will cover shipping with regular registered mail (delivery between 7-14 days) for this item.

OBS: Austrian mail refunds cases of loss or damage with maximum EUR 500.


Fully insured 2-3 days DHL service available upon request and subject to extra charges: office@wilnitsky.net
Click here for images free of watermark!
Click on images or on

to see larger pictures!