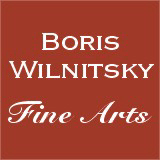 If you have a question about this item,
please contact us at: office@wilnitsky.net
# 42677
Carl J. A. Agricola "Ignaz Taulow v. Rosenthal (Austrian 1st "Arcieren" Life Guards)", 1829
Price: 1900 EUR
(please note additional 13% tax applies for transactions concluded within the European Union)
THE SELLER WILL COVER SHIPPING WITH REGULAR MAIL FOR THIS ITEM!

This watercolor portrait was (with nearly 100% probability) executed in 1829, promptly after the sitter's transfer (July 16, 1829) from the field army into the Guards. Here, he is posing in his new uniform of the Austrian 1st "Arcieren" Life Guards (Emperor's personal guards - an prototype of one of the French "Garde du Corps du Roi" companies). Parallel to the transfer (the sitter was then a Hauptmann (captain) of the Austrian 18th Line Infantry Regiment), he was assigned a corresponding cavalry officer's rank of a "Rittmeister"). He is decorated with two awards that he received fifteen years before the transfer into the Guards (1815) - the Knight's Cross of Karl-Friedrich Order of Military Merit (Grand Duchy Baden) and the Austrian Army ("Canon") Cross distributed to all Austrian combatants of the anti-Napoleonic Wars of 1813/15.

Ignaz Taulow, Ritter (in Austrian aristocratic hierarchy - a title one step lower than that of a baron) von Rosenthal was born in mid-1780s as one of the five brothers (see our image nr.10). In 1813, he was already a lieutenant captain in the 18th Line Infantry Regiment; in 1828, he was already a captain.
His aforementioned transfer from the field army into the Emperor's personal Guards was surely a sign of a special honor and a sort of an award in its own right. After eighteen years of service in the Guards, von Rosenthal was promoted (1847) into the Guards rank of a "Second-Wachtmeister". He, nonetheless, retained his army rank of a "Rittmeister", and was in 1858 raised into the army rank of a major (see our image nr.14). Sometime after this portrait's execution, he was awarded another two foreign orders: the Prussian Red Eagle of the 4th Class and the Portuguese Military Order of Vila Vicosa. He died in Vienna in May 1860. On May 14, a funeral wake was held in his honor in the Guards Chapel on Rennweg. He was buried at the Vienna Matzleinsdorf Cemetery (see our image nr.16).
Our comparison images nr.17-20 convincingly prove that we are dealing here with a 100% authentic and very typical work of one of Vienna's leading portraitists and court artists, Carl Josef Alois Agricola.
Carl Josef Alois Agricola (1779 Saeckingen/Baden - 1852 Vienna) was a very well-known Austrian historical, portrait and miniaturist painter. He was born in Germany, began studying in Karlsruhe, moved to Vienna in 1798 and studied at the Viennese Academy under the famous Fueger. Agricola became a very popular portrait miniature artist and also made many historical and allegorical paintings. Especially known are his paintings with little children, a few of them can be seen at the Austrian National Gallery "Belvedere".
Provenance: Collection Prince Starhemberg (see our image nr.7)

midec0418
Condition: good
Creation Year: 1829
Measurements:UNFRAMED:15,7x12,6cm/6,2x5,0in FRAMED: 22,8x19,9cm/9,0x7,8in
Object Type:Framed miniature
Style: Portrait Miniatures
Technique: watercolor on card, laid on a later-made mount
Inscription:verso: old legend
Creator: Carl Josef Alois Agricola
Creator Dates: 1779 Saeckingen-1852 Vienna
Nationality:Austrian
2-3 days door-to-door shipment, professionally packed by Mail Boxes Etc and shipped with DHL (calculated for US): 96,87 EUR + insurance 1,8% of item price
Shipping cost to other destinations (worldwide) on request
Shipping price may be reduced if you dispense with the frame


Cheaper alternative (may be further reduced if you dispense with the frame): professionally packed by Mail Boxes Etc and shipped with regular Austrian mail - upon request under office@wilnitsky.net (OBS: In this case maximal refunded insurance value is EUR 500 if shipping destination was the US. In Europe sometimes more, depending on destination.)
Click here for images free of watermark!
Click on images or on

to see larger pictures!