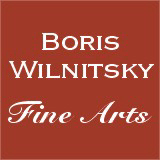 If you have a question about this item,
please contact us at: office@wilnitsky.net
# 42647
"General J.-B. Pelletier (imprisoned in Russia in 1812)", interesting French miniature!!, 1828
Price: 3200 EUR
(please note additional 13% tax applies for transactions concluded within the European Union)
Highly likely commissioned by the sitter just after he was awarded (August 28, 1828) Grand Officer of the Legion of Honor (note the breast star on his right and the cross on his left chest), this miniature on ivory shows then 51-year-old French artillerist, marechal-de-camp (brigade general) of the Royal Army, Jean-Baptiste Pelletier. He was the only French general with (detectable in this portrait) array of awards: besides the aforementioned insignia of the Legion of Honor, he is shown with three other crosses on his left chest that he received previously (i.e. before 1828).
They are:
1) the Chevalier Cross of French Royal Military Order of St. Louis (awarded on November 14, 1814)
2) the white-ribbon cross of the (introduced by the Bourbons in April 1814) "Decoration of the Lily"
3) and the Chevalier Cross of the Order "Virtuti Militari" of the Napoleonic Duchy of Warsaw (Polish order for military distinction; awarded in May 1814).

It is a second known portrait of this man: his other portrait (available on the Web) shows him at the age of 33 (see our image nr.9).

Jean-Baptiste Pelletier was born on February 16, 1777 in Eclaron, department Haute-Marne, France. On June 1, 1793, he graduated from artillery school in Chalons-de-Champagne in the rank of a sous-lieutenant and concurrent appointment into the 2nd Regiment of Foot Artillery in the Army of Rhine. On September 23 of the same (1793) year, he was transferred into the Army of North. On April 28, 1794, he was promoted into the rank of a captain and somewhat later transferred to Paris.
Napoleon Bonaparte must have remembered him well: on the 13th Vendémiaire of the 4th year (October 5, 1795) Pelletier was among other young artillerists who turned themselves and their canons under command of young General Bonaparte, who suppressed the mob uprising against the Directory (CLICK HERE).
In 1796-1801, Pelletier served in ranks of the Army of Italy.
On June 2nd, 1804, he was promoted to "chef de bataillon" and vice-director of artillery in Toulouse. Two and a half months later, he was transferred into the 7th Foot Artillery Regiment.
On December 5, 1805, he became commander of artillery of the reserve of the Army of North. Eight months later, he became a major of the 8th Foot Artillery Regiment.
On June 24, 1807, he was promoted into colonel and, on June 27, appointed the director of artillery of Warsaw. On March 9, 1808, Napoleon made him a Baron of Empire and assigned him an annuity of 4,000 francs and an estate in Kingdom of Westphalia. On December 22, 1808, he was appointed Commander of the 7th Foot Artillery Regiment.
On March 4, 1809, he was transferred into the army of the Duchy of Warsaw and was concurrently promoted to brigade general and commander of artillery and engineers in army of that state.
In the same (1809) year, he participated in the Austrian Campaign.
On March 3, 1812, he was appointed commander of artillery and engineers of the 5th Corps (Poniatowski) and, in ranks of this corps, took part in the Russian Campaign of 1812, which was soon to commence (in Russia, it was called "Patriotic War of 1812"). He partook in the battles of Smolensk (August 16-18; see our image nr.12), Borodino (September 7), Tarutino (October 18; see image nr.13) and Vyazma (November 3; CLICK HERE).
At Vyazma, the Russian troops commanded by General Miloradovich defeated the rearguard of the Grande Armeé, which consisted of Davout's Corps and parts of the Imperial Guard, Murat's Cavalry and Poniatowski's (sic!) Corps. At the end of this battle, General Pelletier was taken prisoner by the Russians.
He spent the next one and a half years as a war prisoner in Astrakhanskaya Gubernia (from October 1813 he lived in small town (now village) Krasny Yar (for excerpts from the article by Russian historian S.N. Khomschenko, see our image nr.14).
In Krasny Yar, Pelletier lived in an apartment that included a servant. In fact, he was receiving a considerable sum of money for sustenance from the state - 3 rubbles a day. During the day, he was allowed to move freely around town, pay visits to local nobility and to host guests at home. Additionally, it is known that he was giving (free) French lessons.
On June 1, 1814, he was released and delivered to Bialystok in Poland, from where he independently traveled to Paris. Upon his comeback, Pelletier's rank of brigade general (marechal-de-camp) was confirmed by King Louis XVII. As already mentioned, in the same period, he was also awarded the Royal Order of St. Louis.
During "The Hundred Days", he joined Napoleon and commanded artillery of the 2nd Corps at Waterloo.
On October 3, 1817, he was appointed Commander of Artillery School in Vallence; on January 22, 1818, he received the same post in Toulouse.
During the 1823 French invasion of Spain, he commanded artillery in the Siege of Pamplona.
In 1825, he received under his command the artillery school in Metz.
On November 22, 1836, he was raised in rank to lieutenant-general.
He served until June 8, 1845: on that day, he retired from the army service and went into reserve.
On June 13, 1857, he was awarded the Grand Cross of Legion of Honor. He died on May 27, 1862, in Versailles.
The name of Jean-Baptiste Pelletier has been carved on the Northern Column of Arc de Triomphe in Paris.

We would like to add that, during his service in Duchy of Warsaw, Pelletier was married to a French woman living in Warsaw - Frederique de Gentil de Langalerie (1778-1822), with whom he had a daughter, Elisabethz Pelletier (1815-1887).
Our images nr.9-16 offer the extensive biography of this man.
Provenance: antique trade, France

*For our other Napoleonica items, CLICK HERE

minov1618
Condition: fairly good; in magnificent original frame
Creation Year: 1828
Measurements:UNFRAMED:11,8x9,3cm/4,6x3,7in FRAMED: 23,0x21,0cm/9,1x8,3in
Object Type:Framed miniature
Style: Portrait Miniatures
Technique: watercolor on ivory
Inscription:-
Creator: French School
Creator Dates: -
Nationality:French
2-3 days door-to-door shipment, professionally packed by Mail Boxes Etc and shipped with DHL (calculated for US): 110 EUR + insurance 1,8% of item price
Shipping cost to other destinations (worldwide) on request
Shipping price may be reduced if you dispense with the frame


Cheaper alternative (may be further reduced if you dispense with the frame): professionally packed by Mail Boxes Etc and shipped with regular Austrian mail - upon request under office@wilnitsky.net (OBS: In this case maximal refunded insurance value is EUR 500 if shipping destination was the US. In Europe sometimes more, depending on destination.)
Click here for images free of watermark!
Click on images or on

to see larger pictures!