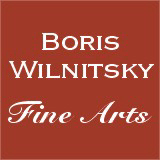 If you have a question about this item,
please contact us at: office@wilnitsky.net
# 42646
Nanette Rosenzweig-Windisch "Prince Sergei Ivanovich Gagarin", superb miniature on ivory!!, 1802/05
Price: 5900 EUR
(please note additional 13% tax applies for transactions concluded within the European Union)
THE SELLER WILL COVER SHIPPING WITH REGULAR MAIL FOR THIS ITEM!

This superior quality miniature was painted by Viennese female artist (she will also appear in St. Petersburg in 1804; see her biography below) Nanette Rosenzweig-Windisch.
The sitter in this portrait - a young (about 25/30 years of age), blue-eyed (sic!) and light-haired (sic!) gentleman - was (according to the miniature's previous owner) one of the members of Russian princely family Gagarin.
The elderly gentleman from whom we acquired this piece, is a resident of New York, the city where his parents - a couple of noble Russian émigrés moved to before the WWII (the left Russia after the October Revolution of 1917; this miniature was one of the items they were able to take with them across the Atlantic). This gentleman (seller) also told us that this miniature was always known in his family as "Portrait of Prince Gagarin" (unfortunately, he could not remember the prince's first name).

Out of all existing male members of Gagarin family, who between 1795 and 1805 (note sitter's dress and hairstyle) were in the same visual age as "our" young man and (most importantly!), whose physiognomic features resembled his, we were able to locate only one person, namely Prince Sergei Ivanovich Gagarin (1777-1862; for comparison, see our image nr.6 and CLICK HERE). We are certain to be dealing here with prince's early portrait (once again, he appears to be about 25/30 years of age). His portraits as almost 60-year-old (see our images nr.6-7), though showing him much more mature and somewhat stouter, shows doubtless the same man.

Let's consider, respectively, the three plausible dates of this miniature's execution.
As we have learned from his biography, Prince Sergei Ivanovich Gagarin, was an official of "Inostrannaya Kollegia" (Russian Foreign Office). In 1802, he was dispatched to serve at the Russian Embassy in Naples. He spent the following three years in this function and returned to St. Petersburg in 1805.
Assuming that the prince ventured on a land(rather than sea) voyage (on both outward and inward journeys), one could suggest that he made a stopover in Vienna - the city, where his younger brother Prince Grigori Ivanovich Gagarin (1782-1837) served at the Russian Embassy in the same period (1802-1805), and where the author of the miniature, Nanette Rozenzweig-Windisch (with an exception for a trip to St. Petersburg), lived and worked .
The third possibility: Nanette Rosenzweig-Windisch (the miniature is signed "Nanette Windisch"; it was under this family name that the author presented herself in St. Petersburg upon her arrival in 1804) stayed in the Russian capital throughout 1805 and portrayed Prince Gagarin after his comeback from Italy .
Nanette's maiden name was Haas. She must have married her husband (certain Windisch) before 1804, for there exist records of her visit to St. Petersburg in that year under her married name (see below). By that time, she was already a professional miniaturist, who completed training under famous Neoclassical artist and professor of the Vienna Academy, Friedrich Heinrich Fueger. In her premarital period, she signed her works with the surname "Rosenzweig". This name could have been either her artistic pseudonym (more resonant than the simple name "Haas", Rosenzweig is literally translated as "branch of roses"), or it could have been the name of her previous husband (before she married Windisch). In 1804, as already mentioned, she visited St. Petersburg (our friend - a great connoisseur of Russian portrait miniatures - Mr. Valeri Berezov, recently came across a mention of Nanette Rosenzweig-Windisch in "Severny Vestnik", 1804, part III (No. 7-9), p. 229. In it, one learns that "at the St. Petersburg Academy of Fine Art Exhibition of that (1804) year, there were shown five miniature portraits by the newly arrived artist, Mrs. Windisch". This information confirms that she married Windisch (and respectively, began signing her works as "Nanette Windisch") before 1804.
She was last mentioned in 1820 and probably passed away shortly after.
Works of her "pre-Windisch" ("Rosenzweig") period demonstrate strong influence of her teacher Fueger.
CLICK HERE FOR OTHER WORKS OF THIS ARTIST IN OUR POSSESSION

Provenance: private estate, New York (see above)

minov1618
Condition: good
Creation Year: 1802/05
Measurements:UNFRAMED:5,5x5,5cm/2,2x2,2in FRAMED: 8,5x8,5cm/3,3x3,3in
Object Type:Framed miniature
Style: Portrait Miniatures
Technique: watercolor on ivory (round)
Inscription:signed "Nanette Windisch pinx:"
Creator: Nanette Rosenzweig-Windisch
Creator Dates: ?-died after 1820
Nationality:Austrian
We will cover shipping with regular registered mail (delivery between 7-14 days) for this item.

OBS: Austrian mail refunds cases of loss or damage with maximum EUR 500.


Fully insured 2-3 days DHL service available upon request and subject to extra charges: office@wilnitsky.net
Click here for images free of watermark!
Click on images or on

to see larger pictures!