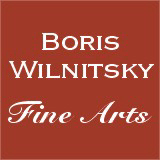 If you have a question about this item,
please contact us at: office@wilnitsky.net
# 42635
Jean-Baptiste Isabey "Charles "Baron" de Thierry", Important Portrait!, 1814/15, New Zealand Interest!
Price: ON REQUEST
(please note additional 13% tax applies for transactions concluded within the European Union)
THE SELLER WILL COVER SHIPPING WITH REGULAR MAIL FOR THIS ITEM!

In spite of the old legend on verso (cutout from an old auction catalogue) saying that it is a portrait of a certain "Herr von Hardenberg" (clearly referring to Fürst (Prince) Karl August von Hardenberg, from 1810 - Prussian State Chancellor; CLICK HERE), it is surely a portrait of another person.
First of all, the sitter (a relatively young gentleman, he appears to be in age between 25-30 years) bears the neck cross of the Prussian Order of the Red Eagle of 2nd class and chest badges of three French awards from the period of Bourbon Restoration: cross of St. Louis Order, badge of introduced by Bourbons in April 1814 "Decoration of The Lily" and Chevalier Cross of the (Royal!) Order of Legion of Honor. Based on that, we draw the conclusion that the portrait was made in 1814 at the earliest (!), i.e. when Karl August von Hardenberg was already 64, and thus looked considerably older than our sitter. Moreover, Prince von Hardenberg never wore sideburns!
We rather believed from the begin that the sitter was one of the participants of the famous Congress of Vienna (during that event, which took place between September 1814 and June 1815, the author of this portrait (see below) stayed at the Austrian capital, portraying various European royalties, diplomats and representatives of high aristocracy in attendance).

The legend on verso of this work also provides (this time - perfectly right!) the name of the author of this (practically miniature) portrait: great Jean-Baptiste Isabey. Despite the latter's relatively seldom use of the oil painting technique (for comparison, see our images nr.9-16), the portrait's superior quality and (absolutely typical for Isabey's works) stylistic criteria (for example, see our web # 29061, # 27098, and # 30960) allow us to maintain that we have come upon another authentic work of this great master.

Trying to determine the sitter's identity we began the Web search for a young (sic!) Frenchman (three French awards!) who after April 1814 ("Decoration of The Lily") was in possession of Prussian Order of Red Eagle of 2nd class. The 2nd class was introduced in 1810, but its first awarding took place only in 1812. From 1818 awardees of this class wore additionally the order's breast star (absent on this portrait!). So we had to search for French recepients of 2nd class in period between 1812-1817. In the corresponding list we found in total six Frenchmen. The next step was to check the biography of each of them. Finally it turned out that only one (!) of them corresponded our searching criteria - certain Chevalier de Thierry from Paris; he was awarded Red Eagle of 2nd class (No. 87) in 1814 (see our image nr.17). Found on Web two portraits of his (see images nr.18-20) left no doubt - he is our man!

"Baron" Charles Philippe Hippolyte de Thierry was a very dubious person. It seems he belonged to a (popular in the late 18th - early 19th centuries across Europe) category of traveling adventurers (rather conmen), whose goal was to deceive (surely in order to profit) members of the high society and even royalties. In his autobiography which he completed between 1854-1857, Charles claimed to have been born in April 1793 (we believe he was born a few years before that date!) in Grave, Netherlands as a son of French emigre (before he fled from Revolutionary France he was "an equerry at court of Louis XVI in Versailles"), Charles Antoine de Thierry and his wife Marie Louise Pierrette de Laville. In 1794 the family moved to England and settled in Woodford Bridge. In 1796 (so he claimed later) Charles travelled to Scottland with his father to visit late Louis XVI's younger brother, Comte d'Artois who was staying at Holyrod House. It was (so Charles claimed) here that he became the godson of Comte d'Artois.
Between 1796 and 1802 the family lived in various areas of Southern England. Meanwhile Charles' father (although so claimed by Charles, no convincing documents are known) obtained in England a title of baron (after latter's death this "title" obtained Charles).
Since 1808 Charles lived in household of the young Portuguese aristocrat Pedro Jose Joaquim Vito de Meneses Coutinho, 6th Marquis of Marialva (1775-1823; never married, died without issue; for his portrait (and especially interesting notice concerning him!) see our image nr.27). In late spring of 1814 the latter was appointed Portuguese envoy to court of Louis XVIII and Charles accompanied him to Paris. As Marquis of Marialva's personal secretary he was also received at the French court (we are sure, exactly in these days (weeks) he (as a Frenchman) obtained three aforementioned French awards).
During the Congress of Vienna (November 1814 - June 1815) Charles was in Austrian capital, as a close (...) friend and assistant of Marquis de Marialva (the latter was attached to Portuguese Delegation in rank of advisor). Count Alexander de la Garde in his famous "Anecdotal recollections of the Congress of Vienna" describes Charles' outstanding performance as a harp player in amateur theatricals "Live Pictures" in Vienna Imperial Palace (besides that de la Garde says, Charles "was then in Vienna one of the most socially desirable strangers" - see our image nr.21). Possibly his Order of the Red Eagle he obtained there, after he was introduced to the King of Prussia.
We don't know why after the end of Congress he parted ways with his marquis - in each case he alone returned to England and on 18th July (sic! - so he claimed later) 1815, he joined (in rank of a cornet) the 23rd British Light Dragoons and embarked in the Netherlands for the Waterloo Campaign (in reality the Battle of Waterloo took place one month before; the 23rd Regiment fought there, but de Thierry's name is not in the list of combatants...). Several months later, on 24 November 1815, he was granted leave for private bisiness in Paris where then lived his mother. This was when he applied for employment with the French Foreign Office. He was discharged from the Army on 19 January 1816. On 16 September 1816 Charles "was appointed as attache to the French Embassy in London" (so he claimed later; in reality his name is not to find in list of emloyees of embassy in that year. Rather he came to England with a single mission - as a curier). His "career" as a diplomat lasted four months and on 20 January 1817 he was packed off to Brussels and dismissed on 17 February due to growing personal debts.
From latter day there is a gap in the record until 1819 when de Thierry appeared in the household of Archdeacon of Gloucester and Chancellor of the diocese of Hereford (England) Thomas Rudge, whose daughter Emilie Mary Rudge he married on 8 May of that year, in the face of his father-in-law's disapproval. Archdeacon had every reason to have misgivings - de Thierry had no prospects, he was a spendthrift, and the two would have had little in common.
There is no doubt that at this time de Thierry was unsolvent. It is possible, that he was supported by Rudge. Nevertheless, he was able on 26 May 1819 to matriculate at Magdalen College, Oxford to study theology (at Rudge's insistence?). He later claimed that he transferred from Oxford to Quenn's College, Cambridge to study law.
In 1820, while at Cambridge, Charles met certain Reverend Thomas Kendall who just arrived from New Zealand, accompanied by two Maori chiefs - Hongi and Waikato. With the assistance of Thomas Kendall, Charles arranged to purchase land in Hokianga (area in the north of the North Island, New Zealand) from the Maori chiefs and the deed was written and signed in 1822 (Charles claimed to have purchased then 40,000 acres (again - no confirming documents are existent)).
Charles spent many years writing to different governments (a. o. France, Netherlands, England) setting out his plans to colonize New Zealand.
Around 1824 his debts caught up with him and he spent some time in Debtors Prison Marshalsea (then King Bench Prison) and three and half months in Fleet Prison. There is document saying that he was discharged in September 1824. It is interesting to note that part of his debt was to a gunsmith (perhaps he provided guns to the aforementioned Maori chiefs as a payment for the land in New Zealand).
Between late 1824 and 1826 Charles stayed in Paris where he operated a bazaar (a kind of bargain-sore, known as the Bazaar Saint Honore, situated at 359 Rue Saint Honore) with another man, but this bazaar went bankrupt.
In early 1827 Charles with his family travelled to America, where they remained until about 1832. In June 1835 Charles (meanwhile he claimed to be the "Charles I, King of New Zealand" (!) - see our image nr.22) sailed from Panama going to Marquises Islands (where he tryied to settle down as a "King of Nuku Hiva" (the largest island of this archipelago - see image nr.23) and later Tahiti, around October 1835.
In July 1837 he landed in Sydney, Australia. From Sydney he moved to New Zealand and landed in Hokianga, on 4th November 1837. Instead 40,000 acres (which he claimed to have purchased from Maori chiefs) he received there three allotments totalling approx. 4,540 acres which he exchanged for $1,610 script and a grant of 109 acres. He and his family lived in Hokianga from 1837 to 1845. Therafter they moved to Auckland where "Baron" Charles de Thierry engaged in a number of minor activities for survival, among other as a piano teacher. He died there in July 1864. He was buried in the Anglican section along with several members of his family. Their graves were disturbed by the building of the motorway and their remains are now enclosed in the general Anglican Memorial (for additional information CLICK HERE and HERE). Besides numerous articles, in 1936 in London and in 1977 in New Zealand were published two books about Charles de Thierry (see our images nr.24-25). It seems both works repeat Charle's autobiography fibs concerning his childhood and youth...

As we strongly believe, on our portrait "Baron" de Thierry is depicted during the Congress of Vienna. He looks some older than for age of 21/22 years (the latter would correspond to claimed by him year 1793 as that of his birth; we believe he fabricated this date still in his youth, to avoid the conscription to British Army during the Peninsular War of 1807-1814).



Jean-Baptiste Isabey (1767 Nancy - 1855 Paris) was the most famous of all European portrait miniature painters of the turn of the 19th century. In 1785 he went to Paris to study under David, but the great master had just left for Rome. At first in a tight financial situation, Isabey finally was ordered to paint miniatures of the children of King's brother, Count D'Artois. By means of this commission he came to court, met the Queen Marie-Antoinette and obtained an apartment in Versailles. In 1786 David returned from Rome, accepted Isabey as pupil without payment and favoured him in every way. At the time of Revolution the artist already acquired significant clientele in Paris. He portrayed most of Convention members, became one of the intimates of Mme Bonaparte's house. Isabey was a drawing master of Hortense and Eugene de Beauharnais; he controlled the ceremony of Napoleon's coronation and organized festivities for the Empire.
In 1806 Isabey was appointed "Peintre dessinateur du cabinet de S.M. l'Empereur, des ceremonies et des relations exterieurs", and in the following year - "Premier peintre de la Chambre de l'Imperatrice". From 1809 Isabey had a studio in the porcelain factory in Sevres. When in 1810, Napoleon married Marie-Louise, Isabey became drawing master to the latter. In 1812 he went to Vienna to do the portraits of the Imperial Family. He returned there again in 1814 to paint the Congress of Vienna on the order of Talleyrand. He returned to Paris in 1815. With a begin of Restoration he went to London. On his return in 1820 Louis XVIII appointed him miniature painter and "inspecteur dessinateur, ordonnateur des fetes et spectacles". Charles X gave him the title of royal draughtsman and painter and appointed him officer of the Legion d'honneur in 1825. In 1837 Louis-Philippe appointed him Assistant Keeper of the Royal Museums and gave him an appartment at Versailles. He also had the favours of Napoleon III from whom he obtained a pension of Frs. 6000.
Provenance:
1) Collection Oppenheimer (19th century Berlin; see auction catalogue cutout on verso)
2) anonymous German (Austrian?) auction house (turn of 20th century)
3) Vienna private collection (acquired in 2015)

CLICK HERE for two other portraits of conmen in our collection.
Condition: good; in original frame
Creation Year: 1814/15
Measurements:UNFRAMED:14,0x10,2cm/5,5x4,0in FRAMED: 19,0x15,5cm/7,5x6,1in
Object Type:Framed miniature
Style: Portrait Miniatures
Technique: oil on card (oval)
Inscription:verso: old inscription "Fürst Hardenberg" and cutout from an old auction catalogue
Creator: Jean-Baptiste Isabey
Creator Dates: 1767 Nancy-1855 Paris
Nationality:French
2-3 days door-to-door shipment, professionally packed by Mail Boxes Etc and shipped with DHL (calculated for US): 100,49 EUR + insurance 1,8% of item price
Shipping cost to other destinations (worldwide) on request
Shipping price may be reduced if you dispense with the frame


Cheaper alternative (may be further reduced if you dispense with the frame): professionally packed by Mail Boxes Etc and shipped with regular Austrian mail - upon request under office@wilnitsky.net (OBS: In this case maximal refunded insurance value is EUR 500 if shipping destination was the US. In Europe sometimes more, depending on destination.)
Click here for images free of watermark!
Click on images or on

to see larger pictures!