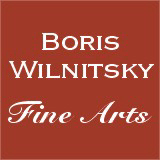 If you have a question about this item,
please contact us at: office@wilnitsky.net
# 42628
"Amédée de Rancher, lieutenant of the 2nd Cuirassiers of the French Royal Guards", miniature, 1823/24
Price: 3200 EUR
(please note additional 13% tax applies for transactions concluded within the European Union)
THE SELLER WILL COVER SHIPPING WITH REGULAR MAIL FOR THIS ITEM!

The offered here good quality French miniature on ivory shows 28-year-old Amédée-Adrien Louis, chevalier (baron) de Rancher (1795-1864), who commissioned this portrait promptly after he was awarded two Spanish orders (see below) and was simultaneously elevated into the rank of "lieutenant en second" (until then he was in the lowest officers' rank of a "sous-lieutenant").

It is interesting to understand, how we established the sitter's identity in absence of any information about him. Neither, have we had any information about the previous owners of this portrait, nor any accompanying legends on its verso that would lead us to his identity.

As common in such cases, the first measure was to carry out a thorough analysis of the sitter's uniform and his awards.
We see here a relatively young, mustached (mustache was obligatory for cavalrymen) man wearing a uniform of a lieutenant (note a single thinly-fringed epaulette on his left shoulder - see our image nr.4) of one of the two (active in period of 2nd Restoration (1815-1830)) cuirassier regiments (1st and 2nd) of the French "garde royale".
He is decorated with cross of the Order of St. John of Jerusalem (Maltese Order) and crosses of Spanish military orders of St. Hermenegild (award issued for cavalry officers) and St. Ferdinand (in late 1823, both of these orders were awarded to numerous French Guards officers - participants of the Spanish Campaign of 1823 (CLICK HERE). Placed between these two crosses is the (obligatory for all French Guards officers of that period) badge of (introduced in April 1814 by reinstalled Bourbons) "Decoration of The Lily" (see our image nr.6; after the July Revolution of 1830, the wearing of this badge became forbidden).

The key factor for identifying the sitter was his cross of Maltese Order. The Web offers annual lists of cuirassier officers of the Royal Guards (or, as already mentioned, its 1st and 2nd regiements). In these lists, one finds only one (!) junior officer who was a member of the Maltese Order yet possessed no other French (sic!) orders (foreign orders and/or "Decoration of The Lily" are not mentioned in these lists) - neither the Order of St. Louis, nor the Order of the Legion of Honor.
His name was Amédée de Rancher.

His military service began on July 6, 1814, when he (in age of 19) joined "gendarmerie de la garde". On October 12, 1815, he was transferred (in rank of a sous-lieutenant) into the newly formed 2nd cuirassier regiment of the Royal Guards (this regiments was stationed in Versailles).
On April 6, 1817, de Rancher became a member of the French branch of Maltese Order. We would like to note that by then (1810s) the process of gentry's initiation into this order had been simplified: a fee of 6000 golden francs was enough to receive a membership (see our web #40814). Amédée de Rancher was a son of a very wealthy man (his father possessed several estates, as well as Château de Maudétour by Paris (CLICK HERE and HERE), where Amédée was born.
Since 1820, in list of officers of the 2nd Guards Cuirassiers, Amédée de Rancher's name is accompanied by only one sign of French order, namely that of the Maltese Order.

Amédée de Rancher's service in the 2nd Cuirassiers was once interrupted for a whole year: in 1818, his name is absent from the officers' list (clearly, he must have taken a long health-related leave, for it is known that he suffered from rheumatism; see our image nr.16).
In 1819, he returned into the 2nd Cuirassiers. In late 1823, he was raised in rank into "lieutenant en second" (see our image nr.13). Clearly, his illness had not ceased entirely and in 1825, he filed for retirement. His retirement, as was a common practice, was accompanied by promotion to consecutive rank: on May 13, 1825, Captain (sic!) Amédée de Rancher left the military service (see our image nr.14).
Five years later, on August 2, 1830, Amédée married Jeanne Olympe du Croquet de Saveuse (1809-1866), with whom he had two children.

Back in January of 1825, his father - Charles-Louis, baron de Rancher (1718-1835; he too was a member of the Maltese Order) was bestowed by the King with the title of "comte" (count), hence making Amédée (and his siblings) a "vicomte".
Amédée's elder brother, Charles-Paulin de Rancher (1793-1868), was also an officer of the Guards cuirassiers. He began his military service in the same 2nd Regiment, but was soon transferred into the 1st Regiment. His only award was the Chevalier Cross of the Legion of Honor (unlike his brother Amédée, he never joined the Maltese Order).

Amédée-Adrien Louis, vicomte de Rancher died in Paris on June 18, 1864.


This miniature is signed "Jules" (see image nr.7) what means we are dealing with extremely rare work French miniaturist Jules who (according to Mme Nathalie Lemoine-Bouchard) is known today through only one other miniature (see our image nr.18).
Provenance: antique shop in Avignon, France

See also our web # 42388 .

miokt2418
Condition: fairly good
Creation Year: 1823/24
Measurements:UNFRAMED:8,2x6,9cm/3,2x2,7in FRAMED: 14,6x13,1cm/5,7x5,2in
Object Type:Framed miniature
Style: Portrait Miniatures
Technique: watercolor on ivory
Inscription:signed: Jules
Creator: Jules
Creator Dates: active in Lyon-1st half of 19th c.
Nationality:French
We will cover shipping with regular registered mail (delivery between 7-14 days) for this item.

OBS: Austrian mail refunds cases of loss or damage with maximum EUR 500.


Fully insured 2-3 days DHL service available upon request and subject to extra charges: office@wilnitsky.net
Click here for images free of watermark!
Click on images or on

to see larger pictures!