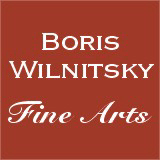 SALE!!! SAVE MONEY !! 1 EUR = 1 USD
# 42627
Jean-Baptiste Isabey (1767-1855) "Portrait of Duchesse d'Abrantes", famous miniature!!, 1824
11000 EUR
FINAL DISCOUNT PRICE= 11000 USD
( for EUR price see date rate )
Please note: Shipping and insurance costs are not included in this promotion, ONLY ITEM PRICES!
(please note additional 13% tax applies for transactions concluded within the European Union)
THE SELLER WILL COVER SHIPPING WITH REGULAR MAIL FOR THIS ITEM!

This watercolor portrait was executed in 1824 by great Parisian miniaturist Jean-Baptiste Isabey. It was housed in the collection of France's leading art historian Fernand de Mely (1852-1935; see our images nr.9 and nr.24) until his death in 1935. Isabey painted several portraits of this woman (see our image nr.11), yet this particular work was always regarded as his best portrayal of her.
It is a superior quality portrait of famous socialite and memoirist of Napoleonic and consecutive epochs, widow of one of Napoleon's favorite generals (Jean-Antoine Junot; see our image nr.23) - Laure Adelaide Junot, Duchess d'Abrantes.
The portrait was first published in 1909 by Mme De Basily-Callimaki (see our images nr.9-10) and, since then, was repeatedly illustrated (among others, as covers) in various books and journals printed in France (see our image nr.12).
We would also like to mention that this large miniature is a perfect addition to Duchess' two other portraits in our possession.

Laure-Adelaide Junot, Duchess of Abrantes (d'Abrantes) was born on the 6th of November 1784 in Montpellier as a daughter of Corsican nobleman Charles Martin de Permond and his wife Panoria (to whom during her widowhood the young Napoleon Bonaparte made an offer of marriage (such at least is the version presented by the daughter in her celebrated "Memoirs"). Her mother, Panoria, was descended from the Comnene family, the last Greek dynasty from the Empire of Trebizond. The Martin de Permond family, after various vicissitudes, settled at Paris, and Bonaparte certainly frequented their house a good deal after the downfall of the Jacobin party in Thermidor 1794 (some sources insist that Laure made acquaintance with him at the age of 10).
Mlle de Permond was married to general Jean-Andoche Junot (for his biography, see our image nr.22) in 1800, early in the Consulate; she was then 16 and he - 29 years old.
She at once entered eagerly into all the gaieties of Paris, and became noted for her beauty, her caustic wit, and her extravagance. The First Consul nicknamed her petite peste, but treated her and Junot with the utmost generosity, a fact which did not restrain her sarcasms and slanders in her portrayal of him in her "Memoirs". During Junot's diplomatic mission to Lisbon, his wife so displayed her prodigality, that on his return to Paris in 1806 he was burdened with debts, which his own intrigues did not lessen. She joined him again at Lisbon after he had entered that city as conqueror at the close of 1807; but even the presents and spoils won at Lisbon did not satisfy her demands; she accompanied Junot through part of the Peninsular War.
On her return to France she displeased the emperor by her vivacious remarks and by receiving guests whom he disliked. The mental malady of Junot thereafter (he committed suicide) threatened her with ruin; this perhaps explains why she took some part in the intrigues for bringing back the Bourbons in 1814.
She did not side with Napoleon during the Hundred Days. After 1815 she spent most of her time at Rome amidst artistic society, which she enlivened with her sprightly converse; a monarchist on her return to Paris during the Restoration, she compiled her spirited but somewhat spiteful "Memoirs" with the encouragement and supervision of Balzac, her lover since 1828. The memoirs were published at Paris in 1831-1834 in 18 (!) volumes. Many editions have since appeared.
Of her other books the most noteworthy are "Histoires contemporaines" (2 vols., 1835); "Scènes de la vie espagnole" (2 vols., 1836); "Histoire des salons de Paris" (6 vols., 1837-1838); "Souvenirs d'une ambassade et d'un séjour en Espagne et en Portugal, de 1808 & 1811" (2 vols., 1837).
Ridiculed by Gautier as the "Duchess of Abracadantès" and fallen into poverty, she died in a nursing home in 1838. (*this material was borrowed from Wikipedia).



Jean-Baptiste Isabey (1767 Nancy - 1855 Paris) was the most famous of all European portrait miniature painters of the turn of the 19th century. In 1785 he went to Paris to study under David, but the great master had just left for Rome. At first in a tight financial situation, Isabey finally was ordered to paint miniatures of the children of King's brother, Count D'Artois. By means of this commission he came to court, met the Queen Marie-Antoinette and obtained an apartment in Versailles. In 1786 David returned from Rome, accepted Isabey as pupil without payment and favoured him in every way. At the time of Revolution the artist already acquired significant clientele in Paris. He portrayed most of Convention members, became one of the intimates of Mme Bonaparte's house. Isabey was a drawing master of Hortense and Eugene de Beauharnais; he controlled the ceremony of Napoleon's coronation and organized festivities for the Empire.
In 1806 Isabey was appointed "Peintre dessinateur du cabinet de S.M. l'Empereur, des ceremonies et des relations exterieurs", and in the following year - "Premier peintre de la Chambre de l'Imperatrice". From 1809 Isabey had a studio in the porcelain factory in Sevres. When in 1810, Napoleon married Marie-Louise, Isabey became drawing master to the latter. In 1812 he went to Vienna to do the portraits of the Imperial Family. He returned there again in 1814 to paint the Congress of Vienna on the order of Talleyrand. He returned to Paris in 1815. With a begin of Restoration he went to London. On his return in 1820 Louis XVIII appointed him miniature painter and "inspecteur dessinateur, ordonnateur des fetes et spectacles". Charles X gave him the title of royal draughtsman and painter and appointed him officer of the Legion d'honneur in 1825. In 1837 Louis-Philippe appointed him Assistant Keeper of the Royal Museums and gave him an appartment at Versailles. He also had the favours of Napoleon III from whom he obtained a pension of Frs. 6000.
The portrait is executed in Isabey's distinctive technique (he used to apply watercolors on oval sheet of card or paper laid (before the actual painting process) on thin oval tin plaque of the same form and size (the verso of this plaque was then again covered with paper)).

CLICK HERE FOR OTHER WORKS OF THIS ARTIST IN OUR POSSESSION

Provenance:
1) Collection Fernard De Mely (18523-1935)
2) private collection, France
3) antique store in Deauville, department Calvados, Normandy

miokt2418
Condition: good; in original frame
Creation Year: 1824
Measurements: UNFRAMED:13,4x9,8cm/5,3x3,9in FRAMED: 20,9x15,5cm/8,2x6,1in
Object Type: Framed miniature
Style: Portrait Miniatures
Technique: watercolor on paper, laid on tin and then again on paper
Inscription: signed and dated: "Isabey /1824"
Creator: Jean-Baptiste Isabey
To see other works by this artist click on the name above!
Creator Dates: 1767 Nancy-1855 Paris
Nationality: French
We will cover shipping with regular registered mail (delivery between 7-14 days) for this item.

OBS: Austrian mail refunds cases of loss or damage with maximum EUR 500.


Fully insured 2-3 days DHL service available upon request and subject to extra charges: office@wilnitsky.net
Click here for images free of watermark!
Click on images or on

to see larger pictures!