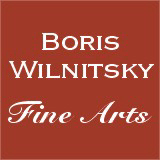 If you have a question about this item,
please contact us at: office@wilnitsky.net
# 42616
Carl Josef Alois Agricola "Count Bernhard Caboga", small oil/panel painting, 1834, Croatian interest!
Price: 5500 EUR
(please note additional 13% tax applies for transactions concluded within the European Union)
This small oil-on-panel painting was last spotted at the Vienna auction house "Glückselig" (lot 80 - see our image nr.10), where it was sold in March 1929. From that date, its whereabouts remained unknown for nearly ninety years, until it resurfaced in 2018 in German town Homburg in an antique shop, where we subsequently purchased it.
We are dealing here with a unique oil portrait of celebrated Croatian aristocrat, who made a brilliant career in Austrian army, in which he attained (one year before his death) the rank of a "Feldzeugmeister" (General of Artillery; a rank one step lower in the hierarchy than the rank of a Field Marshal) - Count Bernhard Caboga.
Although unsigned, this painting is an absolutely authentic and very typical work (for comparison, see our images nr.19-24) of one of Vienna's best portraitists of the first half of the 19th century, Carl Josef Alois Agricola.

Bernhard (also Bernardo) Caboga was born on February 6, 1875 (and not in 1788, as the old legend on verso of the portrait implies; see our image nr.9) in Ragusa, Dalmatia (now - Dubrovnik, Croatia). He was born into one of Ragusa's oldest noble families, members of which have been in the past occupying top-ranking posts in Republic of Ragusa (founded in the 14th century, this state existed until 1814 - the year, in which it was annexed by the Austrian Empire).
Bernhard's father - Bernardo Giovanni Conte (Count) di Caboga - married Maria Contessa (Countess) di Sorgo-Cerva; hence, Bernhard Caboga inherited a double surname Caboga-Cervo.
Bernhard Caboga graduated from Austrian Engineer Academy at the age of 18 (1803) and was appointed into Cartographic Service.
In 1806, he visited Triest; in 1809 (Napoleon's "Austrian" campaign) he was at the defense of Alpine Pass Lueg by Salzburg; in 1813 (anti-Napoleonic Liberation War) was attached to the allied army of Swedish Crown Prince (Bernadotte).
After the war, he was dispatched on various diplomatic missions to Ionic Islands, Albania and Montenegro. Additionally, he participated in the Austrian occupation of Naples. In 1827, he accompanied (as aide-de-camp) Austrian General Prince Hessen-Homburg at the Russian headquarters in Russo-Persian War. In 1830-31 (already in rank of a colonel), he was attached to Russian Field Marshals Paskevich and Diebich, who commanded supression of the Polish Uprising (among others, he partook in the capture of Warsaw on September 7, 1831).
Thereafter, he served in Ragusa and was later appointed Commander of Sapper Corps in Bohemia.
Caboga's Ragusian title of a count was approved in Austria as a foreign noble title on January 1, 1833. Few years later, on March 22, 1835, he was confirmed as an Austrian Count.
In 1836-1838, Count Cadoga served at the Court of Modena (then - one of Italian provinces of the Austrian Empire), where he was an "Ajo" (tutor) to the sons of Duke Franz IV and a Court Marshal.
In 1838, he was transferred into the General Direction of the Austrian Engineers and was raised in rank to Major General. On April 3, 1846, he was promoted to Lieutenant Field Marshal.
He was particularly remembered by contemporaries for his 1849 diplomatic mission. At that time, Austria was in the state of war with revolutionary Hungary. On May 3, 1849, while Hungarian Army was rapidly advancing toward Vienna, Count Caboga rushed with the letter of Austrian Commander-in-Chief Prince Schwarzenberg to Warsaw Headquarters of Russian Field Marshal Paskevich. In the presence of numerous persons, he fell on his knees in front of the latter, kissed his hand and, with tears in his eyes, begged him to send Russian troops to the aid of Austrian government.
Incidentally, a similar occurrence took place (also in Warsaw) eighteen days later: young Austrian Emperor Franz Joseph I begged (he too fell on his knees and kissed the hand!) Russian Tsar Nikolai I for help.
In June, 1849, Russian army joined Austria in the war against Hungary and became instrumental in Hungary's capitulation (see our images nr.17-18).
In January 1850, Caboga was appointed General Director of Corps of Engineers and, on April 24, 1854, while still in this function, was promoted to "Feldzeugmeister". He died in Vienna on November 19, 1855 (for his obituary, see our images nr.14-15).
Count Bernhard Caboga married (November 26, 1833, in Vienna) Wanda Julie Countess Potocki (b. 1788), daughter of Russian privy councilor Severin Count Potocki (d. 1828). Their marriage remained childless.

In this portrait, Count Caboga wears a civilian's dress. He is decorated with badges of the following awards:
- neck cross of Russian Order of St. Anna of the 2nd class (with diamonds; awarded in 1829)
- neck cross and breast star of Russian Order of St. Stanislav of the 2nd class
- tailcoat badge of the Russian "Golden Sabre with inscription "For Bravery"" (probably awarded in 1829)
- miniature badges (hanging from the tailcoat badge; see above) of:
a) Russian Order of St. Vladimir of the 4th class
b) unidentified cross
c) Russian silver medal for Turkish War of 1828/29
d) Austrian Army ("Canon") cross for combatants of anti-Napoleonic campaigns of 1813/15


Carl Josef Alois Agricola (1779 Saeckingen/Baden - 1852 Vienna) was a very well-known Austrian historical, portrait and miniaturist painter. He was born in Germany, began studying in Karlsruhe, moved to Vienna in 1798 and studied at the Viennese Academy under the famous Fueger. Agricola became a very popular portrait miniature artist and also made many historical and allegorical paintings. Especially known are his paintings with little children, a few of them can be seen at the Austrian National Gallery "Belvedere".
CLICK HERE FOR OTHER WORKS OF THIS ARTIST IN OUR POSSESSION

miokt1618
Condition: good
Creation Year: 1834
Measurements:UNFRAMED:22,0x17,3cm/8,7x6,8in FRAMED: 29,0x24,2cm/11,4x9,5in
Object Type:Framed oil painting
Style: 19th century paintings
Technique: oil on panel
Inscription:verso: old legend with the date of 1834 (see our image nr.9)
Creator: Carl Josef Alois Agricola
Creator Dates: 1779 Saeckingen-1852 Vienna
Nationality:Austrian
SHIPPING COSTS UPON REQUEST:
office@wilnitsky.net
Click here for images free of watermark!
Click on images or on

to see larger pictures!