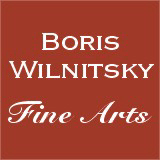 If you have a question about this item,
please contact us at: office@wilnitsky.net
# 42607
"Carl von Hagen, Rittmeister of Prussian 10th Hussar Regiment", superb oil on tin miniature!!, 1816
Price: 2250 EUR
(please note additional 13% tax applies for transactions concluded within the European Union)
THE SELLER WILL COVER SHIPPING WITH REGULAR MAIL FOR THIS ITEM!

The sitter in this miniature portrait is a relatively young, mustached man; he is portrayed wearing the uniform of a junior officer of the Royal Prussian 10th Hussar Regiment. This uniform is a transitional one; in fact, it is the one that was instituted back in 1813 in Prussian Elb-National Hussar Regiment (see our image nr.6), which was soon after (May 25, 1814) reorganized into the 10th Hussar Regiment (note this unit's shoulder cord on the sitter's uniform).
The sitter is decorated with a considerably high Russian award: he bears the neck cross of the Russian Order of St. Anna of the 2nd Class (clearly, he received this award in late 1813). Besides the neck cross, he bears the Prussian Iron Cross of the 2nd class on his right chest side, as well as the Prussian Memorial Combatant's Medal for Service in the Liberation War (or the so-called "Kriegsdenkmünze" for campaigns of 1813/15).

According to standard research source (published in 1863) - "Geschichte des Magdeburgischen Husaren-Regiments" ("History of the 10th Hussar Regiment" - CLICK HERE), only two junior officers of this regiment were awarded the Prussian Iron Cross for campaigns of 1813/1815 (both received the Iron Cross of the 2nd class). They were:
- Lieutenant Ludwig Wucherer (awarded in 1814; see our image nr.7) and
- Rittmeister (cavalry captain) von Hagen (awarded in 1816; see our images nr.8-9).
Having promptly found a portrait of Lieutenant Wucherer (later - a renowned Prussian entrepreneur), we established that he shared no resemblance with "our" sitter whatsoever (see our image nr.7). Besides that, in 1815, he was only 25 - a detail incompatible with his visual age in "our" portrait.
In other words, we are left with only one person in question - Commander of the 3rd Squadron of 10th Hussar Regiment - Rittmeister von Hagen.
In the course of our in-depth Web research, we have discovered von Hagen's obituary (see our images nr.10-11).
His full name was Carl von Hagen. He was born at the Estate Niemburg by Halberstadt (now German province Sachsem-Anhalt) on March 24, 1780 and died on December 8, 1837 in Muehlhausen, Thuringia, where he is known to have served as a Landrat (councilor of the regional parliament) and was recorded as a retired major in possession of several (!) orders.
From 1793 onwards he fought against the revolutionary France and was promoted into the rank of lieutenant of the cuirassiers in 1794.
In 1804, he joined the military service of Duchy of Wuerttemberg and was appointed lieutenant of Garde du Corps. Shortly thereafter, he married Baroness von Goden. In 1806, he joined the Prussian service and - in its ranks - partook in campaign of 1807.
After the Treaties of Tilsit were signed, he was transferred into the 3rd Hussar Regiment, was promoted to Rittmeister, yet retreated from the service as soon as 1809 and returned home - modestly sized estate Gerblingerode by Duderstadt. In 1813, he rejoined the Prussian cavalry and became a co-founder of the "Elb-National Hussars". In 1815, he was awarded the Iron Cross of the 2nd class whith white-ribbon type; later, in 1st half of 1816 - that with the black-ribbon (higher degree!) type). His "Kriegsdenkmünze" for 1813/15 he received (as one of 140 men of this regiment) on 4th June 1816 (we are sure he ordered this miniature just thereafter). On 6th October 1816, he retreated from the military service with a rank of a major and two weeks later, as already mentioned, he became a councilor of regional parliament in Thuringia (then Kingdom of Prussia).
Provenance: heirs of family Wichman (see our web #42610)

We are very grateful to well-known specialist in Prussian military uniforms, Stanislav Lyulin for his generous help

miokt0318
Condition: fairly good
Creation Year: mid-1816
Measurements:UNFRAMED:6,2x5,1cm/2,4x2,0in FRAMED: 5,7x5,4cm/2,2x2,1in
Object Type:Framed miniature
Style: Portrait Miniatures
Technique: oil on tin (oval)
Inscription:-
Creator: German School
Creator Dates: -
Nationality:German
We will cover shipping with regular registered mail (delivery between 7-14 days) for this item.

OBS: Austrian mail refunds cases of loss or damage with maximum EUR 500.


Fully insured 2-3 days DHL service available upon request and subject to extra charges: office@wilnitsky.net
Click here for images free of watermark!
Click on images or on

to see larger pictures!