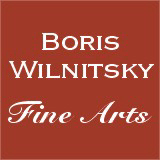 If you have a question about this item,
please contact us at: office@wilnitsky.net
# 42599
"Junker of the Russian Life-Guards Izmaylovsky Regiment", French miniature, 1814
Price: 2500 EUR
(please note additional 13% tax applies for transactions concluded within the European Union)
THE SELLER WILL COVER SHIPPING WITH REGULAR MAIL FOR THIS ITEM!

This miniature was executed after February 1, 1814 (this day marks the first-ever implementation of the new white armband worn on left sleeve by numerous allied (among others, also Russian) troops during the Battle of Brienne (La Rothiere (French Campaign of 1814) - to some extent a shared symbol of mutual cause.
The upper time margin of this miniature's execution falls on the early stage of the allied troops' stationing in Paris (April-May 1814).
This portrait shows a young (at most 18/19 years old) junker (this Russian army rank lies between that of a "unter-" (NCO) and "ober-officer" (junior officer)) of the Russian Life-Guards Izmaylovsky Regiment (Guards infantry; see our images nr.8-9 and CLICK HERE).

We are grateful to our permanent advisor, well-known Moscow uniformologist, Stanislav Lyulin, who was kind enough to suggest that the sitter's uniform is that of either (sic!) an unter-officer or a junker. We, for our part, are inclined to believe that the young sitter was definitely in rank of a junker (commonly - a representative of squirearchy (landed gentry) in possession of income (regular monthly allowances sent from home) sufficient for ordering a personal miniature portrait from a professional artist. An unter-officer (usually a commoner), on the other hand, with a less-than-modest income would have had difficulties to do so.
"Our" junker is shown wearing the uniform of Izmaylovsky Regiment, which is that one corresponding to regulation of 1811 (in the course of 1814, the uniform's open collar was remodeled into a tightly fitting one (yet, with no hook-fastenings).

This young man has marched a long route originating at the Franco-German border and ending in Paris without engaging in combat (throughout the entire French Campaign the Life-Guards were placed in reserve).

It is highly likely that this miniature was commissioned by the sitter already after the allied troops' entry into Paris on March 31, 1814.
Provenance: private collection, Germany

misept2618
Condition: good
Creation Year: early 1814
Measurements:UNFRAMED:5,5x5,5cm/2,2x2,2in FRAMED: 11,1x10,7cm/4,4x4,2in
Object Type:Framed miniature
Style: Portrait Miniatures
Technique: watercolor on ivory
Inscription:-
Creator: French School
Creator Dates: -
Nationality:French
We will cover shipping with regular registered mail (delivery between 7-14 days) for this item.

OBS: Austrian mail refunds cases of loss or damage with maximum EUR 500.


Fully insured 2-3 days DHL service available upon request and subject to extra charges: office@wilnitsky.net
Click here for images free of watermark!
Click on images or on

to see larger pictures!