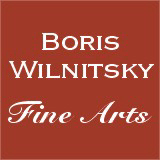 If you have a question about this item,
please contact us at: office@wilnitsky.net
# 42533
Josef Zumsande "Austrian composer Joseph Gungl and his wife", two important miniatures!!, 1844
Price: 4500 EUR
(please note additional 13% tax applies for transactions concluded within the European Union)
THE SELLER WILL COVER SHIPPING WITH REGULAR MAIL FOR THIS ITEM!

Acquired by chance from US private collector this couple of executed in 1844 by Vienna artist Josef Zumsande miniatures are extremely rare and very important portraits of 34-year-old, famous Austrian composer Joseph Gungl and his 23-year-old wife (they married on 2 February 1843) Cajetana, nee Reichel (1821-1866; with latter he had five daughters).

Joseph Gungl (correct: Gung'l) was born on 1 December 1809 in Schambeck (now Zsambek, Hungary) and died on 1 February 1889 in Weimar. After working as a school-teacher in Buda, and learning the elements of musik from the school-choirmaster, he became first oboist in Graz, and, at twenty-five, bandmaster of the Austrian 4th Artillery Regiment. His first composition, a Hungarian march, written in 1836, attracted some notice, and in 1843 he was able to establish an orchestra in Berlin. With this band he travelled far, even to the United States in 1848-1849. Mendelssohh's complete "Midsummer Night's Dream" music is said to have been first played by Gungl's orchestra. In 1853 he became bandmaster to the Austrian 23th Infantry Regiment at Brünn (now Brno, Czech Republic), From 1850 to 1855,he playes every summer in Moscow. In 1865 he moved to Munich, in 1872 to Berlin (Prussian court banfmaster) and in 1876 to Frankfurt a. M., after having conducted with great success a series of promenade concerts at the Covent Garden in London in 1873. From Frankfurt, Gungl went to Weimar to live with his daughter, a well-known German opera singer Virginie Naumann-Gungl, and died there.
Gungl was a very profilic composer, and in his lifetime composed no less than 436 dances, the most popular of which being the walzes "Amoiretten", "Hydropaten", "Casino" and "Dreams on the Ocean", the "In Stiller Mitternacht" polka, and the "Blue Violets" mazurka. His Hungarian march was transcribed by Franz Liszt. His musik is characterized by the same-easy flowing melodies and well-marked rhythm that distinguish the dances of the young Strauss, to whom alone he can be ranked second in this kind of composition.
Our images nr.14-16 show thwo other portraits of his and provide his extensive biography.


Josef Zumsande (1806 Neuhaus, Bohemia - 1865 ibidem) was a very well-known Czech-Austrian portrait miniaturist of the first half of the 19th century. In 1821-1824 he studied at the Academy of Prague, then at the Vienna Academy, lived in Vienna and in 1842 moved back to Prague. Works by the artist are displayed in various Austrian and Czech museums.
Our images nr.17-18 show two other miniatures byf this artist that were sold at art auctions in the last years

Provenance: private collection, Connecticut, USA

misept25ap13
Condition: good; both are in magnificent, original Biedermeier frames
Creation Year: 1844
Measurements:UNFRAMED:8,7x7,0cm/3,4x2,8in FRAMED: 18,7x17,3cm/7,4x6,8in
Object Type:Framed miniatures
Style: Portrait Miniatures
Technique: both: watercolor on ivory
Inscription:each signed and dated: Zumsande /(1)844
Creator: Josef Zumsande
Creator Dates: 1806 Neuhaus, Bohemia-1865 Neuhaus, Bohemia
Nationality:Czech/Austrian
We will cover shipping with regular registered mail (delivery between 7-14 days) for this item.

OBS: Austrian mail refunds cases of loss or damage with maximum EUR 500.


Fully insured 2-3 days DHL service available upon request and subject to extra charges: office@wilnitsky.net
Click here for images free of watermark!
Click on images or on

to see larger pictures!