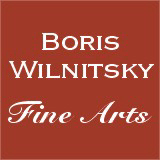 If you have a question about this item,
please contact us at: office@wilnitsky.net
# 42532
C. Hirsch "Vienna actor Heinrich Anschuetz", important large miniature!!, 1824
Price: 1900 EUR
(please note additional 13% tax applies for transactions concluded within the European Union)
THE SELLER WILL COVER SHIPPING WITH REGULAR MAIL FOR THIS ITEM!

Executed in 1824 by Vienna miniaturist C. Hirsch, it is an earliest known portrait of celebrated German-Austrian actor of 1st Half of the 19th century - Heinrich Anschuetz (Anschütz).
He was born on 8 February 1785 in Luckau, Niederlausitz (then Saxony). He studied at the University of Leipzig, in which city he saw the performance of August Wilhelm Iffland, Ferdinand Esslair, and other distinguished actors who occasionally played there. He began his career as an actor at Nuremberg in 1807, performed fourteen years long at the best stages of Germany, before in 1821 he came to Vienna where he became member of the troup of Hofburgtheater (court theater). He played both heroic and character parts, and was for many years the central figure at this famous playhouse with which he was so long identified. He published an autobiography under the title of "Heinrich Anschütz, Erinnerungen aus dessen Leben und Wirken" ("Heinrich Anschütz, Recollections from his life and works"), Vienna 1866 (CLICK HERE). He died in Vienna, on 29 December 1865 and was buried at the Vienna Evangelic Cemetery Matzleinsdorf (tomb No.70). For other known portraits of this man and his extensive biography see our images nr.8-11.
According to Schidlof, C.Hirsch was miniature and watercolor portrait artist, who worked in Vienna (and perhaps in Germany) about 1830. Schidlof mentions, that among Hirsch's known works is a miniature on ivory (dated 1830) with a portrait of Prince F.F.X. von Hohenzollern-Hechingen.
minov06
Condition: good
Creation Year: 1824
Measurements:UNFRAMED:12,4x8,3cm/4,9x3,3in FRAMED: 15,1x11,1cm/5,9x4,4in
Object Type:Framed miniature
Style: Portrait miniatures
Technique: watercolor on paper, laid on cardboard
Inscription:signed and dated: Hirsch F(ecit): /1824
Creator: C. Hirsch
Creator Dates: active in 1.H.of 19t c-
Nationality:Austrian
We will cover shipping with regular registered mail (delivery between 7-14 days) for this item.

OBS: Austrian mail refunds cases of loss or damage with maximum EUR 500.


Fully insured 2-3 days DHL service available upon request and subject to extra charges: office@wilnitsky.net
Click here for images free of watermark!
Click on images or on

to see larger pictures!