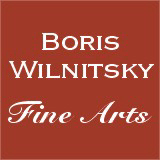 If you have a question about this item,
please contact us at: office@wilnitsky.net
# 42523
Friedrich Johann Gottlieb Lieder (pupil of David) "Princess Helene Poninski", superior portrait, 1821
Price: 12500 EUR
(please note additional 13% tax applies for transactions concluded within the European Union)
We are dealing with very important and extremely rare (till today was known only one other (graphic) representation of this lady - see our image nr.7) portrait of 30-year-old, high-aristocratic and very wealthy Polish woman, Helene Princess Poninski, nee Countess Gorski.
She was born in 1791 in Warsaw as daughter of Polish Colonel Walenty Count Gorski-Pobog. On 12 November 1811 she married thrirty one years her senior (she became his second wife; the first - Johanna - died in 1810) Karol Henryk Jerzy (Karl Heinrich Georg) Prince Poninski-Lodz (1760-1830), from 1785 owner of a huge estate Czerwonogorod around of a Baroque fortress (practically a small town with serveral hundreds inhabitans; then Austrian province Galicia). In 1820 Helene's husband began to reconstruct the old fortress to a Neogotic castle. As he died (1830), this reconstruction was continued by his and Helene's sons (now this estate and castle (area on the bank of river Dzhurin, by village Nyrkov, Ternopolskaya oblast', Western Ukraine) exist no more - see our image nr.10.).
Helene gave birth to five children (see our image nr.8). Two of latter - 21-year-old oldest son Ladislaus Karl and 13-year-old daughter Marie Hortensia died simultaneously (accident?) in 1833. In 1834 princess came to Rome where she ordered famous Danish sculptor Bertel Thorvaldsen to make a large marble tombstone for their grave (showing an angel taking away from Princess Helen two her children - see our image nr.9). In April of 1835 Thorvaldsen finished project and received from the princess 500 Roman scudos of deposit; remaining 1,500 scudos sculptor received in 1842, after the finishing of this work in marble. Some time this gravestone was exhibited in Lemberg (now Lviv, Western Ukraine), before it was placed at the childrens' grave in the chapell of Poninski Castle in Czerwonogorod. Now this outstanding quality work of art is to see in the Lviv Art Gallery (see our image nr.9).

Still in 1823 (two years after this portrait's execution) Princess Helene was awarded Austrian Ladies Order of Star Cross and title of "Palastdame" (lady-in-waiting of Empress of Austria).

She was also a writer - she written in French historical novel "Wanda ou la superstition" (published it 1834, in Paris, later translated by herself to Polish).

In 1846 she founded in Czerwonogorod Convent of Sisters of Mercy with a hospital and orphanage.
She outlived her husband for 23 year and died in 1853, aged 62.



Friedrich Johann Gottlieb Lieder (1780 Potsdam - 1859 Budapest), called Franz Lieder, was a very well-known Austro-German portraitist, portrait miniature painter and lithograph artist of the first half of the 19th century, father of another well-known portraitist Friedrich Lieder the Younger (1807-1884). He was born in Potsdam in 1780 and already at the age of 17 in 1797 debuted in the Academical Exhibition of Berlin. In 1802 he exhibited a portrait of Napoleon in Potsdam and moved to Paris in 1804 to become pupil of David at the Ecole des Beaux-Arts. He was then active in Budapest as a popular portraitist of the Hungarian aristocracy and further painted portraits in Pressburg (Bratislava) and Tyrnau. From 1810 he lived in Vienna where he was strongly influenced by works of the famous French miniaturist Johann Baptiste Isabey. The Vienna Congress (1815-1816) brought him special popularity as portraitist. From 1820 the artist was active alternately in Vienna and Budapest. In 1824 he became member of the Vienna Academy. Lieder died in 1859 in Budapest. He can be seen as one of the best Austrian portrait painters. Many of his works belong to collections of major international museums such as the Metropolitan Art Museum, New York, etc.
anmar06
Condition: Good, lined, in original Empire frame.
Creation Year: 1821
Measurements:UNFRAMED:81,0x65,0cm/31,9x25,6in FRAMED: 97,5x81,5cm/38,4x32,1in
Object Type:Framed painting
Style: Biedermeier paintings
Technique: oil on canvas
Inscription:signed and dated: F Lieder /pinxit /1821.
Creator: Friedrich Johann Gottlieb Lieder the Elder
Creator Dates: 1780 Potsdam-1859 Budapest
Nationality:Austrian / German
SHIPPING COSTS UPON REQUEST:
office@wilnitsky.net
Click here for images free of watermark!
Click on images or on

to see larger pictures!