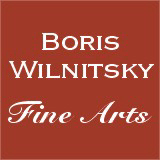 If you have a question about this item,
please contact us at: office@wilnitsky.net
# 42520
Joseph Krafft "Portrait of Vienna Actress Therese Krones", Miniature, 1823, Important Discovery!!
Price: ON REQUEST
(please note additional 13% tax applies for transactions concluded within the European Union)
THE SELLER WILL COVER SHIPPING WITH REGULAR MAIL FOR THIS ITEM!

IMPORTANT DISCOVERY!!!

Acquired at Austrian antique trade as a portrait of unknown lady, this of otstanding quality, executed in 1823 by Vienna artist Joseph Krafft miniature turned out to be an extremely important and till today unknown portrait of 22-year-old, celebrated Austrian actress of 1820s - Therese Krones (see our images nr.10-12).

Therese Krones was born on 7 October 1801 in Freudenthal, Silesia. Her father was an actor, later theatre director.
After several provincial tours she appeared at the Leopoldstädter Theater in Vienna , where she played with Ferdinand Raimund, who greatly influenced her technique.
In 1827, she retired from the stage for a time, being unjustly accused of complicity in the murder of Johann Conrad Blank by Severin von Jaroszynski.
She wrote several plays: "Sylphide", "Das See-Fräulein" (1828), "Der Branntweinbrenner und der Nebelgeist" (1829 and "Kleopatra" (1830).
Krones died in Vienna after a short illness, aging only 29. She was buried at the St.Marx Cemetery, but in 1930 was exhumed and reburied in a honorary grave in the Vienna Zentralfriedhof (see image nr.14). Our Image nr.13 provides her extensive biography (also CLICK HERE and see our web #18175).
Joseph Krafft (1787 Hanau - 1828 Neustift by Vienna) was a very well-known Austrian portrait painter and miniaturist of the begin of the 19th century. He was born in Hanau (1787) as younger brother of the famous Viennese historical painter Johann Peter Krafft. Such as his father, Joseph Krafft was first active as enamel painter, but in 1801 moved to Vienna to begin as portrait miniaturist. He became a very popular portraitist of the high society; among his sitters were royals including Kaiser Franz I and his wife Carolina Augusta. He not only painted miniatures but also portraits of large size. Joseph Krafft died at the age of only 41 years in 1828.
Our image nr.15 shows another miniature of this artist.
Condition: good, in original brass frame
Creation Year: 1823
Measurements:UNFRAMED:8,8x7,2cm/3,5x2,8in FRAMED: 10,4x8,8cm/4,1x3,5in
Object Type:Framed watercolor
Style: Portrait miniatures
Technique: watercolor on ivory
Inscription:signed and dated 1823
Creator: Joseph Krafft
Creator Dates: 1787 Hanau-1828 Neustift
Nationality:Austrian
2-3 days door-to-door shipment, professionally packed by Mail Boxes Etc and shipped with DHL (calculated for US): 61,54 EUR + insurance 1,8% of item price
Shipping cost to other destinations (worldwide) on request
Shipping price may be reduced if you dispense with the frame


Cheaper alternative (may be further reduced if you dispense with the frame): professionally packed by Mail Boxes Etc and shipped with regular Austrian mail - upon request under office@wilnitsky.net (OBS: In this case maximal refunded insurance value is EUR 500 if shipping destination was the US. In Europe sometimes more, depending on destination.)
Click here for images free of watermark!
Click on images or on

to see larger pictures!