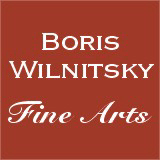 If you have a question about this item,
please contact us at: office@wilnitsky.net
# 42514
Carl Gottlob Schmeidler "Yakov Alexeevich Potemkin", 1813, Collection of Grand Duke Romanov!!
Price: ON REQUEST
(please note additional 13% tax applies for transactions concluded within the European Union)
THE SELLER WILL COVER SHIPPING WITH REGULAR MAIL FOR THIS ITEM!

IMPORTANT FIND!!!

This piece had resurfaced in June 2018, exactly 205 years after its execution and 100 years after its disappearance. It turned up in Germany, in an antique shop. Formerly, it belonged to the famous St. Petersburg Collection of Grand Duke Nikolai Michailovich Romanov.
Still in its original ormolu frame, it is a miniature portrait of a superior quality. It is illustrated in Grand Duke's five-volume work (published between 1905 and 1909) "Russian Portraits of XVIII and XIX centuries" (or - to be precise - in Volume III (published in 1907) under No. 148 - see our images nr.7-8).
Grand Duke had erroneously believed it to be a portrait of the celebrated Russian general, Commander of Life-Guards Semenovsky Regiment, Leonti Ivanovich Depreradovich (1776-1844; CLICK HERE) executed by an anonymous (sic!) artist.
Consequently, drawing on this attribution, this work was republished in 1912 (again as "Portrait of Depreradovich") in Ivan Sytin's "Military Encyclopedia" (see our image nr.9).

We would like to note that General Depreradovich (see again image nr.9) was a recipient of different set of awards and looked entirely different.
This rather apparent discrepancy did not go unnoticed in the same (1912) year (just after Sytin's publication) by former officer of Semenovsky Regiment and regiment's historian S. P. Aglaimov, author of "Patriotic War of 1812: historical materials of Life-Guards Semenovsky Regiment", Poltava 1912. He had accurately (and unanimously) established the identity of the sitter as another commander (1812-1820) of "Semenovsky" (L.I. Depreradovich commanded this regiment until 1807), hero of 1812, Major General Yakov Alekseevich Potemkin (see our image nr.10).

20th-century most renowned connoisseur of portrait miniature painting, Leo R. Schidlof (1886-1966) recognized this (unsigned) miniature as a thoroughly authentic and very typical work of the best, early-19th-century Silesian miniaturist Carl Gottlob Schmeidler (our comparison images nr.29-35 fully support Schidlof's attribution). What is more, Schidlof mentioned this portrait in the biographical article on Schmeidler, which is included in his book "The Miniature in Europe" (Graz 1964, Volume II, pp. 726-727) and also (he have not seen Aglaimov's publication) misnamed it as "Portrait of General Depreradovich" (see our image nr.27).

The reference volume (published in Moscow in 2003), designed to guide the reader through Grand Duke N.M. Romanov's book(s) "Russian Portraits of XVIII and XIX centuries", lists "our" miniature already with Aglaimov's identification (though still as a work of an anonymous artist; the author(s) of the reference volume were unfamiliar with Leo R. Schidlof's publication - see our image nr.11).

We would to note straightaway that new identifying the sitter was not at all an arduous task: we have independently (!) arrived at the same result before discovering the 1912 (Agaimov) and 2003 publications.

In "our" portrait, Ya. A. Potemkin is depicted in his general's uniform of Life Guards Semenovsky Regiment (CLICK HERE, HERE and see our comparison image nr.26).
Additionally, he is decorated with the following awards:
1) breast star (sitter's right chest side) and red sash of Russian Order of St. Anna of the 1st class (awarded for distinguishing himself in the Battle of Krasnoi (November 15-18, 1812)).
2) neck cross of Russian Order of St. Vladimir of the 3rd class (awarded for distinguishing himself in Russo-Swedish War of 1808/09")
3) neck cross of Prussian Order of Red Eagle of the 2nd class (for Battle of Lützen, May 2, 2013)
4) neck cross of Prussian Military Order "Pour le merite" (awarded for distinguishing himself in the Battle of Guttstadt (1809))
5) chest (left side) cross of Russian Military Order of St. Georg of the 4th class (similarly for the Battle of Guttstadt (1809))

Potemkin's uniform of Semenovsky Regiment sets the lowest time margin for this portrait's execution as December 16, 1812: on this day, he was appointed commander of this troop.
The upper time margin could be thus set as (late) August 1813: in this period, Potemkin led his Semenovsky Regiment in the Battle of Kulm. For distinguishing himself in this battle he was simultaneously received three awards. They are however not yet displayed in this portrait. They are:
1) Prussian Iron ("Kulm") Cross
2) Austrian Military Maria-Theresian Order and
3) Russian St. Georg Order of the 3rd class (the cross of this order was to be worn around one's neck)

Yakov Alexeevich Potemkin (see our images nr.12-19) was born in St. Petersburg on October 27, 1781 as the son of distant relative of Serene Prince G.A. Potemkin - Major General Alexei Yakovlevich Potemkin (1741-1810) and his wife, Anna Bogdanovna, nee Princess Drucki-Sokolinski (1759-1798).
Initially homeschooled, at the age of 13 he joined the 1st Cadet Corps (later, he was transferred into the Page Corps). In 1797, he was appointed "Kammer-page" of Tsar Paul I and accompanied the latter during his 1798 journey to Kazan. On May 30, 1799, he was awarded the rank of "poruchik" (1st lieutenant) and appointed into the Life Guards "Konny" (Horse) Regiment.
After a brief retirement in 1800, he joined on March 21, 1801 the Life Guards "Yegerski" (Chasseur) Regiment. On March 22, 1803, he rose in rank to shtabs-captain and - on October 18 of the same (1803) year - to captain.
After his promotion to colonel (April 12, 1805; at the age of 24!) he partook in 1805 campaign and fought in the Battle of Austerlitz (for distinguishing himself in this battle he was awarded Order of St. Vladimir of the 4th class with bow). Two years later (1807), he took part in the Prussian campaign and distinguished himself in the Battle of Guttstadt (for this endeavor he was awarded Order of St. Georg of the 4th class and Prussian "Pour le merite" Order). He also took part in battles of Heilsberg and Friedland, and was awarded the "Golden Sword".
Additionally, he took part in the Russo-Swedish War of 1808/09 and received Order of St. Vladimir of the 3rd class for his actions by Kuopio.
He became "Chief" (proprietor) of the 2nd "Yegerski" (Chasseur) Regiment on December 5, 1809.
Although Potemkin's poor health forced his retirement in 1810, he returned into the army in the following (1811) year and became "Chief" of the 48th Yegerski Regiment and Commander of the 3rd Brigade of the 17th Division (January 29, 1811).
During the Patriotic (Russo-French) War of 1812, Potemkin served in the 2nd Infantry Corps (Baggovut) and took part with his brigade (17th Division of Olsufiev) in actions at Vitebsk (promoted to major general on July 25, 1812), Smolensk, Borodino, Mozhaisk, Tarutino (for this, he received Order of St. Anna of the 2nd class with diamonds), Maloyaroslavets and Krasnyi (Order of St. Anna of the 1st class).
On December 16, 1812, in freshly captured Vilna (now - Vilnius, Lithuania), he took command over Life Guards Semenovsky Regiment, which he then led throughout the 1813-1814 campaigns.

As already mentioned, for his distinction in the Battle of Kulm (August 29/30, 1813), Potemkin garnered Prussian Iron ("Kulm") Cross, the Austrian Maria-Theresian Order and Russian Order of St. Georg of the 3rd class (No. 343, on November 11, 1813).
On March 29, 1814, he became Tsar's adjutant-general. In June of the same (1814) year, he accompanied Alexander I to London (during the latter's visit, he - along with Tsar's other generals Uvarov, Ozharovsky, Chernyshev - was granted the honorary diploma of Doctor of Law of Oxford University).
After briefly leading the 1st Brigade of the 1st Guards Division in 1817/18, Potemkin took command over the 2nd Guards Division (May 23, 1821). He rose in rank to that of lieutenant general on December 24, 1824 and later received Order of St. Vladimir of the 2nd class (October 18, 1826) and the diamond signs to Order of St. Anna of the 1st class (1828).
During the Russo-Turkish War (1828/29) he lead the Russian advance guard at Shumla and Giurgiu and briefly commanded a corps in Wallachia ("Golden Sword with diamonds" and Order of St. Alexander Nevski with diamonds).
On December 10, 1830, he was appointed temporary Governor General of Podolskaya and Volynskaya gubernias.
He died in the city of Zhitomir (now Ukraine) on February 13, 1831, at the age of only 49. He was buried at the local Vil'skoye (Russian) Cemetery.

Yakov Alexeevich Potemkin was married trice:
His first wife Varvara Ivanovna Safonova (1786-1810), great granddaughter of industrialist A.N. Demidov, died at the age of 24, several days after giving birth to their daughter Alexandra (1810-1824). Both mother and daughter are buried at Alexander Nevsky Lavra in St. Petersburg.
His second wife, Varvara Dmitrievna Bakhmetieva (1799-1825) died on May 12, 1825 in Moscow. The couple had daughter Sophie (1818-1887) and two sons - Alexander (1820-after 1865) and Alexei (1822-1849).
His third wife (from 1829), "freilina" (Empress' lady-in-waiting) Olga Fedorovna Briskorn (1809-1852) had outlived him by 21 years. They had no children. In 1837, the widowed Olga Fedorovna had erected in Memoriam of her husband the Church of St. Apostle Yakov at the site of his burial at Vil'skoye Cemetery (see our image nr.25 and CLICK HERE).


Yet one continues to wonder, when and where exactly had the artist Carl Gottlob Schmeidler executed this miniature portrait (it is known that in 1813 he lived in Breslau (then Prussian Silesia; now Wroclaw, Poland)).

From what we already learned (see above), Schmeidler painted this portrait sometime between December 16 1812 and August 29/30 1813.
The neck cross of Prussian Order of Red Eagle of the 2nd class (see above) allows us to narrow down this time range to the period between May 2 (according to Russian New Calendar; this date marks the Battle of Lützen, for which Potemkin was awarded this order) and August 12, 1813.

But why August 12, one would ask?

The truth lies in the fact that, the Battle of Bautzen (May 20/21, 1813) was followed by a ten-week-long ceasefire. During this time (from June 7 until August 12), Semenovsky Regiment was stationed in the suburb of small Silesian (!) town Reichenbach (now Dzierzoniów, Poland - CLICK HERE and see our images nr.20 and nr.22). The town also hosted the headquarters of Russian Commander-in-Chief Barclay de Tolly. Close by, the castle of Prussian State Minister Count Anton zu Stolberg-Wernigerode in the neighboring town Peterswalde (also Peterswaldau; now Pieszyce, Poland - see our image nr.21 and CLICK HERE) provided domicile for the Tsar Alexander I and his retinue.
At night the officers of Semenovsky Regiment (including their commander, General Potemkin) were accommodated in the village Langen-Bielau (or Langenbielau, now - Polish town Bielawa; CLICK HERE), situated between Reichenbach and Peterswalde. In the afternoon, however, they were required to be on duty in either Reichenbach or Peterswalde. Their daily tasks are meticulously described in the diary of one of Semenovsky Regiment's officers, Colonel Pavel Sergeevich Pushchin (see Russian-language Web resources).

Pushchin also recalls in his diary entry of July 2 (or, according to the New Russian Calendar, July 15) that "Yesterday (14th July - B.W.), Tsar returned to Peterswalde. There is every indication that the ceasefire will endure. I learned of this from General Potemkin, who spent several days in Landeck - a small Silesian town two miles south-west of Glatz. There he met the Royal (Prussian - B.W.) Family and was told about it by Pricess Charlotte…".

In fact, the very mention of General Potemkin's several-day-long stay in Landeck (Bad Landeck; it is now Polish town Ladek-Zdroj; CLICK HERE), situated 85 km from Breslau (the residence town of this miniature's author Carl Gottlob Schmeidler), is the answer to our query concerning the time and place of its execution.
Two very interesting sources, one - article by Mme Anna Sidorova "Drawings with views of Prussian Royal residences in albums of Empress Alexandra Fedorovna" (CLICK HERE) and another - Florian Bannerth's "Die Heilquellen zu Landeck" (Breslau, 1838; for corresponding excerpt, see our image nr.23) inform that from July 2, 1813, King Friedrich Wilhelm III of Prussia and his children (his wife, Queen Luise died three years before that) stayed one month long in Bad Landeck (while the King resided in the house of Prussian Court Councilor Dr. Förster, his children were placed in suburban castles Kunzendorf (Princess Charlotte, King's eldest daughter and future wife of Grand Duke Nikolai Pavlovich, Alexandra Fedorovna) and Rayersdorf (other children), but were to share dinner with their father at Förster's house in town.
On July 13 (sic! - two days before Potemkin's return from Bad Landeck), festivities were held to celebrate the fifteen's birthday of Princess Charlotte. Potemkin was surely among the invitees for, shortly before, in the last days of June, Charlotte accompanied her father to Reichenbach ("Treaties of Reichenbach" - CLICK HERE). On July 2, in Peterswalde, she attended the ceremonial review of Russian Guards including Semenovsky Regiment, and had certainly noticed its young, good-looking commander.
On the other hand, one gathers from Carl Gottlob Schmeidler's biography that, while the artist was staying in 1813 in Silesian town Breslau, he was commissioned by Prussian King to paint miniature portraits of his children (i.e. Charlotte and her siblings), all of whom were in July 1813 - as we already learned - staying in Silesian town Bad Landeck.
On July 10, King of Prussia arrived to suburbs of Breslau. There, at the Castle Trachtenberg, he attended the meeting with Alexander I and Swedish Crown Prince (Bernadotte). When the conference concluded (13th July), the King returned to Bad Landeck, in time to attend the festivities held for his daughter Princess Charlotte's birthday. Breslau miniaturist Schmeidler either already stayed (since several days before) in Bad Landeck or on 13th July he was brought here by the King...

Hence everything fell into place: between July 10 and 15, both men - the miniaturist (Schmeidler) and his sitter (Potemkin) met in Bad Landeck.

Lastly, we would like to note that Schmeidler's obituary (see our image nr.28) refers to him as the author of portraits of "Offiziers der durchziehenden Armeen" (English: "officers of the passing armies": French, Prussian and Russian participants on both sides of 1813 Silesian campaign.


Carl Gottlob Schmeidler was born in Nimptsch, Silesia (today in Poland) in 1772 and died in Breslau (today Wroclaw, Poland) in 1838.
After doing his preliminary art studies in Breslau, he became a pupil at the Academy of Dresden. When he finished his studies he returned to Breslau, where he soon became a much sought after miniaturist. In 1813 when he was staying in this town, King Friedrich Wilhelm III of Prussia had Schmeidler do the portraits of his children. Soon the whole aristocracy of Silesia came to him or invited him to the castles of the region. The artist won more and more the esteem of his fellow-citizens and from 1828 to 1831 he was the president of the municipal council and the following year, deputy.
Schidlof further says: "Schmeidler was one of the best German miniaturists of his period".
Numerous miniatures by Schmeidler were with families of Silesia before the WWI. The museum of Breslau (Wroclaw) had several of them.


One shall also note that in Grand Duke's 1907 book (as well as in the aforementioned reference guide published in 2003), "our" miniature under No. 148 is preceded by an interesting "neighbor" (No. 147). The latter work is another miniature portrait of Ya. A. Potemkin (here, Grand Duke accurately identifies the sitter); it was painted in 1820s by St. Petersburg miniaturist Pietro (Petr Osipovich) Rossi (see our images nr.7 and nr.12).

"Our" portrait is probably Potemkin's earliest known one. The son of a general and a princess raised in a wealthy home, he was surely portrayed years before, as a child or a youth, as well as in the onset of his military career. These (assumed) portraits of Potemkin, which are clearly absent of any corresponding legend(s) on verso or depicting him as a very young officer (pictured with only his first order (that of St. Vladimir of the 4th class, 1805) continue to be housed (as portraits of unknown persons) in one or another museum or private collection…

Provenance:
1) Collection of Grand Duke N. M. Romanov (until 1918)
2) German antique trade

We are very grateful to world's best specialist on Russian military portraits Dr. Alexander Kibovskyi (Moscow) who informed us about aforementioned 1912 publication of S. P. Aglaimov.

P.S. 1
August 27, 2018:
We just received e-mail from Dr. Kibovskyi with very interesting, additional detail. He informed us that Grand Duke Romanov very soon discovered own error and already in 1908, in the next volume IV, in the article concerning another portrait of Depreradovich mentioned again our miniature with already correct identification - "Potemkin and not Depreradovich" (see our image nr.36). Despite this correcture Sytin included this portrait (still as that of Depreradovich) in his "Military Encyclopedia" (1912), but Aglaimov in the same year presented it already (due to Grand Duke's 1908 correcture!) already as that of Potemkin.

P.S. 2
October 2018:
In October 2018 issue of Moscow magazine "Diletant" appeared a very interesting article by Dr. Kibovskyi in which the latter presents aforementioned history of this miniature (see our images nr.37-38). Moreover, on 6th October 2018, during the regular broadcast (and YouTube telecast (CLICK HERE; beginning from 38:00) of Moscow radio station "Echo Moskvy" (English: Echo of Moscow") Dr. Kibovskyi in conversation with station's chief-redaktor Alexei Venedictov returned again to our "story".



Condition: fairly good; in original ormolu frame, which was never opened

Creation Year: 1813

Measurements:UNFRAMED:5,9x5,9cm/2,3x2,3in FRAMED: 8,1x8,1cm/3,2x3,2in

Object Type:Framed miniature

Style: Portrait Miniatures

Technique: watercolor and gouache on ivory (round)

Inscription:-

Creator: Carl Gottlob Schmeidler

Creator Dates: 1772 Nimptsch, Silezia-1838 Breslau (Wroclaw)

Nationality:Polish / German
We will cover shipping with regular registered mail (delivery between 7-14 days) for this item.

OBS: Austrian mail refunds cases of loss or damage with maximum EUR 500.


Fully insured 2-3 days DHL service available upon request and subject to extra charges: office@wilnitsky.net
Click here for images free of watermark!
Click on images or on

to see larger pictures!