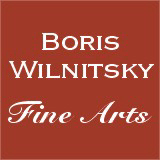 If you have a question about this item,
please contact us at: office@wilnitsky.net
# 42466
Heinrich Franz Schalck (1791-1832) "Carl and Charlotte Fauverge", fine miniature on ivory, 1816
Price: 2000 EUR
(please note additional 13% tax applies for transactions concluded within the European Union)
THE SELLER WILL COVER SHIPPING WITH REGULAR MAIL FOR THIS ITEM!

Several generations long in property of the German family (pre-owner of this piece) this, dated 1816 miniature is (according to authentic legend on verso) a double portrait of certain "Carl and Charlotte, children of Dr. Fauverge from Paris".
The only detectable "Dr. Fauverge" from the aforementioned period (mid 1810s) was a Frenchman Jean-Pierre Fauverge, a surgeon in Napoleonic army, who was predominately known for his book (one can still purchase it from Amazon!) "Des Maladies qui ont regne a Malte pendant le blocus de l'an VII et VIII". He had based this book on his medical experiece acquired as a chief-surgeon of the Napoleonic military hospital based in Malta (1798-1799). Additionally, the French research platform "leonore" informs that (Jean)-Pierre Fauverge - a "chirurgien major" of line infantry - was born on June 25 1769 at Bours-Saint-Andéol, department Ardéche (France) and died in 1848. In 1806, he was awarded the Chevalier Cross of Legion of Honor.
The research platform "Gallica", on the other hand, informs that he was born in Paris (in ca 1775) and lived in Malta in 1799-1800. Also, it informs that, after the Bourbon Restoration, he held a surgeon's post in Mainz (32km from Frankfurt-am-Main - the residence city of this portrait's author - Heinrich Franz Schalck). It also reports that Dr. Fauverge later returned to Paris and remained there until his death in 1845 (in reality 1848!). In any case, his name is absent from Paris population census of the late 1810s. Also, the German name of his son "Carl" (instead French "Charles") is evident of his lengthy stay in Germany (perhaps, he was married to a German woman?). But whatever the case may be, after Dr. Fauverge retired in the late 1830s - early 1840s, he returned to Paris, for he is listed in municipal "Almanach des 25000 adresses des principaux habitans de Paris" for the year 1846 - "Fauverge (Chevalier of Legion of Honor", medicine, rue de la Michodiere, 20".
There is no available information about his children...
Heinrich Franz Schalck (1791 Mainz - 1832 Karlsruhe) was a son of the painter Johann Peter Schalk (Schalck). He was primarily an engraver and miniaturist, who worked mainly in Frankfurt-on-Main until about 1825 (according to Lemberger), then in Karlsruhe.
Schidlof says that Schalck was one of the good German miniaturists of his period, who was rather a skilful artist, a little dry and very German.
Provenance: private estate, Germany

mijul0618
Condition: good; in original frame
Creation Year: 1816
Measurements:UNFRAMED:7,0x6,3cm/2,8x2,5in FRAMED: 11,8x11,1cm/4,6x4,4in
Object Type:Framed miniature
Style: Portrait Miniatures
Technique: watercolor on ivory
Inscription:signed: Schalck /pinx(it)) /1816; verso: old lable with legend
Creator: Heinrich Franz Schalck
Creator Dates: 1791 Mainz-1832 Karlsruhe
Nationality:German
We will cover shipping with regular registered mail (delivery between 7-14 days) for this item.

OBS: Austrian mail refunds cases of loss or damage with maximum EUR 500.


Fully insured 2-3 days DHL service available upon request and subject to extra charges: office@wilnitsky.net
Click here for images free of watermark!
Click on images or on

to see larger pictures!