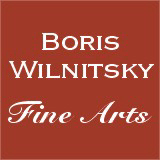 If you have a question about this item,
please contact us at: office@wilnitsky.net
# 42463
Franz Michelis II (1807-aft. 1850) "Lady with a cup of tea", superior Nazarene portrait!!, 1845
Price: 7500 EUR
(please note additional 13% tax applies for transactions concluded within the European Union)
This work is clearly a preparatory study for a large scale painting. Strongly reminiscent of the Dusseldorf Nazarene School of the 1st half of the 19th century (for comparison, see our image nr.17), it is a portrait of an aristocratic lady holding a cup of tea. She is looking over her shoulder from the terrace of her castle (palace?), a distant romantic view in her background.
It is a work of one of the representatives of the aforementioned school of painting (as we will learn from his biography below, he did indeed attend the Dusseldorf Academy of Fine Arts in the 1830s (trained with Wilhelm von Schadow?) and had clearly (and indefinitely) remained in this city until his death).

Signed "...de Michelis /1845", this painting is an extreme rarity at the current antique market. It is a work of a 1st class historical and portrait artist nearly forgotten by art historians - Franz (Franz Bernhard Christoph) Michelis (likely "von Michelis (de Michelis)). It is known that the artist's father was in his youth a Guards officer and, with that, a representative of provincial nobility.

Until recently, the artist was known as Franz Michelis II (he was referred as "II" in order not to confuse him with his father - drawing artist and engraver Franz Michelis I). The dates of birth and death of both father and son were not offered in any of the available dictionaries of artists. However, in the course of our Web research, we were able to find a mention (rather, a single line) about his son Franz junior (see our image nr.12).
And so, the father - Johann Maria Franz Michelis - was born in 1762 in Recklinghausen by Muenster (North Rhine-Westphalia). In his younger years, he served as an officer in the Guards of Principality of Muenster. Later on, he left the military service and moved to Oldenburg.
His son (and the author of this painting) - Franz Bernhard Christoph Michelis - was born in Oldenburg, on April 2, 1807. Sometime between 1810 and 1813 the family returned to Muenster, where his father was hired as a drawing teacher at the secondary school "Paulinum". He died in Muenster in 1835. He and his wife (and "our" artist's mother) Auguste had ten children. Two of them - Friedrich and Eduard - became esteemed priests; three others - Franz junior (our artist), his younger (and much more known) brother Alexander and his elder sister Elisabeth- became (alike their father and probably their first teacher) artists.
The father's biography, which we discovered on the Web, informs that Franz junior left Muenster and moved to Dresden. We believe that, while in Dresden, he briefly attended the academy and then, in the late 1820s, moved to Berlin, for in 1830, he was already mentioned as an active student of Berlin Academy of Fine Arts (it appears that at the academy Franz junior trained with famous portraitist Franz Krueger). Back in the second part of the 1830s, Franz transferred to Dusseldorf Academy: one finds his name among the exponents of the annual academic exhibition of 1837 (among others, he exhibited there his female and male portraits; see our image nr.13).
He died in Dusseldorf (?) sometime after 1850. Our images nr.14-16 show three examples of his graphic work.
Provenance: private collection, Germany

mijul0618
Condition: good
Creation Year: 1845
Measurements:UNFRAMED:31,5x0,0cm/12,4x0,0in
Object Type:Framed oil painting
Style: 19th century paintings
Technique: oil on panel
Inscription:signed and dated: "...de Michelis /1845"
Creator: Franz Bernhard Christoph Michelis
Creator Dates: 1807 Oldenburg-after 1850 Dusseldorf
Nationality:German
SHIPPING COSTS UPON REQUEST:
office@wilnitsky.net
Click here for images free of watermark!
Click on images or on

to see larger pictures!