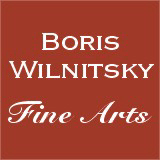 If you have a question about this item,
please contact us at: office@wilnitsky.net
# 42461
Peter Mayr "Napoleonic General J.-L. Savettier de Candras", important large miniature on ivory!!, 1806
Price: 7500 EUR
(please note additional 13% tax applies for transactions concluded within the European Union)
THE SELLER WILL COVER SHIPPING WITH REGULAR MAIL FOR THIS ITEM!

This miniature (rather large size for the artist's works) was executed in 1806 (or - as we will learn below - in January/February of this year) in Augsburg. It was painted by well-known Bavarian miniaturist Peter Mayr, who was living there at the time. The latter signed it in French (clearly, upon the sitter's request): "Peint par Pierre Mayr /á Augsburg. 1806".
The sitter (he looks about 30 - 40 years (at the most!)) wears the uniform of a Napoleonic brigade general (note the two stars on his epaulette). He is decorated with a cross (1st model) of either the Officer or Commander of the Order of Legion of Honor (note the red ribbon with an evident bow; until 1811 the crosses of these two classes were hardly distinguishable from one another and were worn on left breast; after 1811, the Commander cross was worn across the neck).

Yet one wonders what a Napoleonic brigade general would be doing in Augsburg in 1806?
As it is known, a legendary battle took place in the end of preceding (1805) year: it was the Battle of Austerlitz (December 2, 1805).
After the battle, one of the French divisions was moved to the winter quarters in Augsburg, where it then remained until the early spring of 1806. It was the 2nd Division of General Vandamme of the 4th Corps of Marshal Soult (see our image nr.9). This division was comprised of three brigades (see our image nr.10). To the command of these brigades were appointed (respectively) the following persons:

1st Brigade: Brigade General Joseph Francois Ignace Maximilien Schiner (see our image nr.11). In 1806, this man was 45 years old. Although we could not locate any of his portraits for comparison, his age rather excludes him from the list of candidates.

2nd Brigade: 35-year-old Brigade General Claude Francois Ferey (see our image nr.12; for his known portrait, see our web #31098 - an entirely different man!)

3rd Brigade: Brigade General Jacques Lazare Savettier de Candras (see our images nr.13-18). In early 1806, he was 37 and a half years old. Moreover, and without doubt, his portrait published by Alain Pigeard (see our image nr.14), when compared with "ours", proves him to be the man in question! In those days, he was a recipient of one single award, namely the Commander Cross of Legion of Honor (June 14, 1804).

We found no mention of the Augsburg "wintering" (late December 1805 - early 1806) of the 1st Division (part of the same 4th Corps of Marshal Soult) of General Saint-Hilaire. However, we decided to research both of its brigade generals. The Commander of the 1st Brigade - Brigade General Charles Antoine Morand (in 1806 - 35 years of age) - looked entirely different from our sitter. The Commander of the 2nd Brigade (his known portrait somewhat resembles ours) - Brigade General Paul Charles Francois Diedonne Thiebault (in 1806 - 37 years of age) - was wounded in the Battle of Austerlitz. After a subsequent surgery, he underwent rehabilitation treatment in Bruenn (now - Brno, Czech Republic) until November 12, 1806 and then moved to Paris (in other words, he could not have been portrayed in Augsburg, in 1806).

Jacques Lazare Savettier de Candras was born on April 24, 1768 in Epoisses, department Cote d'Or as a firstborn child of Charles Savettier de Candras (1739-1817), doctor of medicine, and his wife, Marie-Jeanne Culot (1738-1814). On September 3, 1792, he volunteered to join the 7th Battailon of Paris (called "Theatre-Francais") and, thereafter, served in the Army of North (General Dumouriez). On May 9, 1793, he received the rank of a sous-lieutenant (2nd lieutenant) in the Army of the Western Pyrenees and was attached to the army's headquarters. By May 27 he was already a Commander of the 2nd Battailon of Cotés Maritimes. He remained in ranks of the Army of the Western Pyrenees until 1795. After that, on March 12, 1796, he was appointed "chef de bataillon" in the 4th Line Infantry Regiment. In 1796-1797, he fought in the ranks of the Army of Italy (Division Augereau) and was wounded in the Battle of Caldiero, on November 11, 1796. In 1798-1799, he served in the Army of England; in 1799-1800 was appointed "chef de brigade de la 4e de Ligne" (Commander of his 4th Line Infantry Regiment). On April 13, 1804, he was promoted into the rank of brigade general; on June 14, 1804, he was awarded the Commander Cross of Legion of Honor; on August 29 of the same (1804) year, he was given command of the 3rd Brigade of the 2nd Division (Vandamme) of the 4th Corps (Soult) of Grande Armée. He led his brigade in the Battle of Austerlitz; then spent three months at the army's winter headquarters in Augsburg. On March 13, 1806, he was transferred into the 1st Division (Saint-Hilaire) of the (same) 4th Corps, in ranks of which he was given command of the 1st Brigade. He participated in the Prussian Campaign of 1806/07, fought in the battles of Jena, Eylau, Heilsberg, Koenigsberg. On November 27, 1808, he was made Baron de La Tour du Pré by Napoleon.
On July 1, 1809, he became the governor of Pomerania with its seat in Fortress Stralsund and remained in this function until March 1810.
In 1810, he married Jeanne-Charlotte Rousseau de Vernot who later gave birth to their only child - daughter Charlotte-Cordelia (1811-1847; in 1838, she married Baron Léonce de Bonnefoy).
During the Russian Campaign of 1812 (called in Russia "Patriotic War"), he commanded the 2nd Brigade of the 9th (Swiss) Division (Merle); took part in the Battle of Polotsk (August 18, 1812). During the famous Battle of Berezina, he personally led the remains (1,500 men) of his brigade against 10,000 Russians, took a bullet in the chest and died (November 28, 1812).



Peter Mayr (1758 Freiburg in Breisgau - 1836 Munich) worked as a miniaturist in Augsburg and Munich. Miniatures by him are on view at the Landesgewerbe Museum, Stuttgart, as well as in the Städt. Maximilians Museum, Augsburg, National Museum, Munich, etc.
CLICK HERE FOR OTHER WORKS OF THIS ARTIST IN OUR POSSESSION

Provenance: acquired in April 2018 in a Paris antique shop (as portrait of an unknown French general)

mijul0518
Condition: fairly good
Creation Year: 1806
Measurements:UNFRAMED:15,3x10,8cm/6,0x4,3in FRAMED: 25,0x20,5cm/9,8x8,1in
Object Type:Framed miniature
Style: Portrait Miniatures
Technique: watercolor on ivory
Inscription:signed and dated: "Peint par Pierre Mayr /á Augsburg. 1806"
Creator: Peter Mayr
Creator Dates: 1758 Freiburg-1836 Munich
Nationality:German
We will cover shipping with regular registered mail (delivery between 7-14 days) for this item.

OBS: Austrian mail refunds cases of loss or damage with maximum EUR 500.


Fully insured 2-3 days DHL service available upon request and subject to extra charges: office@wilnitsky.net
Click here for images free of watermark!
Click on images or on

to see larger pictures!