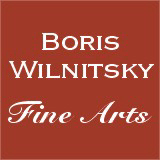 If you have a question about this item,
please contact us at: office@wilnitsky.net
# 42450
"Joseph Bonaparte as King of Spain", high quality miniature on ivory!!, 1806/08
Price: 2000 EUR
(please note additional 13% tax applies for transactions concluded within the European Union)
THE SELLER WILL COVER SHIPPING WITH REGULAR MAIL FOR THIS ITEM!

In this miniature portrait, the sitter is wearing the uniform of a Napoleonic division general (he was promoted on August 10, 1804) and is decorated with the breast star of the Grande Aigle of Legion d'Honneur (awarded on August 10, 1804) and Cross of Napoleonic Royal Order of Spain (this order was established on 18th September 1809; we see only its red ribbon) He is the older brother of Napoleon I - Joseph Bonaparte. On March 31, 1806, he became the King of Naples and Two Sicilies; he remained in this function until June 6, 1808: on that day, Napoleon made him the King Jose I of Spain (his brother-in-law Joachim Murat replaced him in Naples). We are certain that this miniature was executed exactly in this Spanish (1808-1813) period of his.
For extensive biography of Joseph Bonaparte, CLICK HERE.

Provenance: private collection, Switzerland

mijun1518
Condition: good
Creation Year: 1808/13
Measurements:UNFRAMED:6,5x6,5cm/2,6x2,6in FRAMED: 12,5x12,9cm/4,9x5,1in
Object Type:Framed miniature
Style: Portrait Miniatures
Technique: watercolor on ivory (round)
Inscription:-
Creator: Neapolitan School
Creator Dates: -
Nationality:Italian
We will cover shipping with regular registered mail (delivery between 7-14 days) for this item.

OBS: Austrian mail refunds cases of loss or damage with maximum EUR 500.


Fully insured 2-3 days DHL service available upon request and subject to extra charges: office@wilnitsky.net
Click here for images free of watermark!
Click on images or on

to see larger pictures!