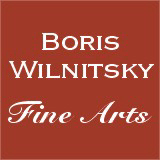 If you have a question about this item,
please contact us at: office@wilnitsky.net
# 42449
E. Bernhard de Guerard "Eleonore Windisch-Graetz, nee Schwarzenberg", box with important miniature!
Price: ON REQUEST
(please note additional 13% tax applies for transactions concluded within the European Union)
THE SELLER WILL COVER SHIPPING WITH REGULAR MAIL FOR THIS ITEM!

In March 2018, through antique trade in Switzerland, we have discovered and promptly purchased a round box made of tortoiseshell with gold mounting. The lid of the box houses an octagonally-shaped miniature portrait of a young lady in white gown with a blue stole wrapped around her shoulders and a lace bonnet crowning her upswept hair. According to the sitter's dress and hairstyle, this miniature was executed in the late 1810s (and not "ca. 1805" as maintained the last seller - see image nr.17). It is signed "B. Chv.de Guer…" (the last word is partially concealed by the mounting). Based on this, this miniature is a work of one of Vienna's best early-19th-century miniaturists, Emile Bernhard Chevalier de Guerard.
We learn from the artist's biography (see below) that in this period (1817-1819) he worked for the Princely House Schwarzenberg. Eduard Leisching - the author of the standard reference source "Die Bildnis-Miniatur in Oesterreich von 1750 bis 1850" (Vienna, 1907) names (among several others executed by Guerard for Schwarzenberg family) an 1819 miniature portrait of "Princess Eleonore Windisch-Graetz-Schwarzenberg", which is nothing else than our miniature!

In this portrait, the 23-year-old Princess Marie Eleonore Windisch-Graetz, nee Princess Schwarzenberg, is depicted as an already married woman (her marriage took place two years before the portrait's execution). Her other known portraits were recorded to have been made at least fourteen years later (see our images nr.9-10). Nonetheless, these portraits, as well as those of her mother (see our image nr.15), leave no doubt that we are indeed presented here with the earliest known portrait of Marie Eleonore!

Princess Marie Eleonore was born on September 21, 1796 as the firstborn child of Prince Joseph Johann Nepomuk (Joseph II) of Schwarzenberg (see our image nr.12) and his wife Princess Pauline d'Arenberg (see our images nr.13-14). Her father was (among others) a noted music lover who maintained his own orchestra and regularly arranged performances of oratorios and chamber music at his palace in Mehlmarkt (now - Neuer Markt) in Vienna. It was there that Haydn's "The Creation" was first performed, as was the Septet Op. 20 by Beethoven, who dedicated his Piano Quintet Op. 16 to the Prince. Marie Eleonore, who was growing up in this atmosphere, was at the insistence of her mother, educated according to principles of Jean-Jacques Rousseau's doctrine.
When she was 14, a terrible tragedy has befallen her family. In 1810, in Paris, her uncle - the Austrian Ambassador Prince Karl Philipp Schwarzenberg - was hosting a ball in honor of the newlywed Royal Couple: Napoleon I and Marie-Louise of Austria. A fire interrupted the event, and Marie Eleonore's mother, presuming that her youngest daughter Marie Pauline (1798-1821) was abandoned in the burning ball pavilion, rushed to her rescue and was killed by a collapsed wooden beam.

In June 1817, Marie Eleonore's wedding took place at her father's summer residence Castle Hluboka in Bohemia (now - Czech Republic). She was wed to (nine years her senior) Alfred, Prince of Windisch-Graetz (see our image nr.15). Interesting to note that her youngest sister Marie Pauline's wedding took place on the same day: she was wed to Prince Eduard Schoenburg-Hartenstein.
During Marie Eleonore's 30-year-long marriage, she gave birth to five sons and two daughters.
In May 1848, her husband - then a lieutenant field marshal of the Austrian army - was summoned to Prague with order to suppress the incipient insurrection. He travelled to Prague with his family stayed at the headquarters as usual, on the corner of Celetná Street and Fruit Market.
On June 8, Prince Windisch-Graetz, with the aim of demonstrating the strength of the Austrian army, ordered a military parade to be held in Prague. On May 12, the citizens of Prague dissatisfied with the Habsburg Monarchy rule, gathered at the Horse Market in response to this development; the purpose of this large congregation was to hold a collective service.
Immediately following the Mass, the city of Prague was swept by unrest, and the rebelling mob marched to Prince Windisch-Graetz' headquarters. At about half-past-four, Princess Marie Eleonore wanted to look out of the window and see what was happening on the streets. Before she managed to do so, the window glass popped and shattered, and the Princess fell down on the floor. A doctor who was called in to examine her, could only confirm and pronounce death by a gunshot.
The funeral of Princess took place on July 10, 1848. Her body was laid to rest in the ancestral tomb in the parish Church of St. Wenceslas in Tachov. Due to the developments in Prague, her husband was unable to attend the burial.
In 1886, Marie Eleonore's remains were transferred to the newly-built tomb in the Chapel of All Saints in Kladruby Monastery by Tachov (see our image nr.16).
We would like to add that two of her siblings became important functionaries of the Austrian hierarchy: her brother Felix (1800-1852) was the Prime Minister of Austria from 1848 until his death; her other brother Friedrich (1809-1885) became the Archbishop of Salzburg in 1836 and the Archbishop of Prague in 1850; he was also made a Cardinal in 1842 (for interesting articles in Czech concerning Princess Marie Eleonore, CLICK HERE and HERE). .
Emile Bernhard Chevalier de Guerard (1771 Dusseldorf - 1836 Naples) studied first jurisprudence at the Duisburg University but soon turned to fine arts, especially to portrait miniatures. In 1793 he accompanied Prince Auersperg to Vienna, where he was entrusted with commissions from Viennese court and aristocracy. From 1804-1806 he stayed in Lemberg (now Lvov, Ukraine) together with his brother François (engraver). In 1808 he married in Vienna and was appointed court portrait miniaturist. From 1817-19 Guerard worked for the family of Prince Schwarzenberg; at the same time he made some experiments of production of oils for painting and in 1819 he began selling through dealers. Despite his fame as a miniaturist he was in financial difficulties and was forced to produce miniatures for juwelers, who set them in brooches, boxes, lockets, etc.
In his last years Guerard was permanently on travels: in 1827 he lived in Venice, in 1831 exhibited in Rome and five years later lived in Naples, where he became victim of cholera, that was prevailing in the town.
CLICK HERE FOR OTHER WORKS OF THIS ARTIST IN OUR POSSESSION

Provenance:
1) Collection Ernst Holzschreiter, Zurich
2) private collection, Switzerland
3) auction house "Gallery Koller", Zurich, March 22, 2018, lot 1155 (see our image nr.17)

mijun1418
Condition: good
Creation Year: 1819
Measurements:UNFRAMED:7,2x6,3cm/2,8x2,5in FRAMED: 9,5x9,5cm/3,7x3,7in
Object Type:box with miniature
Style: Portrait Miniatures
Technique: box: tortoiseshell with gold mounting; miniature: watercolor on ivory (octagonal)
Inscription:signed "B. Chv.de Guer…"
Creator: Emile Bernhard Chevalier de Guerard
Creator Dates: 1771 Dusseldorf-1836 Naples
Nationality:Austrian / German
We will cover shipping with regular registered mail (delivery between 7-14 days) for this item.

OBS: Austrian mail refunds cases of loss or damage with maximum EUR 500.


Fully insured 2-3 days DHL service available upon request and subject to extra charges: office@wilnitsky.net
Click here for images free of watermark!
Click on images or on

to see larger pictures!