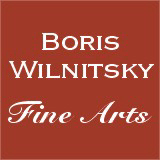 SALE!!! SAVE MONEY !! 1 EUR = 1 USD
# 42440
Joseph Boze-Attrib. "I.K. Razumovsky? N.A. Tutolmin? N.S. Vsevolozhski?", superb miniature!!, 1790s
5500 EUR
FINAL DISCOUNT PRICE= 5500 USD
( for EUR price see date rate )
Please note: Shipping and insurance costs are not included in this promotion, ONLY ITEM PRICES!
(please note additional 13% tax applies for transactions concluded within the European Union)
France's leading contemporary expert on portrait minaitures, Olivier Boré, has credibly attributed this work to French portrait artist (also miniaturist!) Joseph Boze (1745-1826; see our image nr.7).
This superior quality miniature shows a relatively young (he appears to be 30-40 years of age) gentleman in civil (sic!) redingote, bearing the ribbon of Russian Military Order of St. Georg of the 4th class. He appears to be a former Russian officer, out of service. His dress and hairstyle suggest mid 1790s (for comparison, see our image nr.12).

Fortunately, the Russian-language Web sources offer the possibility of searching for (retired or temporarily out of service) officer of a relatively young age and in possession of St. Georg of the 4th class.
Similarly, the Web offers (published back in 1909) the so-called "List of Sudravsky" (V.K. Sudravsky), i.e. names of all recipients of St. Georg's 4th class from the very beginning of its establishment (the 1st promotion took place on November 3, 1770).
The recipients of the period 1770-1777 do not come into question: in that period, "our" sitter was still a child. In the following years - 1778-1787 - the Order of St. Georg's 4th class was awarded exclusively for "vysluga let" (length of service) or "For 18 Campaigns" - criteria contradicting the sitter's visual age in the mid 1790s.
The final step was to examine all the recipients of the Order of St. Georg's 4th class awarded in the period 1788-1798 (the type of the sitter's dress was surely no longer worn after this period).
Several hours of searching through aforementioned list returned the names of three candidates, whose attributes correspond to the following criteria:

a) all of them were relatively young in the mid-1790s
b) all of them were out of the military service by the mid-1790s
c) all of them were in possession of the Order of St. Georg's 4th class by the mid-1790s
d) all of them could have visited France in mid-1790s.

The first man out of the three was Count Ivan Kirillovich Razumovsky (1761-1802; in 1795, he was 34 years old). He received the Order of St. Georg's 4th class in 1792. In the same (1792) year, he left the army for health reasons and traveled abroad for medical treatment (and could have hence visited France!). Although we were unable to find a portrait of this man, the portraits of his father and brother (see our image nr.9) strongly suggest his candidature.

The second candidate was Nikolai Akinfievich Tutolmin (1755-after 1811; in 1795, he was 40 years old). He received the Order of St. Georg's 4th class in 1790. He retired a year later, in 1791. He is next mentioned in 1795 (he could have spent the years between 1791 and 1795 abroad; perhaps also in France?). Similarly, there survived no portraits of this man but those of his brother (see our image nr.10); his brother's slightly aquiline nose is similar to that of "our" sitter.

And, finally, the third candidate (his appearance displays the strongest physiognomic resemblance to features of "our" sitter; see our image nr.11): Nikolai Sergeevich Vsevolozhsky (1772-1857). The latter received the Order of St. Georg's 4th class in 1792. In 1796 (sic!), when he was 24 years old , he retired from the army service and "later" (according to Wikipedia) joined the Russian Foreign Office (he could have similarly spent some time abroad and visit France…).

In our opinion, the most likely candidate out of the three listed men is Ivan Kirilovich Razumovsky, whose imperious appearance in this portrait speaks of aristocratic descent (in fact, Razumovsky was the only aristocrat out of the three candidates discussed above) ...
Joseph Boze, well-known French portrait painter, miniaturist and pastelist, was born on the 6th of February 1745 in Martigues, Bouiches-du-Rhöne, and died in Paris on the 17th of January 1826. At the age of 17, he began his art studies at the Marseilles School of Drawing and Painting; then, from 1778, he probably studied under Maurice Quentin in Paris. From 1782, he was successfully exhibiting at the Parisian Salon de la Correspondance. From 1783, he was also active as a court artist: he painted portraits of King Louis XVI, Queen Marie-Antoinette, as well as other members of the Royal Family. Despite his success at the Court, Joseph Boze welcomed the Revolution. He portrayed Mirabeau, La Fayette, Robespierre, Barnave, Marat (April 1793), and Desmoulins. Nevertheless, in the beginning of 1793, he was public ally proclaimed by Jacque-Louis David as king's loyalist. On the 15th of October 1793, called to be whiteness in a lawsuit against Marie-Antoinette, Boze remained neutral. On the next day, he was arrested and incarcerated: at first in Luxembourg, and, then, in the Conciergerie for 11 months. In 1800, together with Robert Lefevre and Carle Vernet, he painted a double portrait of Napoleon Bonaparte and General Berthier in the battle of Marengo.
After Napoleon's overthrow he returned to the Court, where he proceeded to work for Louis XVIII. For this, in 1816, he received pension and was ennobled to count. In 1817, for the last time, he exhibited at the Parisian Salon.
Works of Joseph Boze are on view in most esteemed museum collections of France (among others, at the Louvre) and worldwide.
CLICK HERE FOR OTHER WORKS OF THIS ARTIST IN OUR POSSESSION

Also, see our images nr.13-14.

For similiar story see our web # 41869

mijun1318
Condition: good
Creation Year: 1790s
Measurements: UNFRAMED:6,7x6,7cm/2,6x2,6in FRAMED: 7,0x7,0cm/2,8x2,8in
Object Type: Framed miniature
Style: Portrait Miniatures
Technique: watercolor on ivory
Inscription: -
Creator: Joseph Boze
To see other works by this artist click on the name above!
Creator Dates: 1745 Martigues-1826 Paris
Nationality: French
SHIPPING COSTS UPON REQUEST:
office@wilnitsky.net
Click here for images free of watermark!
Click on images or on

to see larger pictures!