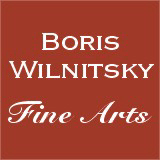 If you have a question about this item,
please contact us at: office@wilnitsky.net
# 42439
"Prince Nikolaus I Esterhazy", important, oil on tin, large miniature!!, ca. 1770
Price: 8500 EUR
(please note additional 13% tax applies for transactions concluded within the European Union)
*Framed measurements will be provided upon request.

This work was found in April 2018 in a German antique shop (it was offered as portrait of "Prince Eugen of Savoy" (??!!)). In reality, it is a very important (and thus far unknown to art historians) representation of Nikolaus I, Prince Esterhazy (1714-1790; for his extensive biography, see our images nr.10-11; see also our images nr.12-16 for known portraits of this man).
His building of palaces, extravagant clothing, and taste for opera and other grand musical productions led to his being given the title "the Magnificent". He is remembered as the principal employer of the composer Joseph Haydn.
He was also a military officer, in service of the Austrian Empire. Of his military career, Robbins Landon notes that he achieved, "considerable distinction, particularly as Colonel at the Battle of Kolin (1757) in the Seven Years' War where, with great personal courage, he led the wavering cavalry troops to victory. He was later (April 16, 1770) made a Lieutenant Field-Marshal."
In this portrait, he is depicted as an Austrian warlord wearing armor under his Lieutenant Field Marshal's uniform. He is decorated with neck (Commander) Cross of the Austrian Military Maria-Theresian Order (1765) and the badge of the Knight of Austrian Order of the Golden Fleece (1763).
mijun1318
Condition: good; in magnificent, original hand-carved, gilt Baroque frame made of wood
Creation Year:
Measurements:UNFRAMED:11,5x9,5cm/4,5x3,7in FRAMED: 20,0x16,5cm/7,9x6,5in
Object Type:Framed oil painting
Style: Old Master paintings
Technique: oil on tin (oval)
Inscription:verso: recently inscribed (erroneous) title
Creator: Austrian School
Creator Dates: -
Nationality:Austrian
SHIPPING COSTS UPON REQUEST:
office@wilnitsky.net
Click here for images free of watermark!
Click on images or on

to see larger pictures!