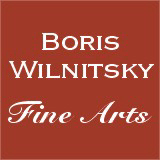 If you have a question about this item,
please contact us at: office@wilnitsky.net
# 42403
Joseph Karl Stieler "Artist's sister Babette Stieler", first miniature!!, ca.1795, DISCOVERY!!
Price: ON REQUEST
(please note additional 13% tax applies for transactions concluded within the European Union)
THE SELLER WILL COVER SHIPPING WITH REGULAR MAIL FOR THIS ITEM!

Several years long unrecognized in our collection, this relatively large Neoclassical miniature on ivory with a portrait of a girl playing lyra unexpectedly turned out to be a very important (and the fist produced in that technique!) work of then 14/15-year-old, incipient artist (later Bavarian court portraitist), Joseph Karl Stieler. It is unknown till today, main (mentioned by all biographers of Stieler) version of the executed by him about 1795 portrait of his elder sister, Babette Stieler, showing her in age of 18/19 years. This conclusion is based on found by us in May 2018, in the monograph "Joseph Stieler /1781-1858" (by Ulrike von Hase; Prestel-Edition, Munich, 1971) Stieler's mirror-inverted and smaller (and only chest-high) version of this miniature (whereabouts are unknown today; see our image nr.9). Mentioned in the biography (see our images nr.10-12) first in his career great success which Stieler had with sister's miniature portrait concerns (as we are absolutely sure!) exactly our large version and not chest-high one.

The sitter, Babette Stieler was born on 17th March 1776 and died before 1847. In 1809 she married merchant Joseph Dürck and lived with latter in Leipzig, Dreden and Munich. Her son, Friedrich Dürck (1800-1884) became like his famous uncle (and his teacher) a court portraitist in Munich.


Joseph Karl Stieler (1781 Mainz - 1858 Munich) was an outstanding German portraitist of the first half of the 19th century. He started his career as a painter of portrait miniatures, in 1800 moved to Vienna, where he became a pupil of H.Fueger and turned to oil painting. In 1807-1808 the artist studied in Paris under Gerard, for two years lived in Rome and in 1812 went back to Munich, where he was graciously received by Maximilian I. In 1816-1820 Stieler lived in Vienna and from 1820 until his death in 1858 lived and worked in Munich, where he became a royal painter of Ludwig I. During this period he was heaped by numerous commissions of various royals. Stieler's works can be seen in the greatest museums in Germany and abroad.
miaug06
Condition: good, in original neoclassical brass standing frame
Creation Year: ca 1795
Measurements:UNFRAMED:11,3x8,9cm/4,4x3,5in FRAMED: 13,2x10,8cm/5,2x4,3in
Object Type:Framed watercolor
Style: Portrait miniatures
Technique: watercolor and gouache on ivory
Inscription:-
Creator: Joseph Karl Stieler
Creator Dates: 1781 Mainz-1858 Munich
Nationality:German
We will cover shipping with regular registered mail (delivery between 7-14 days) for this item.

OBS: Austrian mail refunds cases of loss or damage with maximum EUR 500.


Fully insured 2-3 days DHL service available upon request and subject to extra charges: office@wilnitsky.net
Click here for images free of watermark!
Click on images or on

to see larger pictures!