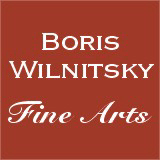 If you have a question about this item,
please contact us at: office@wilnitsky.net
# 42374
"Portrait of French General Jacques-Felix Jan de La Hamelinaye", small oil painting, 1820/29
Price: EUR
(please note additional Austrian VAT (Value Added Tax) applies for transactions concluded within the European Union)
THE SELLER WILL COVER SHIPPING WITH REGULAR MAIL FOR THIS ITEM!

SOLD!!!

This portrait was executed after the sitter received the Grand Officer's Star of the Legion of Honor (1820). It is a superior quality small oil portrait of the celebrated French general of the Napoleonic epoch and the following period of Bourbon Restoration - Jacques-Felix Jan de La Hamelinaye (for his extensive biography, see our images nr.10-11).

Jacques-Felix Jan de La Hamelinaye was born on February 22, 1769, in Montauban-de-Bretagne and died on April 14, 1861 in Rennes. He was the son of a wealthy lawyer in Montauban-de-Bretagne. He was home-schooled by teachers who planted in him the seeds of revolutionary inclinations that would flower later in his life.
In 1791, he volunteered to join the infantry. In 1792, under the command of General Adam-Philippe de Custine, he partook in the Capture of Pruntrut in Switzerland and - in the following year - in the Siege of Mainz.
He was attached to the staff of Bernadotte and fought in various battles of the Austrian and Prussian campaigns (1805-1807). On February 27, 1807, he became the first aide-de-camp of Bernadotte. On May 17, 1809, during the Austrian Campaign, he was promoted to brigade general and - on July 5-6 of the same year - fought with his brigade in the 3rd Corps (Davout) at Wagram. Thereafter, he served in the army of Kingdom of Naples; from June 25, 1811 - in Spain (he participated in the Battles of Tarrega and Altafulla). On June 24, 1812, he was wounded in combat in Catalonia.
On January 13, 1814, Napoleon made him a division general but, yet, already on February 14, La Hamelinaye left the army due to increasing illness.
During the period of Bourbon Restoration, he was the commandant of the 22nd (and then 18th) military division (district). He received the Grand Officer's Star of the Legion of Honor on September 20, 1820. On August 17 of the same (1820) year, King ennobled him to vicomte (viscount). On October 30, 1829, he was awarded the Grand Cross of the Order of St. Louis (in "our" portrait, he is shown wearing only the Chevalier Cross of this order - a detail allowing us to suggest 1820-1829 as the period of its execution).
On December 2, 1832, he retired from military service.
The name of General Jacques-Felix Jan de La Hamelinaye can be viewed on one of the columns of the Arc de Triomphe de l'Etoile in Paris.
Provenance: private collection, France

mimai1618
Condition: good
Creation Year: 1820/29
Measurements:UNFRAMED:23,0x17,0cm/9,1x6,7in FRAMED: 25,7x20,0cm/10,1x7,9in
Object Type:Framed oil painting
Style: 19th century paintings
Technique: oil on card (oval)
Inscription:-
Creator: French School
Creator Dates: -
Nationality:French
We will cover shipping with regular registered mail (delivery between 7-14 days) for this item.

OBS: Austrian mail refunds cases of loss or damage with maximum EUR 500.


Fully insured 2-3 days DHL service available upon request and subject to extra charges: office@wilnitsky.net
Click here for images free of watermark!
Click on images or on

to see larger pictures!