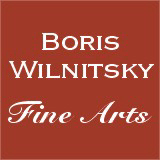 If you have a question about this item,
please contact us at: office@wilnitsky.net
# 42366
Friedrich Joh. Gottl. Lieder "Marie Leopoldine, Countess Esterhazy", ESTERHAZY COLLECTION, 1817/20
Price: ON REQUEST
(please note additional 13% tax applies for transactions concluded within the European Union)
THE SELLER WILL COVER SHIPPING WITH REGULAR MAIL FOR THIS ITEM!

This superior quality miniature on ivory had resurfaced in Vienna (via antique trade) in March of 2018. According to the old legend engraved on the back plaque, it is a portrait of Marie Leopoldine, Countess Esterhazy de Galantha, nee Princess von Metternich-Winneburg. Quickly after discovering it, we have then acquired it. We have rushed to do so not only because of the importance of its sitter, but also due to its provenance. As it turned out, sometime in the 19th century the miniature belonged to the famous Esterhazy Collection (same as in the case of our web #36562, #37727, #41259 and #41258, the engraved text on its verso was made in the 1st half of the 19th century).
Thus, this piece becomes another addition to our existing group of miniatures with this important provenance.

The sitter - 20-year-old Marie Leopoldine Countess von Metternich - was born on January 17, 1797 as the firstborn child of Austrian Chancellor Klemens Wenzel Prince von Metternich-Winneburg zu Beilstein (1773-1859; CLICK HERE) and his wife, Countess Marie Eleonore von Kaunitz-Rietberg (1775-1825). On September 15, 1817 (sic! we believe that this miniature was executed shortly before or just after the sitter's wedding), she married six years her senior Count Joseph (Jozsef) Esterhazy de Galantha (1791-1847; see our image nr.5). Three years later, on July 20, 1820, she died childless of tuberculosis in resort Baden by Vienna (for her obituary, see our image nr.6).
This miniature was reproduced by early 19th century French engraver Andre Joseph Mecou (see our image nr.7).

Initially, this miniature was offered by its seller as a work of an unknown Viennese miniaturist. However, as a result of our thorough research, it proved to be an authentic creation of one of Vienna's best early-19th-century miniaturists, Friedrich Johann Gottlieb Lieder. In the (published in 1985) catalogue of portrait miniatures from various Czech collections, we find an identical replica of our piece, which is signed by Lieder and dated 1820. Currently, it is housed in Czech castle Kyn×vart (a former property of Metternich family; CLICK HERE) and is easily discoverable under the catalogue's No.5035 (see our image nr.8). Clearly, this replica was made by the artist three years later than the one we offer here; it was a post-mortem portrait ordered by the relatives of the late countess.
Moreover, it appears that Lieder had produced more than two replicas: the castle Kyn×vart houses also the third version (inventory No. 2436).
Friedrich Johann Gottlieb Lieder (1780 Potsdam - 1859 Budapest), called Franz Lieder, was a very well-known Austro-German portraitist, portrait miniature painter and lithograph artist of the first half of the 19th century, father of another well-known portraitist Friedrich Lieder the Younger (1807-1884). He was born in Potsdam in 1780 and already at the age of 17 in 1797 debuted in the Academical Exhibition of Berlin. In 1802 he exhibited a portrait of Napoleon in Potsdam and moved to Paris in 1804 to become pupil of David at the Ecole des Beaux-Arts. He was then active in Budapest as a popular portraitist of the Hungarian aristocracy and further painted portraits in Pressburg (Bratislava) and Tyrnau. From 1810 he lived in Vienna where he was strongly influenced by works of the famous French miniaturist Johann Baptiste Isabey. The Vienna Congress (1815-1816) brought him special popularity as portraitist. From 1820 the artist was active alternately in Vienna and Budapest. In 1824 he became member of the Vienna Academy. Lieder died in 1859 in Budapest. He can be seen as one of the best Austrian portrait painters. Many of his works belong to collections of major international museums such as the Metropolitan Art Museum, New York, etc.
CLICK HERE FOR OTHER WORKS OF THIS ARTIST IN OUR POSSESSION.

mimai0418
Condition: good; in original frame
Creation Year: 1817/20
Measurements:UNFRAMED:7,7x6,5cm/3,0x2,6in FRAMED: 8,3x7,1cm/3,3x2,8in
Object Type:Framed miniature
Style: Portrait Miniatures
Technique: watercolor on ivory
Inscription:engraved old legend on verso
Creator: Friedrich Johann Gottlieb Lieder the Elder
Creator Dates: 1780 Potsdam-1859 Budapest
Nationality:Austrian / German
We will cover shipping with regular registered mail (delivery between 7-14 days) for this item.

OBS: Austrian mail refunds cases of loss or damage with maximum EUR 500.


Fully insured 2-3 days DHL service available upon request and subject to extra charges: office@wilnitsky.net
Click here for images free of watermark!
Click on images or on

to see larger pictures!