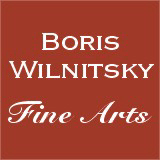 If you have a question about this item,
please contact us at: office@wilnitsky.net
# 42341
Emmanuel Chevalier de Chateaubourg "Round box with portrait of a lady", 1786, RARITY!!
Price: 7900 EUR
(please note additional 13% tax applies for transactions concluded within the European Union)
THE SELLER WILL COVER SHIPPING WITH REGULAR MAIL FOR THIS ITEM!

This round box houses a superior quality miniature on ivory in its lid. It is a portrait of a seated young noblewoman (portrayed without jewelry, she appears to be a representative of rather provincial nobility, and is likely a habitant of Vendée - the French department, in which the author stayed at the time (see below).
Signed "Le ch-er De ch… pinxit 1786" (compare with artist's signature in our web #39571), this miniature turns out to be the earliest known work of French (later - Russian) miniaturist Emmanuel Malo de la Selle, Chevalier de Chateaubourg.

In his article about the artist's oeuvre (see our images nr.10-17), Russian modern art historian Michael Asvarishch refers to the year "1791" as the date of first mention of Chateaubourg's activity as miniaturist. However, the miniature, which is presented here, is in itself the evidence of the artist's much earlier activity as one: it is the actual proof that Chateaubourg was painting portrait miniatures already in the late 1780s, i.e. during his service (as sous-lieutenant) in the French Royal army. Additionally, the high quality of this portrait demonstrates that, by 1786, the latter had reached full maturity as professional artist - the fact preceded by several years of studying art (possibly during his adolescent and youth years in Paris, where he was a court page?).

Until today there persisted quite a confusion concerning the biographical information of the French miniaturist Charles-Joseph de la Celle, Chevalier de Chateaubourg (1758 Nantes - 1837 ibidem). A number of sources say that the artist lived in St. Petersburg from 1800 to 1805, from where he made trips to Tver and Moscow. These sources also say that the sitters of his "Russian" period were exclusively members of high artistocracy and royalties.

An article by Russian art historian Michael Asvarishch published in 2012 under the title "Emmanuel de la Selle, Chevalier de Chateaubourg (1762-1806)" is drawing a line between two artists bearing the same surname, one of whom really stayed in Russia and the other one did not. In his article (see again our images nr.18-25), Mr. Asvarishch tells about two brothers - Emmanuel de la Selle, Chevalier de Chateaubourg (1762-1806) and his elder brother (so Asvarishch; after a close web research we think they were cousins) Charles-Joseph de la Celle, Chevalier de Chateaubourg. According to the logic of Mr. Avarishch (which we share entirely!), the miniature presented here was painted by Chateaubourg Junior.
Well, Emmanuel Malo de la Selle, Chevalier de Chateaubourg was born on 18 October 1762 in Rennes, France. In 1773 he became a page at court, then in 1778 he began his military service. In 1785, as a sub-lieutenant, he served under Louis Joseph, Prince of Condé in Vendée. After the revolution he joined the Nobiliary Infantry Regiment (le régiment noble à pied) in the Corps of the Prince of Condé. He held the rank of lieutenant when he retired in 1791 and emmigrated to Britain. In the period from 1794 to 1797 he travelled around the German states, growing in fame as a miniaturist until he finally settled in Berlin in 1797. He received portrait commissions from numerous German ruling princes and also from the Prussian Royal family. In 1800 the artist moved to Saint Petersburg where he became one of the most sought after painters among the high aristocracy and royalties. He filled a certain artistic vacuum left by August Christian Ritt's death in 1799. Emmanuel stayed in the Russian capital until his death on 14 April 1806. The author of an obituary included in the edited in 1816 in St. Petersburg edited "Ephémérides Russes Politiques, Littéraires, Historiques et Nécrologiques" strangely calls him by the first name "Dominique Emmanuel" (see our last additional image).
CLICK HERE FOR OTHER WORKS OF THIS ARTIST IN OUR POSSESSION

Provenance: antique trade, Paris

miapr2518
Condition: miniature is in good condition; the box is in fairly good condition
Creation Year: 1786
Measurements:UNFRAMED:6,2x6,2cm/2,4x2,4in FRAMED: 7,7x7,7cm/3,0x3,0in
Object Type:Framed miniature
Style: Portrait Miniatures
Technique: miniature: watercolor on ivory
Inscription:"Le ch-er De ch… pinxit 1786"
Creator: Emmanuel Malo de la Selle, Chevalier de Chateaubourg
Creator Dates: 1762 Rennes-1806 St. Peterburg
Nationality:French/Russian
We will cover shipping with regular registered mail (delivery between 7-14 days) for this item.

OBS: Austrian mail refunds cases of loss or damage with maximum EUR 500.


Fully insured 2-3 days DHL service available upon request and subject to extra charges: office@wilnitsky.net
Click here for images free of watermark!
Click on images or on

to see larger pictures!