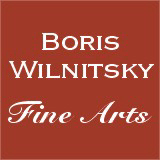 If you have a question about this item,
please contact us at: office@wilnitsky.net
# 42339
Nicolas François Dun "Mme Celeste Meuricoffre-Coltellini ("La perla Napolitana")", 1798, DISCOVERY!!!
Price: ON REQUEST
(please note additional 13% tax applies for transactions concluded within the European Union)
THE SELLER WILL COVER SHIPPING WITH REGULAR MAIL FOR THIS ITEM!

In April 2018, from a Viennese collector of portrait miniatures we acquired a work of outstanding quality. It is a miniature portrait painted by the best Neapolitan miniaturist of the turn of 19th century - court artist Nicolas François Dun. The miniature shows a woman of a relatively young age, in Neoclassical dress (fashion of late 1790s). She is pictured in romantic landscape, leaning against a stone incised with letters forming the name "NINA".

In the research that followed, we were not only able to define this woman's identity, but arrive at the conclusion that this piece was executed by Dun in (extremely brief) period of ten days. As we will see below, in 1798 the sitter and her family spent ten days in the city of Naples; similarly, it is known that Nicolas François Dun permanently lived in Naples from 1790, and that he had not traveled to Genoa or Marseilles in the late 1790s where the sitter permanently stayed then (see below for clarification).
The depicted lady's name was Mme Celeste Meuricoffrre. She was the wife of Neapolitan banker Jean-Georges Meuricoffre and by then - already the mother of two little boys (the miniature's author surely wanted to compliment the woman's appearance by portraying her somewhat younger than she factually was at the time (in 1798, she was already 38).

Yet, what is imperative here is to note the portrayed woman's maiden (!) name. Born as Celeste Coltellini, from the age of thirteen (her debut) and until her marriage in 1792, she was a famous opera singer, performing with outmost success in Florence, Milan ("La Scala"), Venice, Naples, Vienna and then again in Naples (in that city, she had been called "La perla Napolitana"). Moreover, her most known part was the title role of Nina (!!) in Giovanni Paisielli's two-act-opera "Nina, o sia La pazza per amore" (see our image nr.13, CLICK HERE, HERE and HERE, HERE). The opera premiered on June 25, 1789 at the Neapolitan Royal Palace of Caserta (situated 27km from Naples, the palace served as the summer residence of King Ferdinand I of Naples-Sicily). The performance was conceived for a narrow circle of most esteemed guests (apart from the Royal Family, it was attended by courtiers and crème-de-la-crème of the Neapolitan society (among others, by famous Emma, Lady Hamilton, who was the wife of the British Ambassador and Celeste's good acquaintance. Lady Hamilton was known to have frequented the salon of Coltellini sisters (Celeste's sister Anna was similarly an opera singer)).

Celeste's second (and last) successful appearance as "Nina" took place in 1790 in her Teatro dei Fiorentini. The next time the opera was performed (already without Celeste) in Teatro dei Fiorentini was on Novermber 18, 1794.
After her marriage in 1792, Celeste left the stage and, in the years that followed, sang privately only at her own or her friends' salons. Besides that, as we will learn below, in 1793, she left Naples and (with exception of ten days in 1798) did not return there until 1806. Hence, in the next three opera performances of "Nina, o sia La pazza per amore" held in Teatro dei Fiorentini, the aria of "Nina" was sung by other singers: in 1794 and 1795 - by certain Teresa Merli, whose recognition was in no way to be compared with that of Celeste. The (unknown) singer performing "Nina" in 1803 in Teatro dei Fiorentini, could not have been the sitter of "our" portrait: her dress and hairstyle would be in full discordance with Neoclassical that of "our" lady.
Additionally, a comparison with Celeste's other known portraits (for instance, her self-portrait (see our images nr.9), a drawing by Antoine-Jean Gros, as well as the latter's oil portrait of Celeste - see our images nr.10-11) leave one with no doubt that we did indeed made a sensational discovery - namely that of (thus far unknown to music historians) portrait of "La perla Napolitana"!

Celeste Coltellini was born on November 26, 1760 in Livorno, Toscana - the town in which her father, Marco Coltellini (1724-1777), owned a publishing house. When she was three years old, her father became a librettist: his first work was the libretto for opera "Ifigenia in Tauride"; the latter piece was already performed on October 4, 1793 at the Royal Palace Schnonbrunn in Vienna and had been greatly received by the public. Moreover, the Empress Maria Theresia had invited him to come and work in Vienna. From that point in time onwards, Marco Coltellini spent nearly all of his time away from his family; after nine years spent in Vienna, he moved to St. Petersburg, where he died in autumn of 1777.
In her younger years, Celeste had been seeing her father only sporadically, i.e. only upon several of his visits home during his "Vienna" period. She was almost solely cared for by her mother, who made all possible efforts to provide her daughter (same as her other six children) an education suitable for a child from a wealthy bourgeois family. As a result, Celeste took music and vocal lessons (since ca. 1770 she was taught vocal technique by Florentine male sopranos Giovanni Manzuoli and Giovanni Battista Mancini). Already as a thirteen-year-old, she made a stage debut in Florence as a singer in the role of "Silva" in both one-act operas "L'isola disabitata" and "Le Cinesi" (music composed by Gennaro Astaritta, libretto written by her father's Viennese friend (and sitter in our web #37277), Pietro Metastasio).
In 1781 (by then, she was already 21), accompanied by her mother and siblings, she settled in Naples, where she was offered an engagement as the prima donna (!) in Teatro dei Fiorentini (one of the oldest "non-Royal" theaters in Naples). Besides her appearances on the stage of this theater, Celeste was singing in the city's most esteemed theater - the Royal Opera Teatro di San Carlo. She also sang at the Court Theater in Caserta.
One shall note that, before moving to Naples, Celeste thrice performed on the stage of Venetian Teatro Giustinian in San Moisè.
Soon after her arrival to Naples, her apartment became one of the most frequented salons of the city; among its guests were local (Neapolitan) and visiting musicians, composers, writers, traveling aristocrats, etc.

During his Italian journey (December 1783 - March 1784), Emperor Joseph II sojourned in Naples, where he visited his sister, Queen-consort Maria-Carolina and her husband King Ferdinand I. While in this city, he attended a number of opera performances and was particularly charmed with Celeste Coltellini's voice. As a result, Celeste was offered to perform in Vienna, yet she followed up on this invitation only in the following year (1785): on April 6, 1785, she became a company member of the Vienna Burgtheater (court theatre). She remained in Vienna for nearly one year: on March 3, 1786, she left Vienna and returned to Naples. During her stay in Vienna, she made about 80 stage appearances: most of them - on the stage of Burgtheater, but also on those of the Kaertnertortheater, the Orangery of the Royal Palace Schönbrunn and (probably) of the Royal Castle Luxembrug by Vienna. In those days, she surely made acquaintance with Wolfgang Amadeus Mozart, for it is known that she sang in Burgtheater in his insert in Francesco Bianchi's opera buffa "La villanelle rapita", on November 28, 1785.
In 1788, she came back to Vienna; this time - with her sister (and fellow opera singer) Anna Coltellini. This time, she only stayed three months and - as soon as late July - departed to Naples.

During her second stay in the Austrian capital, Celeste established closer contact with Mozart. While she was still unmarried, he was already living with his Constanze for seven years. Nonetheless, Celeste Coltellini and Wolfgang Amadeus Mozart were occasionally seen together at musical events and parties. Celeste's sketch-book (she was also an excellent amateur graphic artist) reveals a line inscribed with composer's address - "Mozart in der warringer gassa No 13705 alle 3 stelle" - and no less than her ink drawing of his profile (see our image nr.12).
Running ahead of the story, we should mention that Celeste's future husband, Jean-Georges Meuricoffre was (independently of her) well acquainted with Mozart: they were childhood friends in Lyon, where Mozart performed as a little boy.

Once back in Naples, Celeste continued to perform at her Teatro dei Fiorentini; in 1789, she shined in the role of Nina.

As already mentioned, after her marriage in 1792, Celeste left the stage. She married a wealthy Neapolitan banker Jean-Georges Meuricoffre (he counted among his clients the great German poet Goethe, who lived in Naples in 1787). Signor Meuricoffre was a member of a Swiss noble family, but was born in France. He came to Naples upon invitation of his uncle (the latter was childless and made his nephew a partner and future successor of his enterprise).
One year after their wedding, Celeste gave birth to her first son Achilles. In the same (1793) year, King Ferdinand I, in light of the increasing revolutionary sentiment in his country influenced by the events in France, joined the anti-French coalition. As a result, he ordered all the French citizens living in his state (it shall be reminded that Signor Meuricoffre was one of them) to be expelled from the kingdom within two days. Following these developments, Jean-Georges, Celeste and their little son Achilles moved to Genoa, where Jean-Georges opened a branch of his Neapolitan bank. Soon, their second son Georges was born.
In 1797, King Ferdinand I allowed Jean-George's uncle, Frederic-Robert Meuricoffre and his wife to return to Naples. This permission, however, was issued only for the two of them, and did not extend to the other members of the family. In the next (1798) year, Jean-Georges Meuricoffre, his wife Celeste, their 2 sons and their sizeable personnel, attempted to voluntarily repatriate to Naples. They were hoping that Jean-George's oncle's interventions at the court yielded their rewards. Contrary to their expectations, however, they were summoned ten days (sic!) later to leave the city without further delay. It was during those ten days that Celeste posed for this miniature portrait!

The family returned to Genoa and stayed there until 1800 (in that year, Napoleonic general Massena began the siege of that city). In light of the advancing military actions, the Meuricoffre family left Genoa and moved to Marseilles. Shortly before their departure from Genoa, they made acquaintance with the French painter Antoine-Jean Gros. While still in Genoa, he began painting a portrait of Celeste, eventually finishing it in Marseilles. In 1800, he also painted a drawing of Meuricoffre family: it depicted Jean-Georges, Celeste, their sons Achilles and Georges (see again our images nr.10-11).

In 1806, the family (by then, Celeste gave birth to their third son Auguste) finally returned to Naples. However, one year after their comeback (1807), Jean-Georges passed away.
Celeste spent the next years of her life in Naples. Her two elder sons studied in Switzerland, while she lived with her youngest son Auguste and her sister-in-law Mariette Meuricoffre (her two daughters were later married to Celeste's sons Achilles and Auguste). Soon after the death of Celeste's husband, they settled in the family estate set in the hills of Capodimonte by Naples. Celeste passed away there on July 28, 1828, at the age of 68.



Nicolas François Dun (1764 Luneville - 1832 Naples) was born into family of a musician working at the Lorraine Court in Luneville. It is unknown, where or with whom he studied, but in 1790 one could find him in Naples, where Dun belonged to the inner circle of friends of famous Lady Hamilton, wife of British ambassador, who was living in this city at the time. It was in her house that the artist made acquaintances with Goethe, Hackert, Angelika Kauffmann, Fueger, Mme Vigée-Le Brun, etc. He soon became a court portrait miniature painter, proceeding to portray all royalties of Naples of the following forty years, beginning with Bourbons, then family of Murat, and finally, Bourbons again. In the Period of Restoration (after the end of Napoleonic Era) he often portrayed members of the Russian and Austrian aristocracy staying in Naples (among his known miniatures are portraits of Comte and Comtess Orlov (1817), Prince Nikolaus Palffy, Prince Labanov, Prince Dolgorukov, etc.).
Works of this artist can be seen in collections of museums of Chantilly and Gotha, the Wallace Collection (London), Louvre (Paris), various Russian museums, etc..
Our images nr.16-22 show several other works of this artist (pay particular attention to composition of Dun's miniatures in our images nr.16-17 and note the very strong resemblance between them and our work!).
Also CLICK HERE, to see other works of Nicolas François Dun in our possession.

This miniature is sold together with (published in 2015) book about Celeste Coltellini: - Carola Bebermeier "Celeste Coltellini /(1760-1828) /Lebensbilder einer Sängerin und Malerin" (see our image nr.15).

miapr2418
Condition: fairly good; several tiny (professionally restored) cracks; minor signs of wear on right
Creation Year: 1798
Measurements:UNFRAMED:9,8x9,8cm/3,9x3,9in FRAMED: 10,4x10,4cm/4,1x4,1in
Object Type:Framed miniature
Style: Portrait Miniatures
Technique: watercolor on ivory (round)
Inscription:signed: Dun p(inxit).
Creator: Nicolas François Dun
Creator Dates: 1764 Luneville-1832 Naples
Nationality:French
We will cover shipping with regular registered mail (delivery between 7-14 days) for this item.

OBS: Austrian mail refunds cases of loss or damage with maximum EUR 500.


Fully insured 2-3 days DHL service available upon request and subject to extra charges: office@wilnitsky.net
Click here for images free of watermark!
Click on images or on

to see larger pictures!