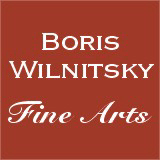 If you have a question about this item,
please contact us at: office@wilnitsky.net
# 42335
Johann Jakob Mezler (1804-1839) "Cupid sharpening his arrow", oil/panel painting, 1834
Price: 4900 EUR
(please note additional 13% tax applies for transactions concluded within the European Union)
Executed in 1834, this small oil-on-panel painting is a true rarity at the current antique market. It is a work of Munich artist Johann Jakob Mezler, who passed away at the age of only 35.
In this work, the artist turned to a rather uncommon mythological subject of his time - that of Cupid (assisted by three cherub angels) sharpening his arrow. While choosing to do so, the artist ventured to add a substantially risqué detail to his painting, thus making the scene remarkably entertaining: one of Cupid's "assistants" is shown urinating at the grinding wheel in attempt to increase the effect of arrow sharpening.
Johann Jakob Mezler (also Metzler) was born in 1804 in Fuerth, Bavaria, and died in 1839 in Munich. He spent his childhood in his hometown Fuerth, where his father worked as a baker. His first art teacher was Elias Oehme. From 1823, Mezler studied painting at the Munich Academy of Fine Arts under Professor Johann Peter von Langer. In the same period, he studied art history.
He graduated from the Academy in 1828. After that, he earned his bread by painting historical, religious and portrait paintings, and teaching in various drawing schools.
In 1836, he founded his own drawing school and made it one of Munich's best. He counted among his close friends famous Viennese artist Friedrich von Amerling.
In 1839, shortly after his marriage, Mezler fell ill to brain fever and passed away two weeks later.
Our image nr.12 shows one of his other works.

Provenance: private collection, Vienna

miapr1918
Condition: good
Creation Year: 1834
Measurements:UNFRAMED:26,0x20,7cm/10,2x8,1in FRAMED: 38,2x32,6cm/15,0x12,8in
Object Type:Framed
Style: 19th century paintings
Technique: oil on panel
Inscription:incised signature with a date: "Mezler 1834"
Creator: Johann Jakob Mezler
Creator Dates: 1804 Fuerth/Bavaria-1839 Munich
Nationality:German
2-3 days door-to-door shipment, professionally packed by Mail Boxes Etc and shipped with DHL (calculated for US): 158,86 EUR + insurance 1,8% of item price
Shipping cost to other destinations (worldwide) on request
Shipping price may be reduced if you dispense with the frame


Cheaper alternative (may be further reduced if you dispense with the frame): professionally packed by Mail Boxes Etc and shipped with regular Austrian mail - upon request under office@wilnitsky.net (OBS: In this case maximal refunded insurance value is EUR 500 if shipping destination was the US. In Europe sometimes more, depending on destination.)
Click here for images free of watermark!
Click on images or on

to see larger pictures!