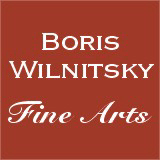 SALE!!! SAVE MONEY !! 1 EUR = 1 USD
# 42323
Arnold Gerhard Rauert "Ludwig, Duke of Wuerttemberg", important Russian "églomisé" miniature!, 1802
2700 EUR
FINAL DISCOUNT PRICE= 2700 USD
( for EUR price see date rate )
Please note: Shipping and insurance costs are not included in this promotion, ONLY ITEM PRICES!
(please note additional 13% tax applies for transactions concluded within the European Union)
THE SELLER WILL COVER SHIPPING WITH REGULAR MAIL FOR THIS ITEM!

Executed (with nearly 100% certainty!) in 1802 (i.e. the year, in which the sitter became the "chief" (proprietor) of the Russian Life Guards Hussar Regiment (CLICK HERE; note his uniform of this unit in this portrait), it is a silhouette miniature portrait (made in "églomisé" technique) of Duke Ludwig of Wuerttemberg, brother of Empress-mother (widow of Tsar Paul I), Maria Fedorovna.

Duke Ludwig (Ludwig Friedrich Alexander) of Wuerttemberg (1756 Treptow an der Rega - 1817 Kirchheim under Teck) was the second son of Friedrich II Eugen, Duke of Wuerttemberg and younger brother of future King Friedrich I of Wuerttemberg.
He was a general in the cavalry. He was briefly a high-ranking commander the Army of the Polish-Lithuanian Commonwealth, was appointed the commander of the Grand Duchy of Lithuania's army, but betrayed the Commonwealth, refusing to fight against Russian troops throughout the Polish-Russian War of 1792, while feigning illness.
For his betrayal he was dismissed from his post, but never prosecuted.
His Polish wife, Maria Wirtemberska, divorced him shortly afterward after his treason became public knowledge. Shortly before their divorce, on January 16, 1792, the couple had a son - Duke Adam of Wuerttemberg (sitter in our web #40577).
On 28 October 1797, Duke Ludwig married his second wife, Princess Henriette of Nassau (sitter in our web #36238). The couple had five children (one of them - Pauline - is the sitter in our web #34164 and our web #35347). Sometime later, he rejoined the Prussian military service but already in 1800 went into retirement in rank of a Prussian Field Marshal. In the same (1800) year, Duke Ludwig joined the Russian military service and was appointed the Gouvernor of Riga (sic!).
In 1802, he was promoted into the rank of a General of Infantry of the Russian army and appointed Chief of the Life Guards Hussar Regiment. In the same (1802) year, he was awarded the Imperial Order of St. Andreas the First-Called (note the upper breast star on his chest; below it is the Prussian Order of Black Eagle). From 1805 he was officially on leave of absence and then, in 1807, withdrew from the Russian military service and returned to Kingdom of Wuerttemberg. There, he was appointed the Commander of the Royal Guards (at that time, the Kingdom of Wuerttemberg was one of the allies of the Napoleonic France…).

In this portrait, Duke Ludwig is shown (still) wearing a short military pigtail - a style, which was soon (after 1801) to be abandoned by the Russian Army. This detail allows us to date this portrait to 1802 as the factual year of its execution.

Our images nr.6-10 show other portraits of Ludwig, Duke of Wuerttemberg and offer additional information about him (from Russian sources).

Our comparison images nr.11-12 convincingly prove that this miniature portrait is an absolutely authentic creation of Arnold Gerhard Rauert - a goldsmith and miniaturist specializing in "églomisé" technique, who was working in the Russian Baltic area at the turn of the 19th century.
Arnold Gerhard Rauert was born in 1762 in Riga (our sitter's residence town!). Although chiefly a goldsmith like his father, Rauert was also active as silhouettist working in "églomisé" technique. He owned a workshop in Reval (now Tallinn, Estonia); from 1816 and until his death in 1819, he lived in Mitau (now Jelgava, Latvia). His "églomisé" portraits can be seen at the Estonian National Museum (Tallinn), the Tretyakov Gallery (Moscow) and in the Museum of Yaroslavl.
Provenance: private collection, Paris

*We are very grateful to Moscow military historian Mr. Lyulin for his generous help in our research.

miapr1818
Condition: good; in original frame
Creation Year: 1802
Measurements: UNFRAMED:6,2x8,5cm/2,4x3,3in FRAMED: 6,2x8,5cm/2,4x3,3in
Object Type: Framed miniature
Style: Portrait Miniatures
Technique: églomisé
Inscription: -
Creator: Arnold Gerhard Rauert
To see other works by this artist click on the name above!
Creator Dates: 1762 Riga-1819 Mitau (Jelgava)
Nationality: Latvian / German
We will cover shipping with regular registered mail (delivery between 7-14 days) for this item.

OBS: Austrian mail refunds cases of loss or damage with maximum EUR 500.


Fully insured 2-3 days DHL service available upon request and subject to extra charges: office@wilnitsky.net
Click here for images free of watermark!
Click on images or on

to see larger pictures!