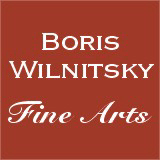 If you have a question about this item,
please contact us at: office@wilnitsky.net
# 42299
Johann Wachtl "Austrian physician Lorenz Chrysanth v. Vest & his wife" two important miniatures, 1816
Price: 4500 EUR
(please note additional 13% tax applies for transactions concluded within the European Union)
THE SELLER WILL COVER SHIPPING WITH REGULAR MAIL FOR THIS ITEM!

Offered here is a pair of (executed in 1816) miniature portraits of a middle-aged married couple. Until today, the husband's portrait was only known through its mirror-inverted reproduction made years after its completion (i.e. in 1824) by Austrian lithographer Alexander Josef Wonsiedler (see our image nr.15).
We are dealing with portraits of celebrated Austrian physician and poet, Dr. Lorenz Chrysanth Edler von Vest (here, he is depicted at the age of 40) and his then 30-year-old wife, Juliana Edle von Vest, nee von Fradeneck

Lorenz Chrysanth Edler (lowest noble title) von Vest was born on November 18, 1776 in Klagenfurt, Austria, and died on December 5, 1840 in Graz.
He studied medicine in Vienna, as well as at the University of Freiburg, where he in 1798 received his doctorate. In the same period, von Vest was composing a great deal of poems impregnated with libertarian content - an activity, which earned him distrust of authorities and reputation of a revolutionary, and which upon his return to Vienna, led to his arrest and consequently - compulsory life-long enlistment for military service. After these developments, von Vest emerged in 1799 in Italy, where he partook in the Battle of Magnano and the Capture of Mantua, and where his doctor's degree mostly proved to be of service.
In 1800, Kaiser Franz II (I) released von Vest from military service. He settled into a medical practice in his hometown Klagenfurt and remained there until 1804. From 1804 to 1812, he taught classed in theoretical and practical medicine at the Klagenfurt Lyceum and later held professorship in botany and chemistry at the Johanneum University in Graz. In 1829 he was appointed chief regional physician and health advisor to the Styrian government.
Back in 1804, he married in Klagenfurt Juliana von Fradeneck, with whom he then had four sons (all of them have also become physicians) and one daughter.
For more biographical information concerning von Vest and his wife, see our images nr.17-21, CLICK HERE and HERE.
Johann Wachtl (1778 Vienna - 1839 Steyr, Upper Austria) was an Austrian portrait and miniature painter and lithographer, who lived and worked in Graz in the early 19th century. A carpenter's son, at the age of 15 (i.e. in 1793), he began studying at the Vienna Academy of Fine Arts (in the academy's records of that year, he is mentioned as a "Miniaturmaler" (portrait miniature painter). There, he trained with famous portraitist and miniaturist Friedrich Heinrich Fueger. The latter entrusted Wachtl with execution of some replicas of his own miniatures (a clear indication that he greatly valued Wachtl's skills of a miniature painter)). In the same period, Wachtl studied oil painting; in fact, today, most of his known works happen to be oil portraits (see our additional images). He graduated from the academy in 1801, yet re-enlisted himself there in 1806.
Works by Wachtl can be viewed at "Universalmuseum Joanneum" in the city of Graz.
Provenance: antique trade, Germany

mimar2918
Condition: good; both miniatures are in original frames (glass in somewhat chipped along edges).
Creation Year: 1816
Measurements:UNFRAMED:9,0x7,4cm/3,5x2,9in FRAMED: 15,5x14,3cm/6,1x5,6in
Object Type:Framed miniatures
Style: Portrait Miniatures
Technique: both: watercolor on ivory (octagonal)
Inscription:male portrait is signed and dated: "Wachtl (1)816
Creator: Johann Wachtl (Wachtel)
Creator Dates: 1778 Vienna-1839 Steyr
Nationality:Austrian
We will cover shipping with regular registered mail (delivery between 7-14 days) for this item.

OBS: Austrian mail refunds cases of loss or damage with maximum EUR 500.


Fully insured 2-3 days DHL service available upon request and subject to extra charges: office@wilnitsky.net
Click here for images free of watermark!
Click on images or on

to see larger pictures!