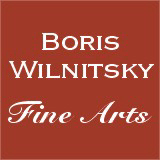 If you have a question about this item,
please contact us at: office@wilnitsky.net
# 42296
Richard Parkes Bonington (1801-1828)-Attrib. "French coastal scene", outstanding watercolor!!, 1820s
Price: 2000 EUR
(please note additional 13% tax applies for transactions concluded within the European Union)
This watercolor on paper with watermark "J Whattmann /Turkey Mill /1816" (see images nr.7 and nr.8) shows extremely strong resemblance to works of the famous English artist of the 1st quarter of 19th century - Richard Parkes Bonigton. It is, in our opinion, very likely an original work of this artist, made during his French period, i.e. between 1820 and 1828. Our comparison images nr.9-16 convincingly support this attribution.
Richard Parkes Bonington (25 October 1802 - 23 September 1828) was an English Romantic landscape painter. One of the most influential British artists of his time, the facility of his style was inspired by the old masters, yet was entirely modern in its application.
Richard Parkes Bonington was born in the town of Arnold, 4 miles from Nottingham in England. His father was successively a gaoler, a drawing master and lace-maker, and his mother a teacher. Bonington learned watercolour painting from his father and exhibited paintings at the Liverpool Academy at age 11.
In 1817, Bonington's family moved to Calais, France where his father had set up a lace factory.
At this time, Bonington started taking lessons from the painter François Louis Thomas Francia, who trained him in English watercolour painting.
In 1818, the family moved to Paris to open a lace retail outlet. It was Paris where he first met Eugène Delacroix, who he became friends with. He worked for a time producing copies of Dutch and Flemish landscapes in the Louvre. In 1820, he started attending the École des Beaux-Arts in Paris, where he studied under Antoine-Jean, Baron Gros.
It was around this time that Bonington started going on sketching tours in the suburbs of Paris and the surrounding countryside. His first paintings were exhibited at the Paris Salon in 1822. He also began to work in lithography, illustrating Baron Taylor's "Voyages pittoresques dans l'ancienne France" and his own architectural series "Restes et Fragmens". In 1824, he won a gold medal at the Paris Salon along with John Constable and Anthony Vandyke Copley Fielding.
Bonington died of tuberculosis on 23 September 1828 at 29 Tottenham Street in London, only 25 years old.
A statue to him was erected outside the Nottingham School of Art by Fothergill Watson.
There is no finer nor more heartfelt evaluation of Bonington's work than that which Delacroix wrote in a letter to Théophile Thoré in 1861, and which reads, in part:
"When I met him for the first time, I too was very young and was making studies in the Louvre: this was around 1816 or 1817...Already in this genre (watercolor), which was an English novelty at that time, he had an astonishing ability...To my mind, one can find in other modern artists qualities of strength and of precision in rendering that are superior to those in Bonington's pictures, but no one in this modern school, and perhaps even before, has possessed that lightness of touch which, especially in watercolors, makes his works a type of diamond which flatters and ravishes the eye, independently of any subject and any imitation.
His name was Richard Parkes Bonington. We all loved him. I would sometimes tell him: "You are a king of your domain and Raphael could not do what you do. Don't worry about other artists' qualities, nor the proportions of their pictures, since yours are masterworks."
Provenance: auction house "Dorotheum", Vienna, March 27, 2018, Lot 299 (see our image nr.17)

mijun17ap10
Condition: good
Creation Year: 1820s
Measurements:UNFRAMED:19,1x26,9cm/7,5x10,6in FRAMED: 26,7x34,5cm/10,5x13,6in
Object Type:Framed watercolor
Style: 19th century paintings
Technique: watercolor on paper
Inscription:-
Creator: Richard Parkes Bonington
Creator Dates: 1801 Arnold-1828 London
Nationality:English / British
2-3 days door-to-door shipment, professionally packed by Mail Boxes Etc and shipped with DHL (calculated for US): 127,9 EUR + insurance 1,8% of item price
Shipping cost to other destinations (worldwide) on request
Shipping price may be reduced if you dispense with the frame


Cheaper alternative (may be further reduced if you dispense with the frame): professionally packed by Mail Boxes Etc and shipped with regular Austrian mail - upon request under office@wilnitsky.net (OBS: In this case maximal refunded insurance value is EUR 500 if shipping destination was the US. In Europe sometimes more, depending on destination.)
Click here for images free of watermark!
Click on images or on

to see larger pictures!